8 3D Nail Art Designs That'll Turn Your Manicures Into A Work Of Art
You can even try some at home.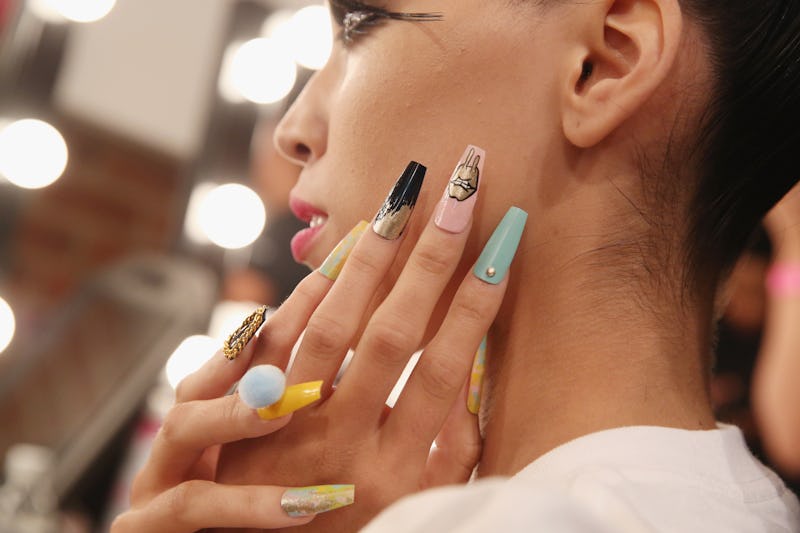 Getty Images/Mireya Acierto / Stringer
Nail designs can get pretty detailed, like nail bed-sized works of art. You can find everything from lifelike animal prints to florals, but 3D nail art is undoubtedly the most advanced kind of manicure you can get.
Besides just looking really cool (they are, in fact, 3-dimensional), 3D nail designs take flat manicures to a whole new level. Case in point: the bubbly glass nails Billie Eilish rocked in her video for "Lo Vas a Olvidar."
"3D art is raised on a nail that adds dimension, and it can vary in many different heights," says salon owner and nail artist Lavette Cephus, who's done a range of these designs for New York Fashion Week. "Depending on how much dimension you want, 3D can be very simplistic or it can be very exaggerated."
You can wear these multidimensional designs with acrylic, gel, or traditional nail polish, though Christine Doan, a Los Angeles-based nail artist, says using gel is the easiest to work with and will last the longest. And, as is the case with traditional nail art, 3D manicures can be anything you want — think jewels, gemstones, letters, and fabrics. Celebrity nail artist and owner of The Editorial Nail, Gracie J, says that "the bolder, the better." It is 3D, after all.
That said, though 3D nails are the definition of maximalist, if you're looking for a more subdued look, there's still plenty of ways to play around with these raised mani designs. Here are eight bold 3D nail art looks to use as inspo the next time you go to the salon (or try out yourself at home).