3 '90s Costumes You Can Keep Wearing Even After Halloween's Over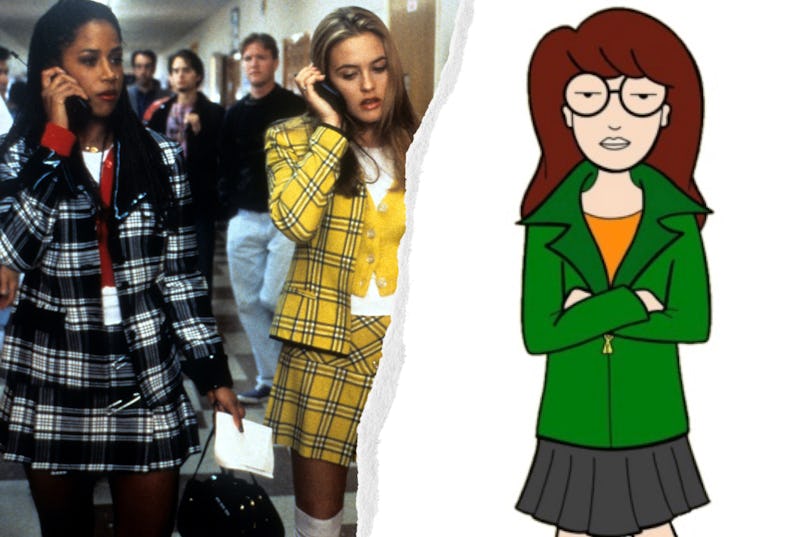 Getty Images. MTV.
Halloween is almost here — can you believe it? And before the eventful weekend rolls around, you want to get a head start on planning the perfect costume for the event, Zoom party, trick-or-treat babysitting job, on your calendar. First on your agenda? Coming up with an idea. If you're stumped on what to be this year, and a 'Squid Games' character is not an option, why not draw inspiration from your own wardrobe? Everyone is currently emulating '90s fashion for everyday wear, and the decade has plenty of inspiration for costumes as well.
Whether you pull from a TV series, a cartoon, or a pop star, there are some great costumes from that bygone era: Dionne from Clueless, Daria, and Aaliyah, to be specific.
The best part? Each costume can be expertly crafted with either items you already own, or pieces you can wear on the regular long after All Hallow's Eve has passed. A plaid skirt suit? Daria's iconic pleated mini? Aaliyah's red sweatsuit? Yes, yes, and yes.
Ahead, find the best '90s Halloween costumes you need to try for 2021. And with October 31 falling on a Sunday this year, there's sure to be a whole weekend full of spooky festivities, so you might even want to try them all.
Bustle Shop is Bustle's shoppable guide to editor-approved buys in fashion, beauty, wellness, and lifestyle. We may receive a portion of sales if you purchase a product through a link in this article.
Bustle Shop brings you the editor-approved buys we can't get enough of and think you'll adore, too. Best of all, you can shop all of the products above directly on this page without visiting multiple retailers. Simply click on an item to learn more, choose your size or favorite color (if applicable), and then hit "add to cart." When you're done, you can click over to your cart in the top right corner of your screen to purchase all your stellar selects at once. How easy is that?
Questions about shipping, returns, or your order in general? Click here for more information.
Explore more of Bustle Shop (and our fashion, beauty, and lifestyle must-haves) here.