Anne Hathaway Is Squarely In Her Andy Sachs Era & I'm So Here For It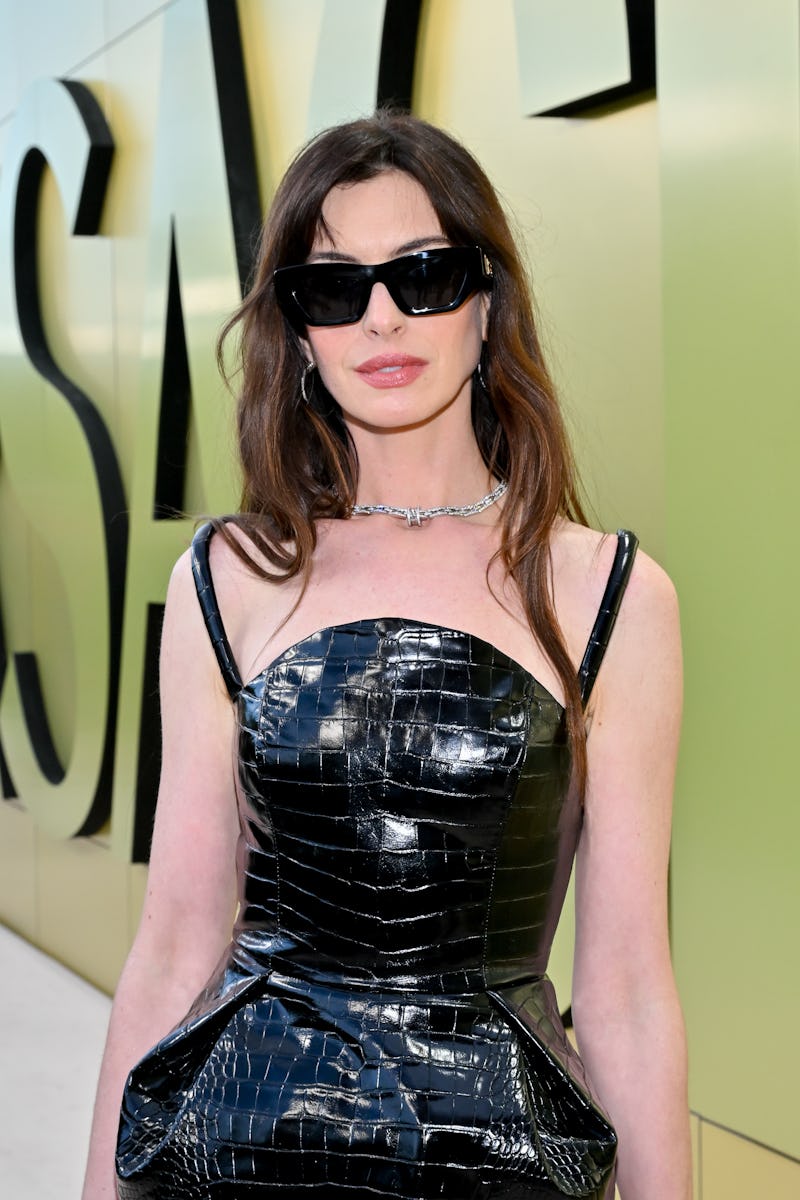 Michael Buckner/Variety/Getty Images
Andy Sachs may have left her assistant job at fictional magazine Runway — one "a million girls" want — but the fashion girlie aesthetic definitely lives on in Anne Hathaway.
Hathaway has been channeling her former on-screen persona nonstop in recent months, making headlines for continually dominating the fashion game. Remember her corset puffer coat? Or the head-to-toe leopard print Valentino 'fit she partied in during Paris Couture Week? Fans have noticed that Hathaway's best-dressed streak is giving big Andy Sachs energy. I mean, she even replicated a version of her on-screen counterpart's outfit (bangs included) to sit beside Anna Wintour, AKA Miranda Priestly IRL, during NYFW.
On Thursday, her chic streak continued. To attend Versace's Fall 2023 show in LA, Hathaway stepped out in an edgy-chic ensemble that would do Andy proud. She wore a structured, croc-embossed mini dress that could easily have been pulled from Runway's fashion closet. The waist featured puffy pleats, while the neckline had an unconventional curved shape.
She matched the glossy leather dress with equally-shiny platform boots (a pair beleaguered first assistant Emily would swoon over). As for accessories, the actor paired her 'fit with matching black sunnies and a small, top-handle purse — all by Versace, of course.
In the jewelry department, Hathaway switched up brands, with hoop earrings, a diamond-encrusted necklace, and diamond bracelets by Bulgari. She kept her makeup minimal (just like Andy!) and topped off the look with a subtle pink lip. Her hair? Unbothered and casually cool waves.
Anne Hathaway is squarely in her Andy Sachs era and I am 100% here for it. Cue: Madonna's "Vogue."