The Insider's Guide To Shopping At Aritzia, Straight From Employees
For one, you can ask for a mirrored fitting room.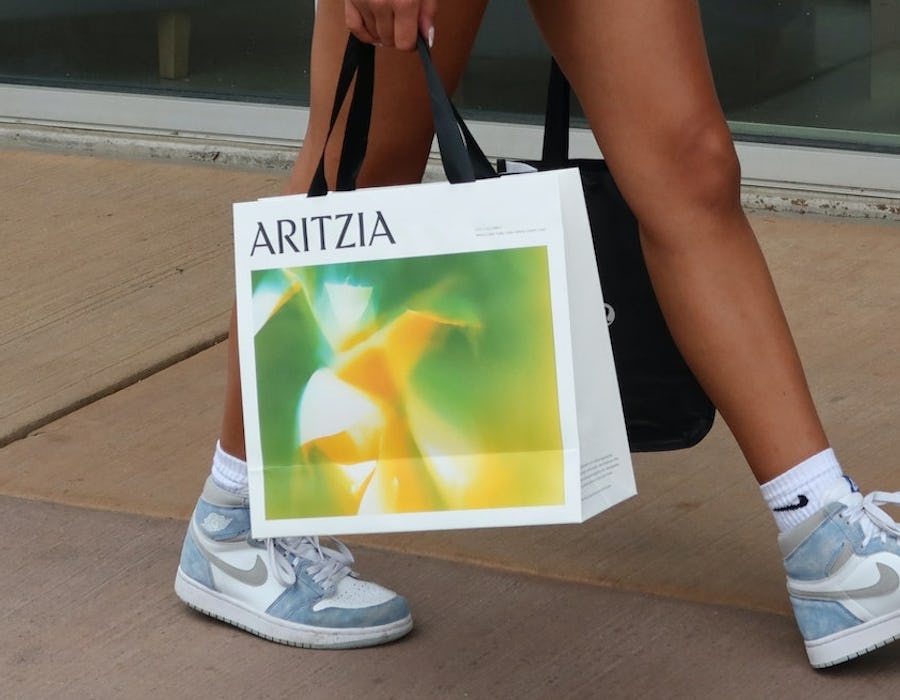 Getty Images/Gary Hershorn / Contributor
We may receive a portion of sales if you purchase a product through a link in this article.
Real ones know, Aritzia is a top-tier retailer — the in-house brands slap, their quality product lasts for years, and their elevated basics never feel boring. Launched in 1984, the Canadian brand has been known for decades for its "everyday luxury" pieces. Even Gigi Hadid, Kendall Jenner, and Megan Markle are known fans (not to mention, yours truly).
But you can't deny, shopping there can get very overwhelming. With multiple floors of merchandise in stores and thousands of items online, there's a lot to sift through. And once you find pieces you like, you must face the daunting communal fitting room mirrors.
To make the experience less intimidating (and, dare I say, fun), I asked Aritzia employees for their expert shopping tips — the type of insider info only they would know. Read on for their tips on which items to invest in, how to find the best dupes, and how to get yourself a mirrored fitting room. (Hint: ask for it.) You're welcome.
You can get free coffee
Not all stores have an A-OK Cafe, but for those that do, shoppers can typically get a cup of coffee (or matcha or whatever you prefer from the menu) for free, just head to the bar or ask a stylist while shopping. "Sometimes you're afraid you have to pay for it, but as long as you're there, you're present in the store, we'll give you a complimentary drink," Nikki told Bustle.
However, because of the influx of shopper-slash-tourists, some branches have changed their coffee policy to give a free coffee stub only to shoppers who have made a purchase, so it's best to ask your local store for its policy. Regardless, anyone in need of a caffeine fix can hang out at the cafe for their choice of pick-me-up (free or not).
They sell a "SKIMS dupe"
Calling all SKIMS fans, Aritzia sells a dupe of SKIMS's beloved Soft Smoothing T-Shirt. Mekaylah, a former employee, told Bustle: "Another piece I wear far too often is the Sunday Best Willow Sinchseamless T-Shirt, or as my coworkers would say, the SKIMS dupe — and it is just that."
The review section is full of satisfied customers who echo Mekaylah's sentiments. One shopper wrote: "Love this top!! It's the perfect skims dupe but better." Another said, "Skims dupe entirely — but maybe even nicer."
And a Lululemon dupe
Another employee favorite is the TNALife line. "A lot of people buy the TNAButter leggings and shorts, but they're not great with sweat," Mekaylah said. "However, the TNALife pieces are perfect for working out, feel great, come in many colors, and make your butt look amazing. People often compare them to Lululemon Align leggings."
Ask for a mirrored fitting room
Yes, you can avoid the feared communal mirror — all you have to do is ask. According to Nikki, every store features one larger room with a mirror inside — usually in the furthest part of the dressing room area.
"Never be afraid to ask a stylist for the big room (which has the mirror), because we will give you the bigger room," she said. And if it's occupied, don't worry. "We can always have you wait if you have the time, because we have a really good lounge area as well."
Don't sleep on Sunday Best
Multiple employees told Bustle that shoppers often overlook the Sunday Best brand, because it's marketed towards a younger shopper (Emma Chamberlain is the endorser). But you definitely shouldn't.
"A lot of clients are shopping for more professional work, so they skip the more teenage section which is Sunday Best or Wilfred Free," Nikki explained. But another employee said Sunday Best actually stocks great workwear. "[The brand's] vests have universal potential and can be layered over a button-down with trousers at the office, or with jeans and a baseball cap for a casual day out."
Aritzia socks have a cult following
Bustle's Senior Fashion Editor, Kelsey Stiegman swears by Aritzia's 3.5-star TNA Base Ankle Socks, and Mekaylah totally backs her up. "I used to leave my shift with a new pack of TNA socks so often. They fit so well, never stretch or thin out, the fabric feels amazing, and they have an ankle height that perfectly peeks out of your sneaker."
For the record, on-site reviews say the same thing. "These are my favorite socks EVER!!! They are legit the only socks I wear because of how amazing they are," one user wrote. "I am truly obsessed and couldn't recommend them more!!!!!"
Book your favorite employee as a personal shopper
Aritzia sales associates have been called out online for "mean girl" behavior, but many style advisors genuinely want to help and be that "shopping buddy" for customers. "Aritzia's sales staff have a reputation for being a bit aggressive when they're super-friendly," Mekaylah admitted. "So I do recommend finding an associate you vibe with and coming in when they're available."
She added: "If you'd like a more personal shopping experience, you can request a private shopping appointment with them. They'll set you up in a fitting room and bring whatever you need."
If you really don't want to be bothered...
There are universal cues that stave people off and these are also applicable in-store. "If you're an independent shopper who prefers to avoid the sales staff as much as possible, just let them know you're okay," Mekaylah said. "Wear headphones and avoid eye contact."
The Babaton Sculpt Knit line is an employee favorite
Aritzia's private label Babaton has a Sculpt Knit collection that, according to several employees, is "a top fave among the staff" and always "sells out quickly." Kayla told Bustle: "They're super basic pieces and great for that 'snatched' look."
Mekaylah, also waxed poetic about this collection, saying: "They're high-quality pieces that can be dressed up or down, and the material and cuts give 'chic' and 'rich.'"
Be mindful of the care tag
This might feel like an obvious tip, but with their unique fabrics, this is crucial for Aritzia shoppers. Nikki recommends washing your vegan leather items inside out. She also advises customers to use throw-in dryer balls when laundering Super Puff products.