The 7 Best Bras For Shoulder Pain — & The Features To Look For According To An Orthopedic Surgeon
We only recommend products we love and that we think you will, too. We may receive a portion of sales from products purchased from this article, which was written by our Commerce team.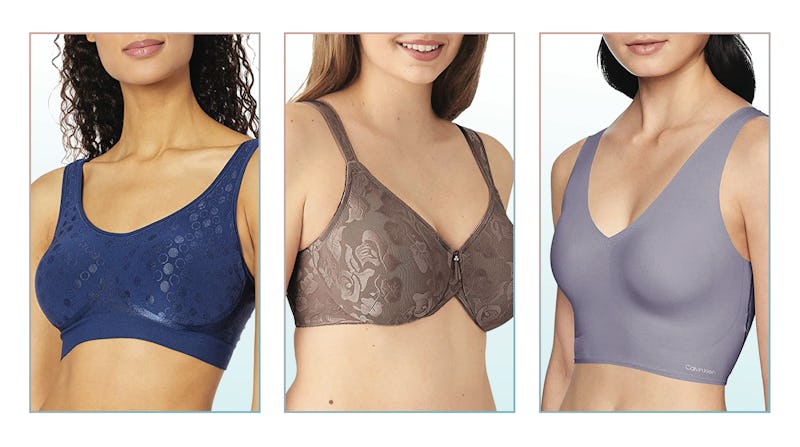 Amazon
There are plenty of factors that contribute to upper-back discomfort, and in order to help me find the best bras for shoulder pain, I reached out to Dr. Gbolahan Okubadejo, M.D., a New York-based spinal and orthopedic surgeon. According to Dr. Okubadejo, finding a comfortable and supportive bra comes down to the specific components of the bra. These are the pain-minimizing features you should be looking for if your shoulders often hurt:
Straps: The straps are arguably the most important component, as these are making direct contact with your shoulders. "If you have large breasts, thin straps are typically not a good idea because there is not enough support to carry the weight of the breasts," Dr. Okubadejo wrote to Bustle. In other words, thicker, padded straps usually offer more support — and if you can't "stack two fingers between the shoulder and strap," they're too tight.
Band: According to Dr. Okubadejo, "An incorrectly sized band puts too much emphasis on the straps and will lead to shoulder strain." Consequently, you'll want the band to be thick, highly elastic, and most importantly, the right size.
Cups: If your bra has the incorrect cup size, "your upper body muscles — such as your neck and shoulder — will have to work harder to support the weight of your breasts," Dr. Okubadejo wrote. To avoid gapping, look for bras with a wide range of cup sizes, and opt for materials that mold to your breast shape. But again, make sure to measure before buying to ensure a perfect fit since all bodies are constantly changing.
Closure: When it comes to the classic hook-and-eye closure, look for one with plenty of tightness options, "so you have a snug fit without the band digging in," Dr. Okubadejo wrote. It's also suggested that you "wear it on the loosest hook" to start with. That said, some shoppers prefer a front-closure bra, which allows them to take the bra off and put it on with less strain.
Underwire: Finally, according to Dr. Okubadejo, "Underwire bras do provide more shape and support due to the wired structure," since the wire helps "keep the pressure off your shoulders." If you're set on a wire-free bra, be sure that the other components are extra supportive.
The first three brands are direct recommendations from Dr. Okubadejo, and they check virtually all of the aforementioned boxes. After that, I've used Dr. Okubadejo's guidelines to source a few more reviewer-approved bras that help relieve pain.
1. The Best Posture-Support Bra
The Glamorise MagicLift has all the right features, including gap-resistant cups, a wide, secure band, and thick padded straps — but it's the back that's truly revolutionary. This bra has built-in support bands that pull your shoulders back and together, correcting your posture while you go about your day. It also secures at the front with hook-and-eye closures, and (unlike so many other front-close bras) you can choose between multiple settings for the best fit.
Available sizes: 36B — 58K
One reviewer wrote: "I have fibromyalgia and the worst pain I have is in my shoulders, neck and back at the bra strap area. I'm a nurse, so the days I work, I'm dressed at 5:30am and get home about 9pm. This bra has DEFINITELY helped with my fibro pain in my upper torso!"
2. The Doctor-Recommended Wire-Free Bra
With its full cups, extra side and back support, and thick, padded straps, the Playtex 18-Hour line comes recommended by Dr. Okubadejo. The Ultimate Lift & Support wire-free bra in particular has earned an incredible 39,000 reviews, and has been called "the most comfortable bra [buyers] have ever worn" and the "only bra [they] wear now," according to reviewers. (It's also made it into several of Bustle's best bras lists, including The Most Comfortable Bras With Support and The Best Wireless Bras.) While it doesn't have underwire, the Magic Ring design still provides optimal structure to relieve stress on your shoulders.
Available sizes: 32C — 48DDD
One reviewer wrote: "I'm a 42DD and have broken my neck causing a painful shoulder condition. Playtex doesn't cause me additional painful shoulder problems and their bras define and lift very well."
3. The Best Bra For Plunging Necklines
While wider straps and more coverage often translate to more support (and therefore less strain on your shoulders), some people prefer bras that are a little less visible. For those cases, Dr. Okubadejo recommends the Bali Comfort Revolution underwire bra, which — despite its thinner straps and plunging cups — still offers wonderful support in the form of stretchy, lifting foam and a wide, U-shaped band. The straps adjust and the bra clasps from the front, which helps to minimize strain on your shoulders. Currently, this one has more than 16,000 reviews and a 4.3-star overall rating.
Available sizes: 34B — 42DD
One reviewer wrote: "The girls are where they are supposed to be, the straps don't dig into my shoulders, and my body's not marked with elastic lines by the end of the day. This is 100% the best bra purchase I have ever made."
4. A Supportive Wire-Free Bra In 50+ Colors
If you're not sold on the idea of underwire, there are bras that offer shoulder-soothing support without it. Take the Bali Comfort Revolution wire-free bra, for example. Foam cups, a thick band, high-rise sides, and knit-in zones provide targeted support, all without discomfort or bra lines. While the thick straps aren't adjustable, they're stretchy and U-shaped for security — and even though this one looks and feels like a sports bra, it has a hook-and-eye closure in the back. It's also offered in roughly 50 different patterns and colors.
Available sizes: X-Small — 3X Large
One reviewer wrote: "These bras are incredible. I've bought 5 of them now as I finally found one that fits as expected, is comfortable, and my breasts don't slip out of and actually feel supported without hurting my shoulders."
5. An Extra-Supportive Bra For Large Busts
For breasts up to an H cup, Wacoal's Awareness bra is a life-changer, according to reviewers. It uses underwire, hidden slings (in DDD sizes and above), and two-ply fabric cups in order to support breasts, while the ergonomic straps are thick, padded, adjustable, and comfortable for hours on end. On the outside, it has floral jacquard fabric in your choice of five different colors. Right now, this bra has a 4.5-star overall rating.
Available sizes: 32D — 44H
One reviewer wrote: "Yep, this bra has changed my life. I feel so much better and more confident when wearing this. Everything stays put and secure, and the support doesn't come at a shoulder-digging price."
6. The Most Comfortable Bralette
Typically, bralettes offer little to no support. The Calvin Klein Invisibles bralette is an exception, which is why it has more than 2,000 five-star ratings. With its longline shape and body-conforming removable pads, it helps to distribute the weight of the breasts for all-day comfort. It also has a plunging V-shaped neckline, thick straps, and ultra-smooth microfiber edges that won't show under clothes. Plus, it's so stylish, some reviewers choose to wear it alone or under transparent tops.
Available sizes: X-Small — X-Large
One reviewer wrote: "This is the perfect balance. I've been having shoulder pain for the past 2 months and the PT and Chiropractor suggested this to me and now I see why. Definitely ordering another."
7. The Best Sports Bra For Shoulder Pain
"For some women with large breasts, or those who have a small frame with large breasts, they might feel more comfortable in sports bras or custom-sized bras that can help support and distribute the weight of large breasts," Dr. Okubadejo explained to Bustle. In terms of sports bras, this one from DELMIRA is considered one of the best for large breasts and high-impact workouts. It's much more supportive than most sports bras, thanks to its padding, underwire, compression, thick adjustable straps, and hook-and-eye closure — but it still has mesh panels and moisture-wicking fabric for comfort.
Available sizes: 32C — 42E
One reviewer wrote: "I can do any workout in this bra and not have an issue with my breast coming out. Running, yoga, etc. I love that it doesn't [hurt] my shoulders and you can adjust straps easily with the bra on."
Expert:
Dr. Gbolahan Okubadejo, M.D., New York-based spinal and orthopedic surgeon of Institute for Comprehensive Spine Care