The 10 Best Bras For White T-Shirts, According To An Expert
If you hate visible bras, bookmark this page.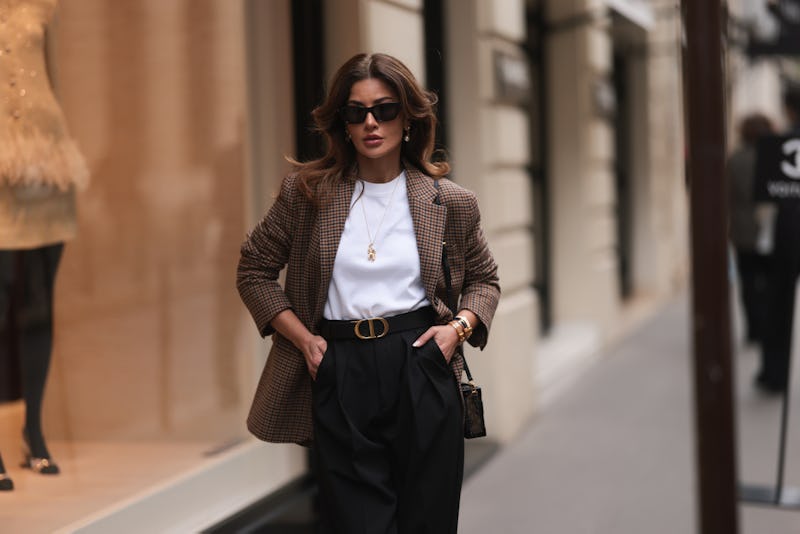 Jeremy Moeller/Getty Images Entertainment/Getty Images
We may receive a portion of sales if you purchase a product through a link in this article.
White T-shirts are a closet staple, which means a bra you can wear with it should be, too. If you're reading this, however, you know it's no easy task. To help you find the best bras for white T-shirts, Bustle reached out Annette Smith, brand director at Montelle Intimates. According to Smith, you'll want to look for smooth, seamless styles and a bra shade that's as close to your skin tone as possible (with one surprising exception).
The Expert
Annette Smith has 15 years of experience in the intimates business, with 11 of those spent as Brand Director at Montelle Intimates, a Montreal-based lingerie brand known for its beautiful, high-quality undergarments available in an extensive size range and designed entirely by women.
What To Look For When Shopping For The Best Bras For White T-Shirts
Color
While a white bra may seem like a smart choice, Smith warns that white will actually be visible beneath a white T-shirt. Instead, she says, "the best solution is to wear a bra that is as close to your skin tone as possible." Smith also offers another unexpected shade recommendation: "Surprisingly, the other option that works best for all skin tones is a red bra." Red absorbs the light, so it'll provide a similar camouflaging effect to a bra that matches your actual skin tone. However, Smith insists that bra must be a true red shade, not something with fuchsia or purple tones.
Still not convinced? Bustle editor Lisa Fogarty put the red bra theory to the test. "Considering how every bra (even a white bra) shows under a thin white T-shirt, I didn't think there was any truth to the rumor that a red bra stays concealed," she says. "But I tried out this magic trick using the most violently siren-red bra I own and, rumor confirmed: I could NOT see it under a white T-shirt."
Style
"For the bra to remain invisible it is best to opt for a T-shirt [or] smooth cup bra to avoid the lace showing through," Smith says. T-shirt bras (or traditional seamless bras) typically have lined and/or molded cups that help conceal nipples beneath close-fitting tees, if that's something you're concerned about, as well as a supportive underwire. Their hook-and-eye closures and adjustable straps also help you achieve a proper fit. As Smith notes, they also lack obvious embellishments that can potentially peek through your shirt.
That said, if it's comfort you're after, opt for a seamless bralette that'll create a smooth silhouette underneath your shirt. Bralettes lack that supportive underwire, and typically have fewer adjustable features, but they might feature removable padding, knit-in molded cups, or a lining for a hint of shape, support, and coverage.
Fit
Apart from style and hue, Smith also notes the importance of wearing a well-fitting bra, which ensures that no "gaping or spillage" will be visible underneath your tee. This Bustle article has some handy tips about how to (easily!) determine your bra size.
Whether your prefer fitted crewnecks or oversized V-neck tees, scroll on to shop the best bras for white T-shirts.