The 8 Best Earrings For Thick Earlobes, According To Jewelry Professionals
Styles that won't pinch but will get complimented nonstop.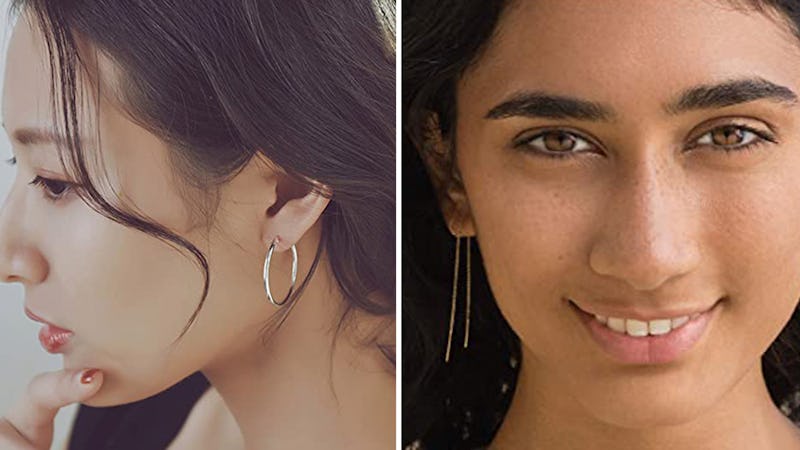 Amazon
We may receive a portion of sales if you purchase a product through a link in this article.
Standard earring posts typically measure approximately eight millimeters long, but if you have thicker earlobes, a post that short may result in pinching and pain. The best earrings for thick earlobes have longer posts, adjustable fits, or no posts at all — some simply thread the whole earring through. In order to find the best pairs, I contacted two jewelry experts to help me narrow down the most comfortable designs for thicker lobes.
The Experts
Stephanie Tortorella, GIA AJP, is a buyer for Kravit Jewelers. She has 13 years of experience in the jewelry industry, including buying, piercing, merchandising, styling, and design.
Patricia Cassano, GG, is a GIA-graduate gemologist and a GIA-accredited jewelry professional with over two decades of experience. (She also happens to be my mom and knows more about jewelry than anyone I've ever met.) Currently, she works at Kravit Jewelers as a gemologist and sales associate.
What To Look For In Earrings For Thick Lobes
"We want to be comfortable in our jewelry," wrote Tortorella in an email to Bustle, but if you have thicker earlobes, certain designs may "aggravate the delicate skin on the ear by squeezing." For that reason, Tortorella and Cassano both recommend that you steer clear of small huggie-style earrings as well as standard-size studs and hoops, which will likely feel too tight on a thicker lobe.
Instead, opt for earring designs that "dangle" or "move freely," Tortorella recommends. This includes kidney wires, fishhooks, and long hooks. You can also choose earrings that are adjustable or open, like endless hoops, open cuffs, threaders, or omega backs. Finally, if your heart is set on a traditional stud, you do have options: "Post earrings are also sold with longer posts, which are a perfect choice for those with thicker earlobes," Cassano wrote.
Scroll on for a wide variety of styles that'll be comfortable for thick earlobes.
Shop The Best Earrings For Thick Earlobes
In a hurry? Here are the best types of earrings:
1. A Pair Of Endless Hoops Available in 7 Sizes
For thick earlobes, Tortorella recommends "an endless hoop (my personal fave) in an oversized thin to thick style," because they're "lightweight, adjustable, and allow for lobe differences." This pair of endless hoops comes in eight different diameters, but all of them are made from hypoallergenic sterling silver. According to reviewers, they're "super comfortable" — so much so that they "forget [they're] wearing them."
One Reviewer Wrote: "Perfect thickness, extra long where it goes through the lobe which I love! My old ones similar to these didn't have room and would pinch my lobes. Very lightweight, not too thin at all. Love them! Will def order more."
Material: Sterling silver | Available Designs: 7
2. These Expert-Recommended & Best-Selling Open Cuff Earrings
According to Tortorella, an "open cuff is trendy, adjustable, and sits nicely on the ear — [they're] even comfortable to sleep in." These PAVOI gold-plated half hoops are a direct recommendation from Tortorella, as well as an Amazon bestseller. Reviewers love that you can choose between three finishes and nine styles. They also love that the metal is made from hypoallergenic gold-plated sterling silver and that it slips right through their piercings without discomfort. While it's small and dainty, the open-back design means that it likely won't pinch thicker lobes.
One Reviewer Wrote: "I love these earrings, I wear them in my third holes that are a little bit thicker of a lobe. They're so pretty and they slide on easily. I wear them in the shower and the pool and they've kept up just fine."
Material: 14K gold-plated 925 sterling silver | Available Designs: 9
3. These Stud Earrings With Extra-Long Posts
"Most earrings have a post that measures approximately eight millimeters long," Cassano wrote, "but when you're ordering a pair in a jewelry store, you can often request an extra-long post, which could be around 12 to 14 millimeters." You can also purchase a pair of extra-long post earrings for thick ears online, like these sterling silver Austria zirconia studs. The post measures 14 millimeters and is made from 925 sterling silver in your choice of three finishes. On one end, there's a dainty two-millimeter zirconia stud with plenty of sparkle; on the other, you'll find a secure butterfly clasp.
One Reviewer Wrote: "Beautiful, dainty studs. I bought them hoping they would fit my thick earlobes as I need extra long posts. And they are perfect, super comfortable and lightweight. I love them, I hope they last a long time, would buy again. Excellent quality for the price."
Material: 925 sterling silver | Available Designs: 3
4. These Adjustable Fishhook Earrings For Less Than $10
"Fishhook earrings work well with thicker earlobes as well," Cassano wrote, largely due to their flexibility. "If you ever find a pair that feel slightly tight, you can adjust them by gently prying open the wire to make them a bit larger." These chandelier drop earrings are a great example; the dangly leaves (or flowers) are "beautiful" and "lightweight," according to reviewers, but most importantly, since the fishhook is roomy and adjustable, they're "comfortable to wear."
One Reviewer Wrote: "I love these earrings! So pretty and lightweight, I get lots of compliments every time I wear them. Definitely a favorite!"
Material: Silver-plated brass | Available Designs: 8
5. This Pair Of Long Hook Earrings That Won't Poke Your Neck
Much like a fishhook, long hook earrings are dangly and flexible and they offer plenty of room for thicker earlobes. This pair of hanging gold circle earrings is a fan favorite with an overall 4.6-star rating. They have a large, curved hook that you can adjust if needed, but unlike fishhooks, they curve in towards themselves to avoid any unwanted poking. They're also plated with 18-karat gold and are finished by hand, and come in several colors and designs so you can find a statement piece that suits your style.
One Reviewer Wrote: "I adore these earrings!! They are super lightweight [and] pretty. Since they are hooked [and] slide all the way through your earlobe, there is little chance of losing them. I'm buying more for friends."
Material: 18K gold-plated | Available Designs: 11
6. These Reviewer-Favorite Kidney-Wire Earrings
Kidney wire earrings are great for thicker earlobes, according to Tortorella. These thin, curved designs offer ample room for movement, but they still clasp at the bottom for security. They have a dangly look, often outfitted with either a chandelier or a pendant, like these Humble Chic drop earrings. Made with acrylic gems and gold-tone plated metal, they've earned a 4.4-star overall rating from over a thousand reviewers who raved that they're "so beautiful" and elicit "so many compliments."
One Reviewer Wrote: "I absolutely love these earrings!! [Nonstop] compliments every time I've worn them. So lightweight and expensive looking. Buying a second pair in case I ever [lose] one!"
Material: Lead- and nickel-free plated metal | Available Designs: 12
7. These Guaranteed-To-Fit Threader Earrings
Threader earrings "are simply extremely thin chains that are threaded through the piercing," Cassano wrote, and they're great "if you have thicker earlobes." That's because they don't have any posts at all, so you can use however much of the chain you need without having to worry about pinching or discomfort. These threader earrings come in your choice of gold or white gold, with or without hanging pendants. You can wear them dangling from one piercing, or thread them through multiple holes for a layered look. They measure 4.8 inches long and are dipped in 14-karat gold, so they won't tarnish or turn green — which is probably why they have an overall 4.5-star rating after feedback from more than 3,000 reviewers.
One Reviewer Wrote: "I have always struggled with taking my earrings in and out especially with my doubles and triples piercings. These are lightweight to where you don't feel them, comfortable to where you can sleep with them in, and they are just perfect. I never take them out, and they are so easy to dress up or wear every day."
Material: 14K gold-dipped | Available Designs: 7
8. These Omega-Back Earrings For A Huggie Alternative
Huggies are definitely trending right now — but according to the experts, they'll likely be too tight on a larger earlobe. To achieve the look of a pair of huggies without discomfort, consider an omega back instead. "Omega back earrings are post earrings with a spring-hinged mechanism that can be adjusted at any jewelry store with a repair department," Cassano wrote. "For thicker lobes, we simply adjust them to a looser position." These omega-back earrings are made from sterling silver with an anti-tarnish coat, and they have a longer post to accommodate thicker earlobes.
One Reviewer Wrote: "Perfect little jelly bean-shaped earrings. Everything about them is quality. My favorite closures. The hinges are of high quality. They are not too heavy. Also, I have thick earlobes, the post is more than long enough. They would make great Christmas gifts."
Material: 925 sterling silver | Available Designs: 8
Also Great: These Support Discs For Heavy Earrings
"I like this product if you find omega backs uncomfortable to wear," Cassano wrote about these BlingGuard BlingDots. But that's not their only purpose; the latex-free memory foam material also cushions uncomfortable posts, supports heavy earrings to prevent drooping, and protects your piercings from stretching and damage. They even have a hypoallergenic adhesive that keeps them in place despite hot weather, sweating, or swimming.
One Reviewer Wrote: "Finally my earrings look good and stay in place and are infinitely more comfortable. These simple-to-use disks have made it so much easier and fun to wear slightly heavy or awkward earrings. EASY to use and they are completely reliable and invisible."