18 Floral Perfumes For Spring 2023 That Smell Like A Fresh Bouquet
Florals for spring? Groundbreaking.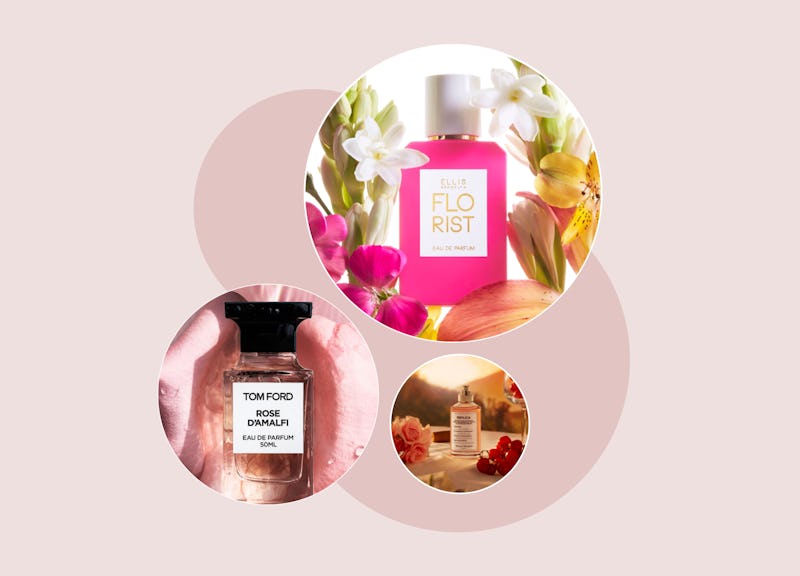 We may receive a portion of sales if you purchase a product through a link in this article.
Sweet springtime is days away. And as everyone starts to shed heavy layers of knits, puffers, and beyond — there's *also* a tendency to move away from the more heavy and bold fragrances so associated with the chilly winter months.
Of course, florals for spring are a bit of a given. Though in recent years, perfumes with freshly-bloomed roses, gardenias, and more have gotten a much needed modern makeover. In other words: Not all flower-filled perfumes have that unwanted "old lady" vibe, and instead, are expressed in more youthful, sheer, gourmand, and even gender-neutral or masculine-leaning ways.
Bee Shapiro, the founder and mastermind behind Ellis Brooklyn, notes: "I've always loved the idea of a floral fragrance, but found it challenging in that it can read very mature. Flowers, growth, and renewal seem to go hand in hand with spring — but in the past, floral fragrances tended to go very powdery." As for her brand's latest floral-centric creation? She continues: "With Florist, I wanted to give the powerful tuberose some levity and air. I wanted this beautiful trail of scent that inspired springtime daydreams — something more akin to fresh cut flowers."
Dreaming of a new floral perfume that is reminiscent of walking through Parisian streets with a bouquet of flowers in your arms (and perhaps a lover, too)? Say hello to your own Emily In Paris moment with 18 modern floral fragrances you need right now.