The 14 Best Shoes For Walking In The City, According To A Podiatrist
Pound the pavement painlessly.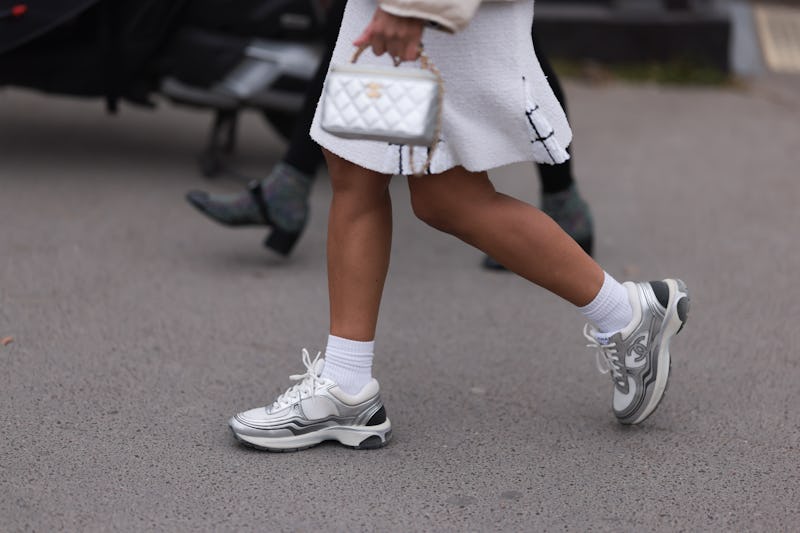 Jeremy Moeller/Getty Images Entertainment/Getty Images
We may receive a portion of sales if you purchase a product through a link in this article.
Nothing will put a damper on an exciting day spent exploring a city more than an uncomfortable pair of shoes. So whether you're planning a trip to a new city or you live in a city 24/7, you need a pair or two of comfortable walking shoes that don't skimp on style. According to Dr. Alissa Kuizinas, D.P.M., a board-certified podiatrist, the best shoes for walking in the city have a generous toe box, flexible soles, and the right amount of cushioning to keep your feet supported mile after mile.
The Expert
Dr. Alissa Kuizinas, D.P.M. is a board-certified podiatrist at Wellness in Motion Boston She earned her medical degree at Temple University School of Podiatric Medicine. She takes a natural approach to foot problems, focusing on gait analysis, movement patterns, lifestyle habits, and footwear to create whole body treatment programs for her patients. Dr. Kuizinas sees patients in person at Wellness in Motion Boston and also offers virtual consultations.
What To Look For When Shopping For Shoes For Walking In The City
Dr. Kuizinas shares her three main criteria when it comes to choosing the right shoes for walking in a city, whether that's a supportive sandal, a slip-on sneaker for getting out the door quickly, or a boot or loafer for more of a style statement.
Roomy Toe Box
If you're opting for closed-toe styles, then "one of the best features to look for in a comfy walking shoe is a wide, foot-shaped toe box," Dr. Kuizinas says. To make that easier, she suggests that you "look for a shoe brand that has a rounded shape at the toes versus a narrow, triangular shape" — that means it's best to leave your pointed-toe ballet flats at home.
Flexible Soles
Though you may be tempted to break out those chic leather boots you just bought, that (and other stiff styles) probably won't be the best choice for your foot health. Instead, Dr. Kuizinas advises to "look for a shoe with a flexible sole, which will allow your foot muscles and joints to move and glide while you walk." Some of the best walking shoes also have uppers made from stretchy materials, like mesh or knit, which encourages an even better range of motion.
If your heart is set on a pair of leather or suede shoes, you'll find a couple of stylish boots on this list from brands that are approved by the American Podiatric Medical Association (APMA), ensuring that they're more supportive than your typical fashion shoe. That said, it's not a bad idea to break them in before you hit the streets.
Cushioning
As opposed to walking shoes for the beach or other natural surfaces, walking shoes for the city need to be equipped to handle endless miles of concrete. "For any hard surfaces like concrete, brick, or cobblestone, you typically want to have some cushioning in your shoes to make the experience more comfortable," Dr. Kuizinas advises. All the shoes below have some form of cushioning to support your arches and absorb shock while you're pounding the pavement. That said, if you're in a city with both concrete and natural surfaces (think dirt, grass, or sand), Dr. Kuizinas says that "lower amounts of cushioning are actually better to allow your feet to feel the ground and anticipate what muscle activity you need for the terrain."
Whether you're exploring ancient Greek ruins or strolling through Central Park, scroll on to discover some of the best shoes for walking in the city.