The Best Slugging Products, According To Dermatologists
Never wake up to dry skin again.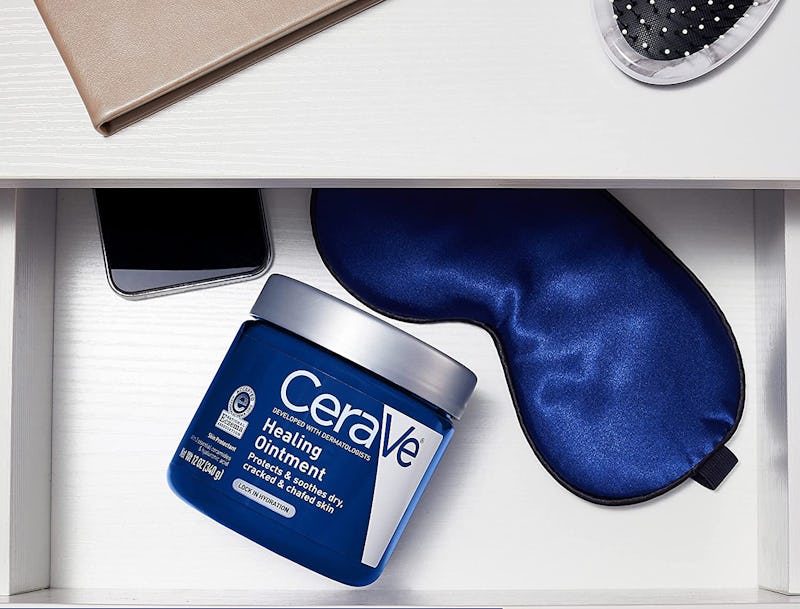 Amazon
We may receive a portion of sales if you purchase a product through a link in this article.
Slugging isn't just a fleeting TikTok trend — the skin care technique has roots in Korean and Black communities, and will likely continue to be practiced for decades to come. Slugging means applying a layer of an occlusive product, like petroleum jelly, to your face before bed, locking in hydration before a long, dry night and making your face look all shiny. Similar to the way a sheet mask locks in its hydrating essence, slugging creates a barrier on your skin to help prevent transepidermal water loss. Vaseline is a popular product to use for this purpose, but the best slugging product for each person may vary depending on personal preference (though one non-negotiable is that a slugging balm must contain occlusives — more on that in a minute). To find out more, Bustle spoke with two top dermatologists who share their insights, ahead.
The Experts
Dr. Hadley King, M.D. is a New York City-based board-certified dermatologist who specializes in cosmetic and medical dermatology.
Dr. Erum Ilyas, M.D. is a board-certified dermatologist at Schweiger Dermatology Group in King of Prussia, PA who specializes in medical and cosmetic dermatology and skin cancer treatment.
What's The Best Product To Use For Slugging?
A slugging product must contain occlusives, one of the three components of a good moisturizer (along with humectants and emollients), according to Dr. King. Occlusives are oils or waxes that form a "layer on the skin and physically block transepidermal water loss," King tells Bustle. Petroleum jelly, or petrolatum, is one of the most common occlusives, but others include "beeswax, mineral oil, silicones, lanolin, and zinc oxide." This way, explains Dr. Ilyas, your freshly moisturized skin can "gain hydration without competing with the evaporation of moisture and sweat from the surface of the skin."
Dr. Ilyas notes that the most important property of a slugging product is that it's noncomedogenic (or in other words, non pore-clogging). Petrolatum, while thick and greasy, won't clog your pores. Other great slugging ingredients to look for include lanolin, beeswax, or carnauba wax, and most oils and butters also have occlusive properties, like squalane, jojoba oil, shea butter, or tamanu oil.
Can Oily Or Sensitive Skin Types Slug?
Choose a slugging product because it works for you, not because it works for other people — everyone's skin is different, and folks with oily or acne-prone skin should take the most caution when slugging, says Dr. King. Even occlusives that are noncomedogenic "can trap oils or other comedogenic ingredients in the skin and could potentially contribute to breakouts," says Dr. King.
For people with oily skin, Dr. Ilyas suggests layering a slugging product on top of another ingredient designed to control oil production, like niacinaminde or salicylic acid. "Layering can avoid excess oiliness," says Dr. Ilyas. Keep in mind that slugging might make whatever products you have on underneath more effective, so exercise caution when slugging over retinoids or chemical exfoliants.
One last word of advice from Dr. Ilyas? "Avoid slugging after microneedling as this can result in deeply clogged pores or milia development."
Shop The Best Slugging Products
In a hurry? Here are the best slugging products:
1. Best Petroleum Jelly For Slugging
A tried-and-true skin protectant, Vaseline is made of 100% white petrolatum. It's completely occlusive, so you may want to layer a moisturizer underneath to get your dose of humectants and emollients. "[Vaseline Petroleum Jelly] is a perfect choice for those with sensitive skin or possible allergies to common skin care ingredients found in other occlusives," says Dr. King. It's a simple, easy, and affordable slugging product for all skin types, and while it is noncomedogenic, oily-skinned folks should still keep an eye out for signs of breakouts — petrolatum is very good at trapping oils or comedogenic ingredients from other products on your skin. Keep in mind that this order comes with three jars of Vaseline, so you'll be set for ages.
Size: 39 oz. | Key Occlusives: Petrolatum | Vegan: Yes
Relevant Review: "Having used Vaseline basically like an overnight face mask for a couple weeks now, here are my conclusions. It does seem to even out my skin and make it very, very soft ... My makeup lays smoother on my face in the morning. One application lasts forever, and amount/jar is very cost effective."
2. Another Fan-Favorite Slugging Balm‌
Ideal for chapped lips, dry heels, and minor cuts and burns, Aquaphor's Healing Ointment has been a drugstore staple for years. It's great as a slugging balm, too — it's 41% petrolatum, but also contains panthenol and glycerin for moisturizing and bisabolol for soothing, so the product creates a physical barrier on your skin while also supporting its overall health. Like Vaseline, Aquaphor is one of those does-it-all products. After slugging, you can use it to heal tattoos, remove makeup, prevent scars — the list of what it can't do is probably shorter.
Size: 14 oz. | Key Occlusives: Petrolatum, Mineral Oil, Lanolin | Vegan: No
Relevant Review: "I use this on my face for slugging at night after all my skincare, and wake up with the softest skin. This is also what I use as lip balm ... Works great on rough elbows and knees, and is an excellent occlusive ointment to seal in treatments. I also get eczema, and sometimes I can simply use this rather than a prescription ointment."
3. Best Slugging Balm With Ceramides
CeraVe's petrolatum-based Healing Ointment adds a bunch of other good-for-skin ingredients into the mix, like the brand's signature three essential ceramides. "Ceramides and cholesterol support the skin barrier," explains Dr. King, and this ointment also contains hyaluronic acid to attract and lock in moisture. The ointment leaves skin with a less greasy finish than pure petroleum jelly, and was designed with oily, acne-prone, and sensitive skin types in mind. Like the other products on this list, you can use this anywhere on your face or body that's dry.
Size: 12 oz. | Key Occlusives: Petrolatum, Mineral Oil, Dimethicone | Vegan: No
Relevant Review: "I use this healing ointment to slug my entire face and it helps make my moisturizer more efficient. It doesn't have a scent and applies so smoothly. It has great ingredients and has [made] my skin soft and hydrated."
4. Best Petrolatum-Free Slugging Balm‌
Some people prefer to steer clear of petrolatum because of the complications surrounding its environmental impact. If you're one of those people, Cocokind's Ceramide Recovery Balm locks in moisture without the petrolatum — it gets its occlusives from ingredients like squalane, sunflower seed wax, and shea butter. The thick, balm-like texture melts upon contact with your skin and deeply nourishes with ingredients like ceramides and glycerin. While it was designed specifically for slugging on dry or sensitive skin types, it's also a great moisturizer for other super dry areas of the body, like your cuticles or feet. Cocokind goes above and beyond making sure its products are earth-friendly by using cruelty-free formulas and printing the carbon footprints of each product on the labels.
Size: 1.7 oz. | Key Occlusives: Sunflower Seed Wax, Shea Butter, Berry Fruit Wax | Vegan: Yes
Relevant Review: "This is a clear ish balm that goes on quite greasy but sinks in quickly. This was designed to be a true occlusive, trapping moisture on your skin. It was thick and shiny when applied but dried down reasonably well. There was a very light inoffensive scent. This should be the final step for anyone with dry or irritated skin."
5. Best K-Beauty Mask For Slugging
Another petrolatum-free option, K-beauty brand Laneige's Cica Sleeping Mask gives your skin all the benefits of slugging but without the greasy feel. The overnight mask, designed for sensitive or dry skin types, soothes dry, inflamed skin with Laneige's proprietary fermented forest yeast extract, while squalane and shea butter work to soften skin and restore moisture. The mask leaves skin hydrated, calmed, and with a strengthened skin barrier, without the heaviness that other slugging products can leave behind.
Size: 2 oz. | Key Occlusives: Shea Butter, Propanediol, Squalane | Vegan: Yes
Relevant Review: "This is my new favorite product for my nighttime skin care routine. I keep it on my nightstand and put it on before going to bed- after all my typical serums/moisturizers. Helps keep my skin hydrated overnight."