The Best Gender-Affirming Swimwear, According To Reviewers
Every body is a beach body.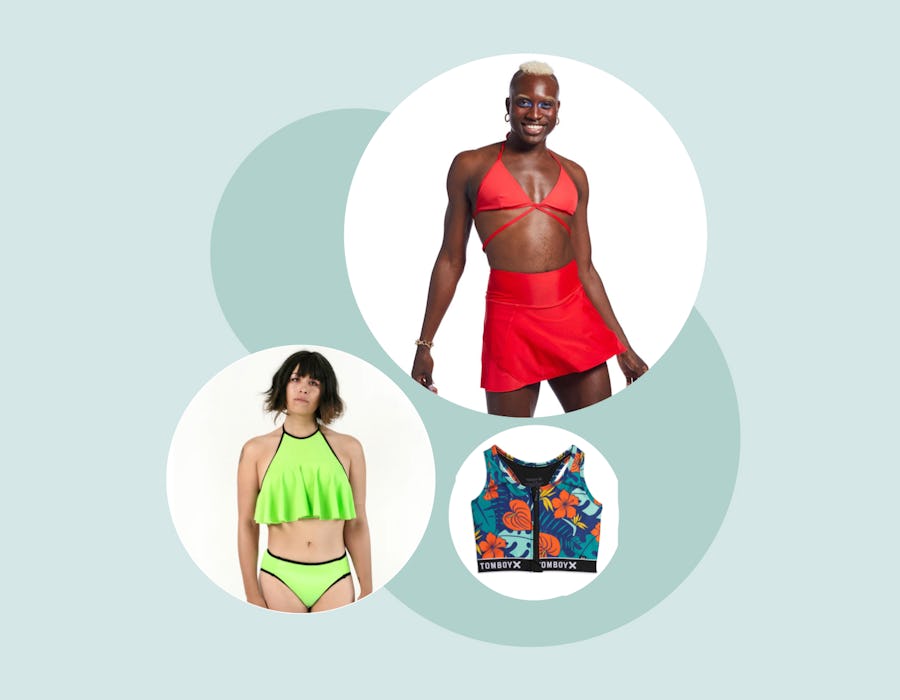 Courtesy of Chromat, Gender Bender, & TomboyX
We may receive a portion of sales if you purchase a product through a link in this article.
Reminder: trans and gender queer bodies are beach bodies. Whether you want a swimsuit that provides extra coverage or are shopping for something a little spicy, I've tracked down hella stylish options for swimsuit season.
Though gender-affirming clothing is often difficult to find (especially in brick-and-mortar stores), the fashion industry has made exciting progress in recent years. Styles with built-in chest binders, gender-neutral swim shorts, and bikini bottoms with extra support for tucking have become more readily available.
Brands like TomboyX make swimwear with coverage for every type of body, while Chromat is also working to mitigate the disparity. The queer-owned brand dropped a collection in collaboration with artist Tourmaline "that places equal value on both comfort and aesthetics, pleasure and play." The line was designed specifically "for girls who don't tuck, trans femmes, non-binary and trans masc people who pack, intersex people, women, men" — so, basically anyone who needs a swimsuit.
Ahead, shop even more gender-affirming swimwear options that are top-rated by reviewers and, in some cases, are also the first of their kind, such as Chromat's Collective Opulence Celebrating Kindred collection, GenderBender's tucking bottoms, and Origami Customs swim packers. Even better? Most of these brands are available up to at least a 3XL. Enjoy!
This article was originally published on