The Buttery Salt Scrub That Gives Me The Softest Skin Of My Life
A love letter to Butter By Keba's Bath Salt Scrub.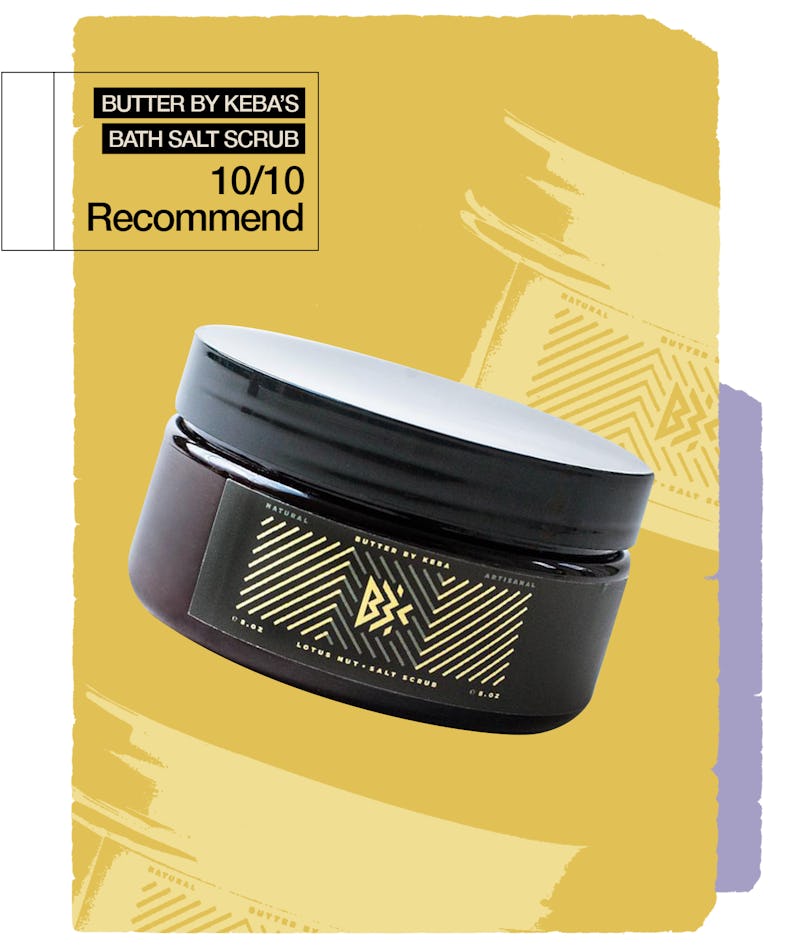 Butter By Keba
For the first time in my adult life, I have a bathtub — a big luxurious one that I spend hours in. I don't understand how I lived without one for so long, and now that I've got my own porcelain basin, I've been spending obscene amounts of time and energy searching for the perfect bath products. This is how I ended up discovering the Butter By Keba Bath Salt Scrub.
As it turns out, when you spend a ton of time marinating in hot water, your skin loses moisture. This, coupled with the fact that I often forget to give my body the same TLC my face gets, left my limbs parched and flaking from my newfound self-care habit. I needed something to slough off the scales without stripping my skin of any further moisture. Enter: This salt scrub, which felt like it came down from the heavens (er, to my mailbox via online shopping). Admittedly I was cautious when I first tested the mixture on my dehydrated body, as I didn't want to exacerbate the dryness. But, after just one use, I found myself moisturized and glistening like a glazed ham.
Bustle Shop is Bustle's shoppable guide to editor-approved buys in fashion, beauty, wellness, and lifestyle. We may receive a portion of sales if you purchase a product through a link in this article.
First Up: The Basics
Butter By Keba is a New York City-based personal care brand that makes dreamy fragrances, oils, and lotions. Though it might have flown under your radar, its Bath Salt Scrub is the type of product that quietly builds up a cult-favorite reputation until it's suddenly omnipresent. (That's just my prediction based on how good it is.)
There are three Bath Salt Scrub scent options: powder (a sandalwood and rose blend), lotus nut, and citruese (which has notes of grapefruit and sweet orange). Personally, I've taken to the lotus nut — it smells like vacation, good dreams, and warmth.
There are two ways you can use the product: The first is as a bath soak, and the second is as the titular scrub, which I'm impartial to. The formula's exfoliating prowess comes from Dead Sea salt, which is packed with nourishing minerals like magnesium, calcium, and iodine, and the texture acts as a gentle physical exfoliant for smooth, buffed skin.
Once you add some water, the scrub transforms into a slushy consistency that exfoliates your skin but instantly hydrates at the same time, due to the moisturizing grapeseed oil in the formula. Since all of Butter By Keba's body care products are all-natural and made without preservatives, they have just an eight-month shelf life — not a problem when one quickly becomes a bath-time staple.
Why I'm Obsessed
Whenever I start my morning with a bath and the salt scrub, I'm better off. The lotus scent, which comes from lotus seeds, is an immediately transportive fragrance — it makes me feel like I'm taking a vacation soak that's to be followed by a succulent fruit breakfast and playtime in the sand. The salt gently removes the impurities and dead skin cells from my body while simultaneously working its hydrating oils into my limbs. My body actually retains the moisture and glistens for the rest of the day, and makes my skin look so dewy and supple. Even the scent makes me smell amazing for hours, no body lotion or perfume required. After a long winter (in quarantine, no less) that wreaked havoc on my skin, this salt scrub is the perfect remedy for a spring awakening in body care form.
The TL;DR
If your skin is sensitive to fragrances or oils, you should use caution with this scrub — the scents are not for the faint of heart. But, if you love a good smell to upgrade your self-care routine, this product is a must-have for your bath (besides a good playlist). It's an exfoliant, moisturizer, and subtle fragrance all in one, perfect for lazy days or an easy mood boost.
Bustle Shop brings you the editor-approved buys we can't get enough of and think you'll adore, too. Best of all, you can shop all of the products above directly on this page without visiting multiple retailers. Simply click on an item to learn more, choose your size or favorite color (if applicable), and then hit "add to cart." When you're done, you can click over to your cart in the top right corner of your screen to purchase all your stellar selects at once. How easy is that?
Questions about shipping, returns, or your order in general? Click here for more information.
Explore more of Bustle Shop (and our fashion, beauty, and lifestyle must-haves) here.