The Best Alternatives To Clinique's Black Honey Almost Lipstick
When the cult fave is sold out, these products have your back.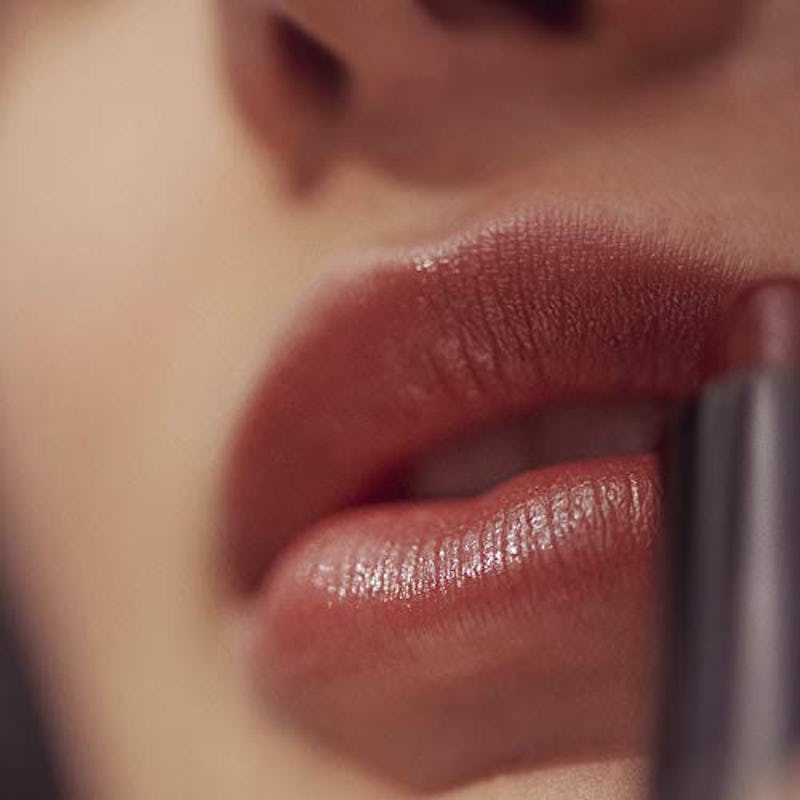 Amazon
We may receive a portion of sales if you purchase a product through a link in this article.
While the beauty industry never stops churning out new products, some products are so good that they stand the test of time: NARS blush in 'Orgasm', Mario Badescu Drying Lotion, Embryolisse Lait-Crème Concentré, and, of course, 'Black Honey.' Clinique's classic Almost Lipstick in 'Black Honey' has remained a tried-and-true staple for over 50 years — it first came out in a pot in 1971. Thanks largely in part to TikTok, it's recently experienced a resurgence among Gen Z (and celebs like Emilia Clarke), but unfortunately, that means it's often sold out these days. When you can't get your hands on a new tube of Almost Lipstick, try one of these 'Black Honey' alternatives instead, which will give you that same sheer flush of jammy red color and a similarly dewy finish.
What makes 'Black Honey' so unique is that it adjusts to your lip tone, so it looks slightly different on everyone. Not quite a balm, yet not quite a lipstick, it's also incredibly buildable — one swipe of product makes your lips look just-bitten, while several swipes results in a bolder berry shade with the red, blue, and yellow pigments all mingling with your own lip color to create the perfect jammy shade. The finish is unique, too, in that it's shiny, but not at all sticky, gloopy, or glossy,
The following products, while not exact replicas, get pretty damn close. Some, like the Jane Iredale stain, match with your own lip color, while others, like the e.l.f. lip balm, leave you with that same high-shine finish. Others don't look much like 'Black Honey' in the tube (which appears almost black), but have an extremely similar effect on your lips. When choosing an alternative, keep in mind your own lip color, how buildable you like your balm to be, and how shiny you like the finish. And now without further ado, scroll on to discover five great alternatives to Clinique 'Black Honey.'
Shop The Best Black Honey Alternatives
In a hurry? Here are the best alternatives to Clinique's Almost Lipstick in Black Honey.
1. Best Black Honey Drugstore Alternative
For an affordable alternative with the same finish as 'Black Honey,' check out e.l.f.'s Hydrating Core Lip Shine in the shade 'Ecstatic.' The shade is a deep berry that looks amazing on nearly everyone, while the hydrating, vitamin E-infused core (which is shaped like a heart for fun) conditions dry lips and leaves them soft. Like all e.l.f. products, the lip shine is vegan and cruelty-free, and it comes in eight different colors if you want to try out other shades, too.
Relevant Review: "I saw the viral videos of this being [an alternative to] Clinique Black Honey and it's true! The color is spot on. Glossy finish, color is very buildable."
2. A Fan-Favorite Black Honey Alternative
While Melixir's Vegan Lip Butter comes in 15 shades, 'Autumn Rain' is the closest to 'Black Honey.' Just like Clinique's, it's a buildable, berry-red shade with both warmer and cooler undertones. It's 100% vegan and formulated with hydrating, plant-derived ingredients like shea butter, jojoba oil, agave, and argan oil. This lip balm is also a fan favorite on Amazon, with over 5,000 five-star ratings and hundreds of rave reviews.
Relevant Review: "These lip stains are awesome!!!! [...] Usually when I apply any lip balm my lips will feel better but will feel clumpy and I hate that feeling. But with this and the other two colors I also purchased (Noir and Autumn Rain) they go on smooth and leave my lips feeling instantly hydrated and smooth and soft with the perfect hint of color. [...] Autumn Rain is a very close substitute to Clinique almost lipstick in blackhoney, not exact but pretty darn good."
3. A Splurge-Worthy Black Honey Alternative
Made in Henné Organics' North Carolina factory, the brand's Luxury Lip Tint gives lips a buildable wash of color and plenty of moisturizing benefits, too. One of their eight shades, 'Intrigue' is a brick red with cool undertones that works just like Black Honey to complement any skin tone. The lip tints are made with botanically derived ingredients (most of which are certified organic) like coconut oil, castor oil, jojoba oil, beeswax, and vitamin E, and their pigment comes from iron oxide, a mineral compound that adds earthy red or yellow pigments. Amazon reviewers note that while Henné's Lip Tint isn't the most pigmented tinted lip balm out there, the color is super buildable.
Relevant Review: "This color is much warmer than it looks in swatches online, more of a brick/ brown which was a pleasant surprise. Such an "of the moment" shade!I have the other Henne colors and I know they're supposed to all be the same formula, but this one feels so much more moisturizing than the rest! [...] I'm really [fair] but have shared a with a few friends with other complexions and it looks pretty on everyone! ('a la Clinique's Black Honey kind of shade)."
4. A Tone-Adjusting Black Honey Alternative
Love the tone-adjusting characteristic of 'Black Honey?' Jane Iredale's Just Kissed Lip and Cheek Stain is designed to react with your skin's pH to create the perfect shade for you. Admittedly, this stain doesn't come in any berry or brick red shades like 'Black Honey,' but if you're more interested in the custom shade aspect, it's a great option to try out. The long-lasting stain contains moisturizing ingredients like olive oil, pumpkin seed oil, jojoba oil, and white tea extract, and you can use it on your cheeks, too, for a cohesive, natural look that enhances what you already have.
Relevant Review: "I've just had this about a week, but it's already my go-to color and I can tell I'm going to finish it and need another. I'm a lip gloss aficianado but there are only a few colors I've been *that* in love with (Clinique's Black Honey is another, as is Jane Iredale's Babe). Color: The color turns out a lovely, rosy shade that looks good on probably anyone. After you apply it, you can see it gently deepen [...] Texture: It has a nice soft feel to it, a little softer than a lipstick. It's easy to blend on cheeks. Wear: For me, it lasted several hours (though at the end of the day it was harder to see). As someone who loves the natural look, this is going to be a staple for me."
5. A Black Honey Alternative With SPF
While Neutrogena's Tinted Lip Balm looks much lighter than 'Black Honey' in the tube, the shade 'Fresh Plum' is super similar, though it admittedly won't build up into as deep of a color. That said, it brings out your lips' natural color just like 'Black Honey' does, but this one adds SPF 20 to the mix, which is always a bonus if you're going outside. Don't expect a lipstick-like result with this, but for no-makeup days when you want just a hint of jammy color, it'll get the job done.
Relevant Review: "The Fresh Plum is a great natural looking rosy brown color, very subtle. Both are very sheer, not sticky, and smell very nice. They feel very good on the lips. They don't last especially long, so they are rightly thought of as a lip balm with a little color rather than a lip stain or lipstick."
You May Also Like
While the Wonderskin Wonder Blading Peel and Reveal Lip Stain has a two-step application process and longer-lasting effect than a traditional lip balm or lipstick, the end result of the shade 'Lovely' is actually quite similar to 'Black Honey' (and it comes in a few other 'Black Honey'-esque shades, like 'Whimsical'). The kit comes with a stain that goes on bright blue, no matter which shade you choose. After waiting 10 to 45 seconds, depending on how deep you want the stain, you spritz with the activator and peel away the blue, revealing your stained lips — and one of our writers reviewed the product and confirmed that it really does last all day long.
Relevant Review: "I love how quick and convenient it is to use this product! Just 10-15 seconds is enough for the color to appear. You can play with the intensity by keeping it a little bit longer. The color stays the whole day! No more worries for leaving your lipstick on all water bottles you drink!"