Coconut Milk Is The Dry Scalp Hero You Never Knew You Needed
It's a hair-strengthening MVP.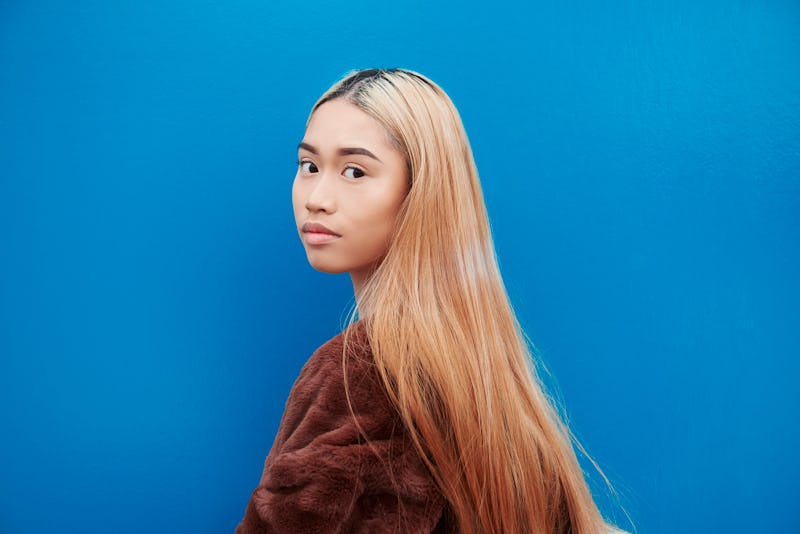 Getty Images/ We Are
As the seasons transition from winter into spring, dry scalp woes can put a damper on the overall more chipper mood of the warmer weather. While you can turn to any number of hair care products to combat this, you could also use a more under-the-radar ingredient that you might already have in your kitchen: coconut milk. And coconut milk for hair has a whole slew of surprising benefits.
The magic is in its nutrient profile. "It's the nutritional and phytochemical properties of coconut milk that make it beneficial for hair," says Paula Simpson, author, herbalist, and formulation expert. "It works as a hair-nourishing emulsion with moisturizing lipids, carbohydrates, and proteins." The vitamins it contains also bring antioxidant (which offer protection and repair) and anti-inflammatory properties (read: soothing) to your scalp, she adds.
When New York City-based hairstylist and color pro Juliana Ohlmeyer visited Hawaii earlier this year, she discovered that the island residents all turned to coconut milk as a DIY hair treatment. "I asked the local girls what they do to keep their hair strong and healthy, and the ones I spoke with said they swear by coconut milk masks," she tells Bustle. "It has tons of vitamins and it's really high in natural acids that rebalance your scalp, replenish moisture, naturally fights dandruff, and adds loads of shine." Besides its general (and vast) benefits to your overall hair health, coconut milk is also a savior for dry scalps — read on for intel on how it works and how to try it on your own strands.
How Coconut Milk Benefits A Dry Scalp
For a dry scalp, the fatty acids within coconut milk work to combat irritation and flakes. Simpson points to its concentrated source of lauric acid, specifically, which "provides microbial balancing properties to help minimize a dry flaky scalp and rebalance the skin microbiome," she says (as a refresher, the microbiome is the colony of healthy bacteria that keep your skin — including your scalp — in check).
And, according to trichologist and colorist Bridgette Hill, fatty acids fill and seal your hair cuticles for more elasticity and moisture retention. In other words: They strengthen and replenish your strands, which helps them to both heal from and avoid dry scalp issues.
Having a balanced microbiome on your scalp is key — if it's imbalanced, it can lead to both hair and scalp woes. "When there is an imbalance of the scalp microbiota, this increases the predominance of conditions such as dandruff or dry, itchy scalp, such as the presence and over-activity of the malassezia species found in those with dandruff," says Simpson. Basically, an over-abundance of bad bacteria on your scalp prevents it from functioning well. "Coconut milk can help detoxify and rebalance the scalp microbiota and restore it to its normal function," she says.
The ingredient is also generally soothing and calming. "Coconut milk is notable for its moisturizing effects to condition and nourish the scalp while reducing inflammation," says Hill, who believes this is the reason why it's so beneficial to the seasonal dryness so many people experience.
How To Use Coconut Milk For Your Hair
There are a number of ways to use the ingredient for a hair health boost — here's what the experts recommend:
As A Pre-Shampoo Treatment: For fine to medium hair types, Hill recommends using coconut milk weekly before shampooing.
As A Hair Mask: If your hair's particularly dry or brittle, or you've got a dry scalp, Simpson suggests applying coconut milk all over your strands as a mask treatment. Ohlmeyer recommends letting it work its magic for at least two hours before rinsing.
As A Styling Boost: For extra TLC, Ohlmeyer says to leave some coconut milk in your hair for a few hours. Her tip? "Warm up the coconut milk — don't make it hot — and massage it onto shampooed hair," she tells Bustle. "Braid it or put it into a ponytail. It'll just give you that chic wet look as the acids and fats do their job."
As A Leave-In Treatment: Hill says curly hair types can apply a "conservative" amount of coconut milk to wet curls as part of your styling routine.
As Part Of Another DIY Mask: You can also get creative with your home treatment. Ohlmeyer's tip? "You can mix the coconut milk with essential oils that have different properties, like lavender or chamomile to fight an irritated scalp, tea tree to fight dandruff and dryness, or rosemary and peppermint to encourage hair growth," she says. "You can also mix in olive oil for added moisture, or avocado if your hair feels super brittle." If you're dealing with flakes, she recommends mixing coconut milk with strawberries to "exfoliate any build-up in your hair."
Studies referenced:
Karunasiri, A. (2020). Antioxidant and Nutritional Properties of Domestic and Commercial Coconut Milk Preparations. International Journal of Food Science. https://www.ncbi.nlm.nih.gov/pmc/articles/PMC7422486/
Nam, Y. (2019). Avocado Oil Extract Modulates Auditory Hair Cell Function through the Regulation of Amino Acid Biosynthesis Genes. Nutrients. https://www.ncbi.nlm.nih.gov/pmc/articles/PMC6356572/
Oh, J. (2014). Peppermint Oil Promotes Hair Growth without Toxic Signs. Toxicological Research. https://www.ncbi.nlm.nih.gov/pmc/articles/PMC4289931/
Rudramurthy, S. (2014). Association of Malassezia species with dandruff. Indian Journal of Medical Research. https://www.ncbi.nlm.nih.gov/pmc/articles/PMC4069738/
Satchell, A. (2002). Treatment of dandruff with 5% tea tree oil shampoo. J Am Acad Dermatol. https://pubmed.ncbi.nlm.nih.gov/12451368/
Saxena, R. (2018). Comparison of Healthy and Dandruff Scalp Microbiome Reveals the Role of Commensals in Scalp Health. Frontiers in Cellular and Infection Microbiology. https://www.ncbi.nlm.nih.gov/pmc/articles/PMC6180232/
Song, S-H. (2019). Prevention of lipid loss from hair by surface and internal modification. Scientific Reports. https://www.nature.com/articles/s41598-019-46370-x
Srivastava, J. (2010). Chamomile: A herbal medicine of the past with bright future. Mol Med Report. https://www.ncbi.nlm.nih.gov/pmc/articles/PMC2995283/
Trueb, R. (2009). Oxidative Stress in Ageing of Hair. International Journal of Trichology. https://www.ncbi.nlm.nih.gov/pmc/articles/PMC2929555/
Experts:
Paula Simpson, author, herbalist, and formulation expert
Juliana Ohlmeyer, New York City-based hairstylist and color pro
Bridgette Hill, trichologist and colorist