Color-Changing Clothes Are More Than A Space-Age Fantasy
The technology is becoming more accessible by the day.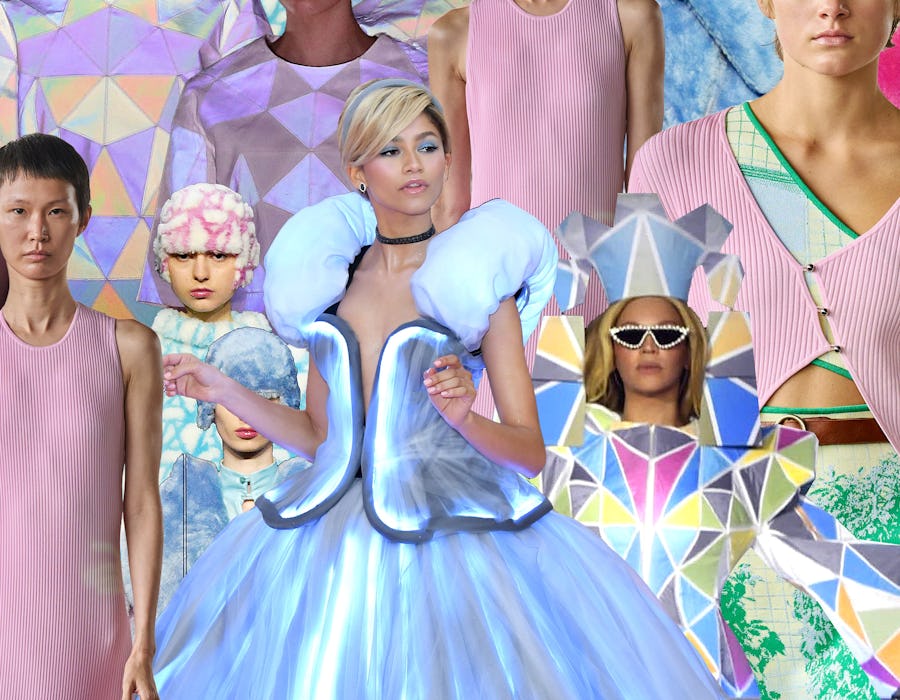 Future Of Fashion
We may receive a portion of sales if you purchase a product through a link in this article.
Beyoncé's first show for her Renaissance World Tour in May left fans just as floored by her outfits as they were by her setlist. One look featured a larger-than-life, triangle-paneled robe and headpiece by Japanese brand Anrealage. At first, the garments appeared pure white, but after exposure to two moving bars of light, they burst into color.
Bey's Renaissance look is an example of a fashion technology that's soaring in popularity: the use of color-changing fabrics to create chameleon-like clothing. In this case, the surprise came from Anrealage's UV-reactive textiles. The brand unveiled the technology in 2015 and have since used it in entire collections, including its viral fall-winter 2023 show.
Another brand that's recently leaned into UV technology is PH5, a New York-based knitwear label known for their groovy hemlines and body-hugging ribbed fabrics. Helmed by designers Wei Lin and Zoe Champion, PH5's clothes differ from Anrealage's in one crucial way: Wearers can change the color of their garment by simply stepping outside.
"It's not just clothing for a picture," Champion tells Bustle via Zoom. Though most of PH5's UV-reactive pieces clock in above $200, the designers are doing their best to make the technology as accessible as possible through whimsical yet wearable knit silhouettes. "We really want people to feel like they're wearing something interesting but they can live in it, with the stretch of the knits and everything. Someone wore [our dress] to a gender-reveal baby shower, and it turned pink in the sun. It could be seen as a gimmick, but it's something really special to people that they're using to add some excitement to their lives."
Color-changing clothes first gained mainstream notoriety in the 1990s when sportswear manufacturer Generra released Hypercolor, a line of cotton tees and shorts whose pigmentation changed in response to spikes in the wearer's temperature. Its success was short-lived — after a few washes, the pieces turned a permanent purple-brown color. Today, the tone-altering garments can generally be divided into two categories, UV-reactive and LED-activated. Brands like Anrealage and PH5 fall into the former group.
"It's really the yarn that we work with. It was dipped in a coat, and the coating is UV-reactive," Lin says. The yarn in question starts with viscose made from tree pulp, which absorbs the properties of the UV-reactive coating on a molecular level. You'd think such innovative materials might be tough to maintain, but all of PH5's UV-reactive items can be machine washed and tumble dried on low. "It's porous and can take in that coating, so it doesn't wash off or rub off," Champion adds.
To the less science-savvy among us, the second category of pigment-shifting fashion — LED-activated garments — may seem more intuitive. The technology first arrived on the runway at Alexander McQueen's fall 1999 collection for Givenchy, where a finale look embedded with wires and lights predicted a cyborgian sartorial path for Y2K.
Since then, show-stopping looks from stars like Lupita Nyong'o have kept light-up fashion in the zeitgeist. But no fashion moment is more memorable than Zendaya's famous Cinderella gown from the 2019 Met Gala. When tapped with a wand held by her famed stylist Law Roach, the once-gray and lifeless skirt began dancing with lights and bloomed into a massive cupcake shape.
Dimitrios Kambouris/Getty Images Entertainment/Getty Images
Dimitrios Kambouris/Getty Images Entertainment/Getty Images
John Shearer/Getty Images Entertainment/Getty Images
Compared to UV-reactive technology, LED-activated textiles have their advantages, like the ability for manufacturers to dictate exactly how and when clothes change color. You can sew lights and power sources directly onto garments, which eliminate the strenuous process of coating yarn fibers with UV-reactive materials before weaving a fabric. There's also no risk of sunburning your clothes, which Lin says can occur if UV-reactive garments are exposed to strong sunlight for several hours at a time, preventing them from changing back to their pre-UV color.
Still, Lin and Champion feel UV-reactive fashion is more user-friendly than its LED counterpart (a dress covered in electrical wiring can't exactly go in the washing machine). They see a world of untapped potential for what it could create. PH5 recently held its first-ever runway show at New York Fashion Week, and it was full of never-before-seen interpretations of the brand's hue-shifting tech.
A handful of pieces started out with abstract green and beige prints, but after a walk through the outdoor venue, all hints of beige turned a fluorescent pink. Even after taking to the runway, the bubblegum-colored fabric still contained spots of white where UV rays had yet to change its hue. One model walked in a tank-style maxi dress, and when she removed her hand from hip, revealing the white handprint below, the audience audibly gasped.
Photo Courtesy of Ph5
Photo Courtesy of Ph5
Photo Courtesy of Ph5
Photo Courtesy of Ph5
"Previously, we've done full garments and T-shirts in UV yarn, but this season, we also did our more compact knit technique with different patterns," says Champion of the Spring/Summer 2024 collection. "The great thing about knitwear and the way we develop is that we can take all these different elements and bring them together. Bringing in different colors, I think there's an unlimited number of combinations and variations that we can create."
Lin and Champion believe a number of obstacles have prevented UV-reactive fabric from going fully mainstream. PH5's UV yarn is five times more expensive than its regular yarn, while increased sensitivity to heat and pressure adds meticulous extra steps to the production process.
"In knitwear, before we wrap up production, one of the final stages is to wash and tumble dry the garments, and then we steam and flatten them before we fold and package," Lin says. "We hang a lot of our UV garments instead of folding them because we don't want the coating to be distributed unevenly in the initial stage, because they're still very fragile when they're newly made."
The most affordable forms of color-changing clothes on the market cater to ravers' sensibilities. Etsy is full of glow-in-the-dark options, while truly transformative pieces are harder to find. LED fashion brand Neon Cowboys carries some well-priced accessories, but clothes start at $380 for a sold-out pair of pants with light-up lace details. When it comes to pieces you'll actually want to wear on the regular, PH5 is one of the most accessible options on the market. Still, with prices starting at $140 for a T-shirt and sizes only ranging from XS-L, "accessible" is a relative term.
For now, color-changing clothes remain mostly relegated to the Beyoncés of the world (and to those who can afford to drop a few hundred dollars on a dress), but there's still plenty to enjoy as a spectator. Expect more and more viral moments incorporating the technology on red carpets and beyond. As for PH5, the designers want you to benefit from their UV-reactive innovations however you can.
"It also reminds you to put sunscreen on," Champion says with a laugh. "You think it's an overcast day, but then you go outside and your dress turns pink."