The One Difference Between Dyson's Airwrap & Hair Dryer Is Actually Pretty Crucial
They both use the same innovative technology to keep hair shiny and healthy though.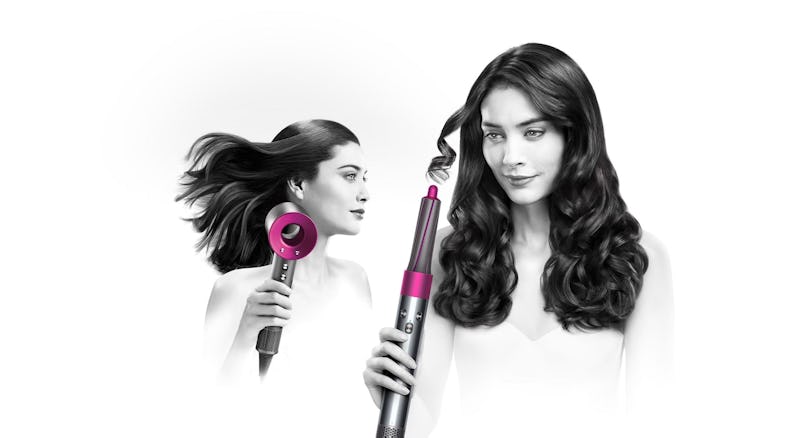 Dyson
It's still odd to think that Dyson, the company known for its vacuum cleaners, has completely taken over the haircare industry. In 2016, the company's Supersonic Hair Dryer launched to rave reviews and was promptly bought by every hair-obsessed person on the planet. Two years later, and Dyson cemented its position as a giant hair-care industry with the Dyson Airwrap, a styling tool following in the footsteps of its Hair Dryer predecessor. But what's the difference between Dyson's Airwrap and Hair Dryer?
We only include products that have been independently selected by Bustle's editorial team. However, we may receive a portion of sales if you purchase a product through a link in this article.
Dyson Airwrap Vs Dyson Hair Dryer - What's The Difference?
Both the Dyson Airwrap and Supersonic Hair Dryer use the same innovative technology to keep hair shiny and healthy. Instead of frizzing your hair with excessive heat, Dyson's teeny tiny digital V9 motor produces what is known as the Coanda effect: where a jet flow attaches to a particular surface, creating a spinning vortex of air that has the ability to magically attract hair and style it in the same way as a professional hairstylist would. All you have to do is sit back and hold it.
The Dyson Airwrap and Dyson Hair Dryer also control the temperature so your hair doesn't suffer any unnecessary heat damage. The Airwrap measures the temperature of the airflow 40 times every second while the hair dryer only does this 20 times per second. Oh, and they're both extremely quiet when drying your hair.
There's one big difference between the Airwrap and Supersonic Hair Dryer, however. Although Dyson's hair dryer comes with various styling attachments allowing you to straighten your hair, or leave your hair with a blow-out style for those with superior dexterity among us, the Airwrap has the ability to dry and straighten or curl hair at the same time. It can also just style dry hair too, via attachments including curling barrels, a brush, and a version of the original hair dryer.
Obviously, both of these technologically advanced styling tools don't come cheap. The hair dryer is currently available for £299.99 while the Airwrap is a tad more expensive with prices ranging from £399.99 up to £449.99. However, it does give you the chance to do more with your hair, such as curling and the ability to decide how tight you want those curls to be. And it works with all hair types. You can either buy the complete set, one specifically designed for thin hair, or one that's aimed at thicker and more textured hair.
The Airwrap may seem pretty complicated to use, but Dyson has luckily provided plenty of video styling tutorials. The main thing that you need to remember is that your hair does need to be slightly wet to use any of the styling attachments. When using the brushes or barrels, you'll need to dry it a little, but that's where the handy dryer comes in. And to set your hair, you simply have to press the cold shot button once each section has been styled.
The Dyson Supersonic hair dryer also uses the same cold shot technology and too comes with three speed and four heat settings. It dries hair incredibly quickly and is a lot lighter than other hair dryers as the motor is located in the handle. Its attachments include a smoothing nozzle which provides a sleek finish, a diffuser to reduce frizz, and a styling concentrator which allows you to style one specific section of hair at a time.
Just like the hair dryer, early reviews of the Airwrap are all pretty positive. Vogue described the experience as a little odd at first but praised the fact that you really do have to do very little to get a professional-looking hairstyle. Glamour also commended the Airwrap's time-saving ability.
It seems that the Airwrap may just have won this battle. If you're a little put off by the price, don't panic for Dyson has even introduced a monthly finance agreement. Clever, very clever.
This article was originally published on