Here's What Happened When I Wore Good American's Butt Cut-Out Jeans In Public
Some accidental flashing was involved.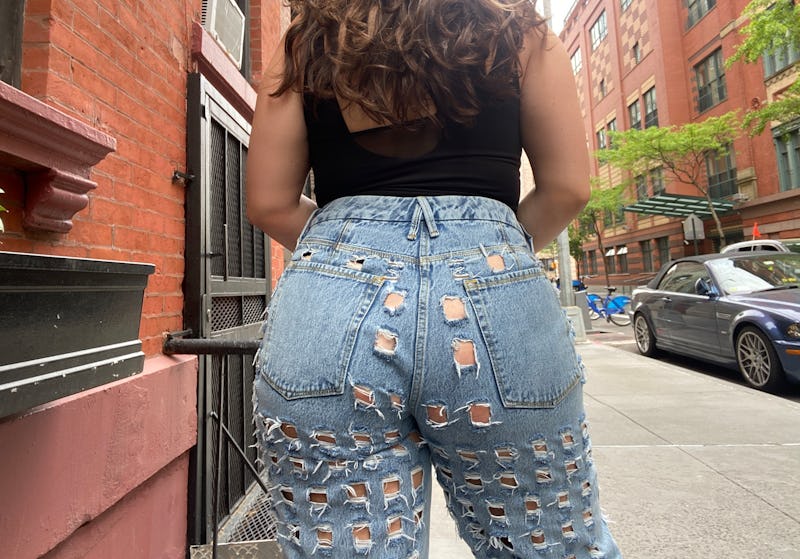 Courtesy of Bella Gerard
Pants were created with the sole intention of covering one's behind, but with the rise of naked jeans and artsy cut-outs taking over every area of fashion, they're venturing farther and farther from that goal. Khloé Kardashian's brand Good American is the latest to move the denim needle a bit closer to 'covers literally nothing'. Their boldest denim drop to date, the Good '90s Laser Jean, features square-shaped cutouts from hip to heel (yes, including the butt).
I've been a Good American stan for a minute, but I'll admit, this new launch gave me pause. Sure, they looked good on the mega-hot models, but could anyone else actually pull them off IRL? To me, they looked like nothing more than another wildly clever Kardashian marketing ploy.
Truthfully, I've never had the greatest relationship with jeans — perforated or otherwise. Wide hips, thick thighs, and short legs didn't allow me to grow up 'live, laugh, love'-ing in Abercrombie skinnies, like everyone else I know. In adulthood, however, brands (like Good American, specifically) have helped me discover styles I love and actually felt confident in.
Because of this, I decided to give my favorite denim brand a fair shot. I grabbed a couple pairs, and armed with a thick layer of sunscreen (my biggest priority was preventing a checkerboard tan line, naturally), I gave the jeans a go in the name of investigative fashion journalism.
We only include products that have been independently selected by Bustle's editorial team. However, we may receive a portion of sales if you purchase a product through a link in this article.
First things first, let's talk sizing. I tend to wear a size 12 in no-stretch denim, so I ordered sizes 12 and 14 to be safe, in shades Indigo174 and Bone001. Both fit, but the 14 had a cooler, more relaxed look. Being a Short Queen, I chopped an inch off the hemline to accommodate my 5'1 frame. My scissors left behind an unfinished look that really complemented the cutouts, so I skipped my usual trip to the tailor.
When pondering what to wear with jeans that intentionally show off your bum, I decided to fully commit to the cause. A thong-style bodysuit would cover the essentials, while leaving the booty-baring cut-outs to do their job. I snagged two styles from the brand, for a head-to-toe Good American 'fit. The final look gave off a classic, running-errands-in-NYC type of vibe — a.k.a., light-wash jeans and a cute, black top.
The Cut Layered Bodysuit is the ultimate elevated basic, giving a strappy, sheer effect. Styled with my Jacquemus micro bag, Fendace sunnies, and Steve Madden's famous Slinky platforms, I dressed up the pants, while still letting them have their moment.
Yes, these showed a lot of skin, but I still felt more covered-up than I usually do in shorts or a mini skirt — apart from my butt, of course, which was in full view. I worried the jeans might look a little too clubby for daytime (as a New Jersey native, I'm forever in fear of looking like a Jersey Shore extra), but thankfully, they ended up looking more streetwear than Snooki.
Running errands in Soho, I got more than a few stares — and rightfully so. I was feeling myself! I was serving a look! That is, until my friend Annie said: "your butthole is showing." She was kidding, kind of. The jeans had stretched with wear, so when I walked (or strutted, more accurately), the rows of cut-outs migrated to the side, exposing my entire butt crack.
After styling up a classic, black-and-denim take for the streets of New York, I threw the white-washed pair (size 12, to lower the risk of accidental flashing) into my suitcase for a press trip to Joshua Tree, California. I usually don't like white denim, but these are a wearable creamy color, instead of the usual blinding white.
This time, I paired the Good Touch One Shoulder '90s Bodysuit — my new go-to, both soft and supportive — with an old sunhat, shades, and Teva's Zymic Sandals in Sesame (read: the most comfortable shoes I own). The sandy colorway and normcore design of my favorite sandals worked to give the wild jeans a more laid-back look for a Cali afternoon. I was still the most dressed-up person in the desert, but hey — I work in fashion.
I got these jeans thinking they'd be a strange styling challenge for a fun article, but I ended up falling in love with both pairs. The perforations really spice up a classic denim look and I've lost track of the compliments received on my outfits (OK, and my butt) during the experiment. I knew I could trust Good American, but the Good '90s Laser Jeans are proof that they'll never, ever steer me wrong. I'm sorry for doubting you, Khloé. You always know best.