Everything You Need To Know About Gucci's Signature Diana Bag
The bag is named after the People's Princess.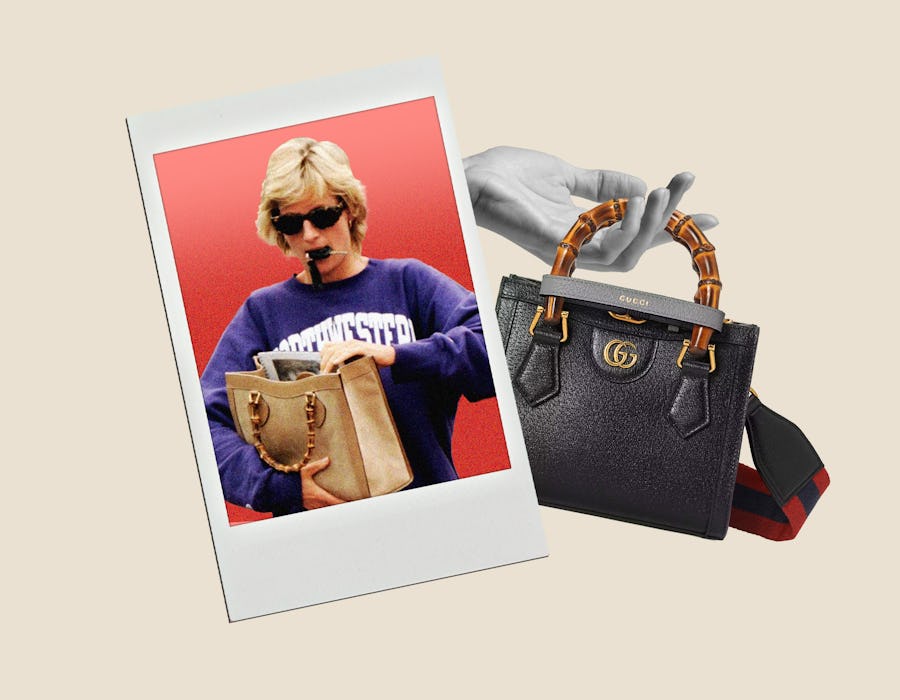 Secure The Bag
We may receive a portion of sales if you purchase a product through a link in this article.
There's a reason Gucci's Diana bag is considered a classic. Named after the Peoples Princess, the purse is a roomy, functional, pair-with-anything tote for both work and play. Accented with bamboo handles and the Double G hardware Gucci is famous for, the Diana is an elegant style that has withstood the test of time.
Its now-iconic wooden handles were inspired by a different Gucci purse: the Bamboo bag launched in 1947. Because resources, like leather, were scarce after WWII, Gucci artisans were forced to innovate. They changed strap materials, pivoting to bamboo, which was still available for import at the time. And thus, fashion history was made. To keep the bamboo handles in place, the purse came with a band wrapped around the handles to help them keep their shape.
With this inspiration, the Florence-based label introduced an oversized tote in 1991, but it wasn't until the accessory was photographed in the clutches of Princess Diana that it really grew in popularity. The leather handbag became one of her favorites in the early '90s. She took it everywhere — from strolls through Chelsea to a trip to the gym, where she famously paired it with a sweatshirt and bike shorts.
In 2021, Gucci's then-Creative Director Alessandro Michele — who was known for dipping into the archives for inspiration — reissued the bag officially as the Gucci Diana. As an ode to the fashion house's resourceful history, Michele included bold neon leather bands inspired by the ones that once held the bamboo in place.
Timing the launch perfectly, Michele released the Gucci Diana on July 1, the late princess' would-be 60th birthday.
Since the relaunch of the '90s classic, celebrities from Alexa Chung to Elle Fanning have touted the Princess Di-approved purse. Even J.Lo is a fan, stepping out with the style multiple times in 2022.
Originally released in medium, the bag now comes in several sizes and silhouettes (with more recent additions courtesy of the 2022 Gucci Cosmogenie collection). Now, you can shop the Gucci Diana in a curved silhouette, as a mini rectangular, or even as a bucket bag. Pricing ranges from $2,190 all the way up to $42,000 for more exotic skins.
Interested yet? Shop styles below.