Hailey Bieber Revealed Every Step Of Her Nighttime Skin Care Routine
"Find yourself a moisturizer that helps you look like a glazed donut."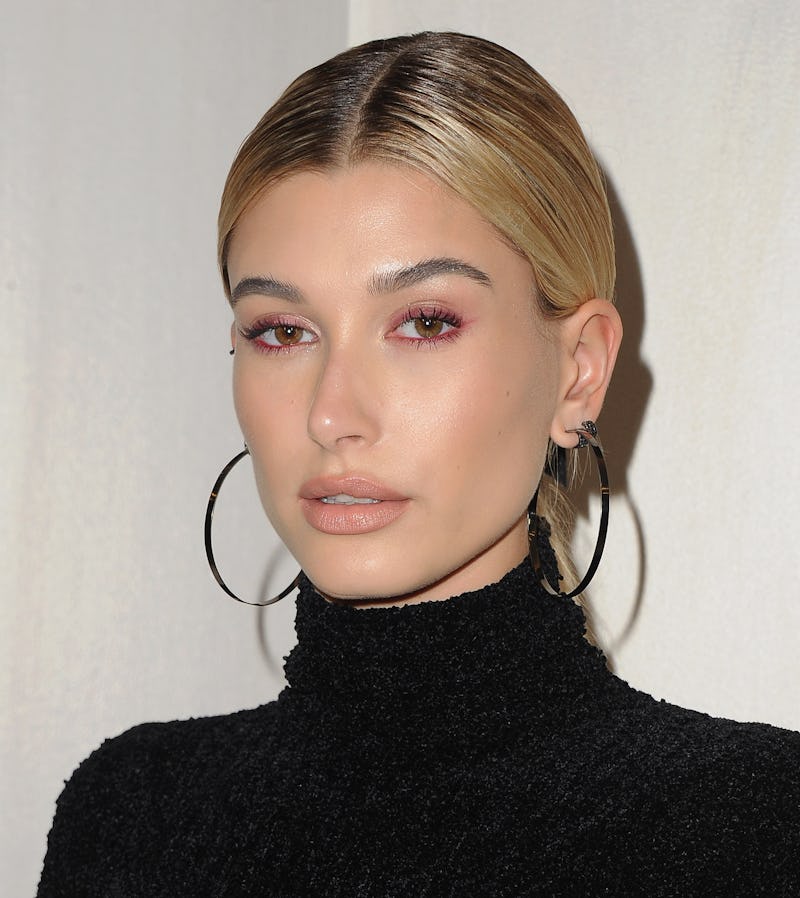 Jon Kopaloff/FilmMagic/Getty Images
Breakouts can happen to anyone — and that includes supermodels. And while it may appear as though she was blessed with a perpetually perfect complexion, Hailey Bieber dropped her nighttime skin care routine in a new YouTube video that proves that she, too, gets the occasional pimple. To keep her skin (which she describes as both sensitive and dry) happy throughout the night, her routine focuses on hydration, gentle acne treatments, and extra TLC for the driest areas.
After putting her hair in a ponytail, Bieber starts off with a double-cleanse. She uses an oil cleanser (the Mara Beauty Algae Enzyme Cleansing Oil, to be exact) to break down her makeup, a tip that the model says she picked up during quarantine that's been a game-changer for her skin. She follows it up with the HoliFrog Tashmoo Water Lily Nourishing Milky Wash, a gentle face wash that cleans her skin without stripping its natural oils.
While her face is still slightly damp, she takes the Biba Los Angeles Plant Stem Cell Peptide Serum and massages it in. "I love peptides," she shared. "I think it's one of the best things you can put on your skin." Bieber tops the serum with an "intense" moisturizer, Biba Los Angeles Cream Barrier, skipping any areas where she has blemishes. She seals the products in with Furtuna Skin's Due Alberi Biphase Moisturizing Oil.
If she's breaking out, Bieber will use the "teeniest bit" of a dermatologist-prescribed spot treatment. To heal pimples overnight, she reaches for the Starface Hydro-Stars, which are equal parts cute and effective. As a final step, the bareMinerals Ageless Phyto-Retinol Eye Cream is applied to both her under-eye area and lids, while Aquaphor's Healing Ointment is used as a lip balm and a spot-treatment on any stubborn dry spots.
Now ready for bed, Bieber's skin looks dewy and radiant. "If I'm not getting into bed looking like a glazed donut, then I'm not doing the right thing," she said. Duly noted.
Video Production: OBB Pictures