Hailey Bieber Knows You're Skeptical About Her Skin Care Line
Here's why you should give Rhode a chance.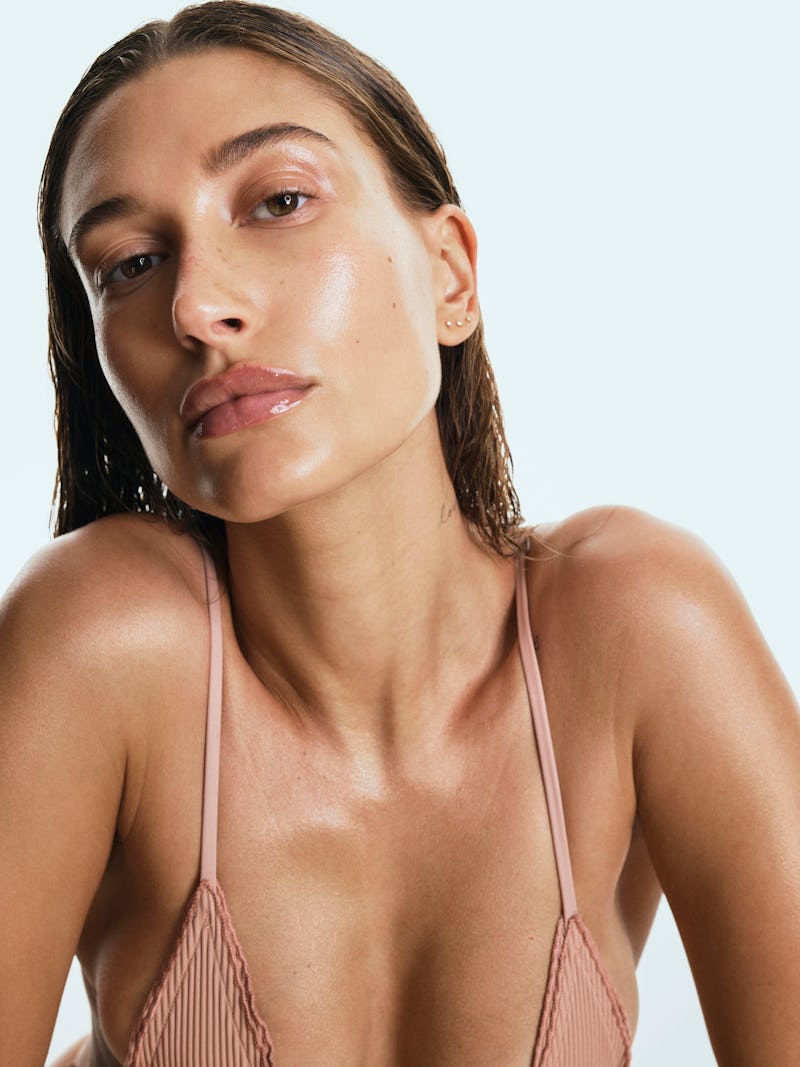 Rhode
Hailey Bieber doesn't have a lot of spare time, but when she does, she likes to read medical journals. "I think in another life I was a doctor," she says, perched on a couch in a sun-dappled suite at the 1 Hotel Brooklyn Bridge. Wearing a pinstriped denim suit and towering black patent platforms, hair and skin gleaming like the sheen of a freshly-glazed Krispy Kreme, it's easier to picture her as a model stepping off the set of a cover shoot than as a holed-up bookworm poring over the difference between niacin and niacinamide. But if you've been paying attention, this revelation won't come as a surprise.
For years, the model has spoken candidly about her acne struggles, created videos with zeitgeisty skin care gurus like Dr. Barbara Sturm and Hyram Yarbo, and posted viral TikToks documenting her own routine. In March 2021, she launched her own YouTube channel, giving her followers another look at Hailey The Person vs. Hailey The Celebrity. This blend of vulnerability, relatability, and genuine passion placed her in the perfect position to start her own brand, so when she announced she was launching Rhode, it didn't come as a surprise to her tens of millions of followers. But that's not to say the announcement didn't elicit a raised eyebrow.
Caught in the boom of new celebrity beauty brands hoping to achieve the same level of success as Rihanna's billion-dollar Fenty Beauty, it's easy to dismiss Rhode as a quick, cleverly marketed cash grab. "I know that people are so tired of celebrity brands and I'm like, honestly, I get that," Bieber says. "I think that I'm trying to do something very different."
So Rhode isn't trying to be Fenty Beauty, nor any other celebrity beauty brand on the market. Launching with just three products, Bieber curated a sleek, simple line focused on hydration and repairing the skin's moisture barrier which, when compromised, can lead to sensitivity, dryness, and a slew of other common skin issues. All the products clock in under $30, too, which makes it unique; while sleek and minimalist beauty brands are as ubiquitous as they come, affordability is rarely a part of the equation. Even rarer is a celebrity brand founder who's able to easily rattle off exactly why peptides are the building blocks of the skin or how different ingredients "play together" — which Bieber does, with the ease of someone who, well, spends her free time reading medical journals. "I just don't think a big price tag on skin care means that it's better," she says, citing efficacy, quality, and ingredients as far more important factors.
Here, Bieber shares her earliest skin care memories, the product Justin always steals from her medicine cabinet, and why Rhode is the most personal project she's ever done.
Let's start at the beginning. What's your earliest skin care memory?
I remember as a kid I would get out of the bath and get so annoyed with my mom, because she would lather me in thick, thick lotion. She was so obsessed with hydration and making sure my skin wasn't dry. And now looking back at it, I'm like, thank God she did. Because it definitely helped, and that sticks with me now too — like, I get out of the shower and I'm a glazed donut, head to toe.
What has your skin journey been like since?
No matter how "amazing" your skin is, you always go through phases. As a teenager, you're dealing with hormones and all of those things. I remember when I turned 21, I started getting a lot of back breakouts, which I had never had before. I struggled with that — even though it's not on your face, it's still uncomfortable and it would hurt. I was like, damn, where is all this coming from? I've never had this in my life. Now I'm 25, and I feel like what I needed at 21 versus now is a little bit different. I'm starting to go toward anti-aging in a very slow, small way [with my] super sensitive skin. Plumping and hydration is my goal.
I think that epidermal water loss is one of the biggest things that contributes to aging — dehydrated skin is terrible for aging as well. All Rhode products are focused on hydration, and they're packed with a lot of peptides, which are great for plumping the skin and smoothing out fine lines. They're good for all skin types and skin phases too.
Tell us about the Rhode products.
The Peptide Glazing Fluid is a gel serum I use every single day — I wanted to do something that was a different texture than what's on the market. It has a really light texture, but as you rub it in, it thickens up, which is so nice because it leaves this blanket hydration feeling behind. The glaze is what I use in warmer weather — like morning, noon, and night. I throw it in my beach bag and use it in the sun. If I need to reapply my SPF when I'm at the beach, I put this under for that extra hydration.
I pair it with the Barrier Restore Cream — the BRC — our moisturizer that I use morning and night, but definitely never skip at night. The Peptide Lip Treatment is super nourishing and amazing for the lips — I wear this every night before I go to bed and reapply all throughout the day. It comes in watermelon, salted caramel, and unscented flavors. We included niacinamide and peptides, my favorite skin care ingredients, in the lip treatment too because they keep the lips full and plumped. I can't stand dehydrated lips. It's my biggest pet peeve.
The packaging doesn't veer hyper-feminine. Was that on purpose?
I'm married so I think a lot about the male-female dynamic in skin care. I don't think I'm super girly one way and super tomboy the other way. I have my days when I feel like wearing something girly, and some days I wanna be in my baggy pants and a cutoff tank top. So I feel like I've applied my style in so many ways into the aesthetic of the brand, too. This is something I've poured all of my time and my creative aesthetic into, and I just want everyone to feel included when they see a Rhode product.
What's Justin's favorite product?
He loves the BRC — the moisturizer. He has oilier skin than I do — I have dry, sensitive skin, but the products work for him as well, which is really nice.
People say skin care is self-care. Do you agree?
I have always been obsessed with skin care. I enjoy the ritual of it — I enjoy the cleanse, the application of the product. It's wrapped in self-care for me. I love sitting at home, taking a bath, doing a mask, putting all my products — just taking care of myself and taking care of my skin. I grew up in a household where my mom was always very into skin care and hydration, and she's always taken amazing care of her skin. She stays out of the sun. Same with my grandma. So I've been influenced by it my whole life.
You have been open about your mental health journey. Has skin care played a part in that?
I think I would go back to the idea of the ritual of it and being committed to your routine. I'm going to wake up and take care of my skin today. I'm going to go to bed tonight and take care of my skin. Even though today was hard, or I don't feel like it, or I don't have the energy for it and it was hard enough just getting out of bed today — I'm still going to push through and be committed to something today. The commitment to taking care of my skin has helped me mentally to push forward and feel like it's a small win. Like, I got through that today. I took care of my skin before bed, and that makes me feel good. It's showing up every single day for yourself.
This interview has been condensed and edited for clarity.