Haley Lu Richardson Accidentally Stole Portia's Mermaid Ring From White Lotus
The star shares expert thrifting advice, her favorite White Lotus style star, and filming with the Jonas Brothers.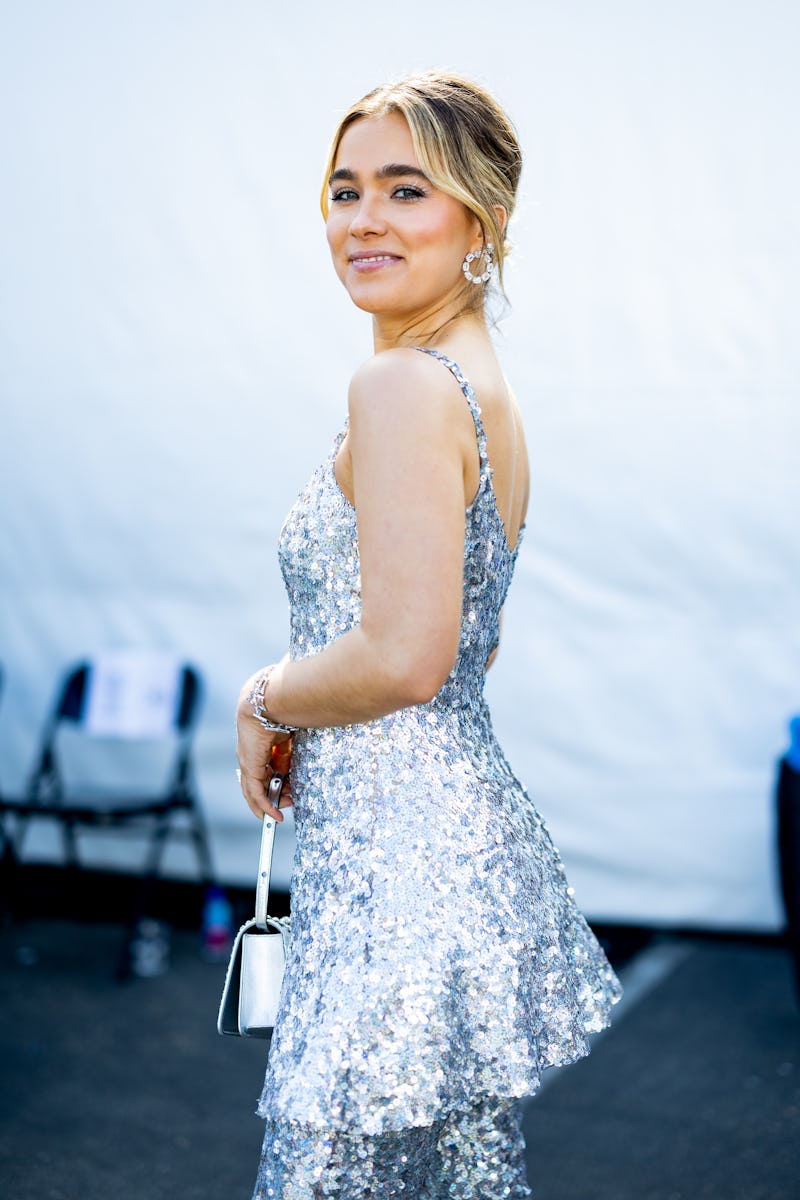 Matt Winkelmeyer/Getty Images Entertainment/Getty Images
We may receive a portion of sales if you purchase a product through a link in this article.
The secret to Haley Lu Richardson's maximalist style is simple: she loves to shop vintage. "Almost my entire closet is thrifted," the White Lotus star told Bustle, adding that she views the act as a creative endeavor, not unlike her craft. "It gets me in this creative zone that's almost comparable to when I'm acting."
Richardson was catapulted to stardom after playing the eclectic and kitschy Portia on the hit HBO show, whose mismatched outfits were heavily dissected by fashion Twitter. Often found dressing like her character, the actor shares the same more-is-more sensibilities with her onscreen persona. "I do feel like there is [a] crossover with the types of things that [Portia's] drawn to and her eclectic chaos," she said.
They also share another key similarity: both love to wear vintage. Costume designer Alex Bovaird scoured thrift stores for Portia's Gen Z personified looks. Richardson, who says she's "not really into fast fashion," admits to exhausting hours just examining racks upon racks of vintage clothes. And on June 7, Richardson is putting the circular in 'circular fashion' by opening her closet for fellow vintage-lovers to shop.
In partnership with vintage e-tailer thredUP, the star is selling over 100 of her preloved items including a few meaningful mementos — like a tourist shirt she purchased in Sicily while on the White Lotus set and the handbag she wore to meet the Jonas Brothers, her lifelong idols.
Here, she tells Bustle her best thrifting tips, the item from Portia's wardrobe she accidentally took home, and the sweet backstory behind her Jonas Brothers music video outfit.
Are there any areas of the thrift shop you recommend perusing to find great pieces?
Depending on the thrift store, lingerie. Obviously, I'm not trying to get a used thong, but slip dresses or corset tops. I think sometimes people are scared to go there, but you can find some good stuff every once in a while. But, honestly, when I go into a thrift store, I search it high and low. I've looked at every garment by the time I leave.
What's your best vintage find to date?
I did, through this partnership, get to do a lot of shopping on thredUP and I found some of my favorite things that I own. I found this floral midi, kind of peasant-looking dress from there, and it's the cutest thing that I own.
Yesterday, I went to the farmer's market by my house and they had this pop-up flea market that they're starting to do once a month, and I found this vintage Harley Davidson leather jacket. The most perfectly worn, studded — but not in an annoying way — jacket. Honestly, I think it's one of my new favorite things. It would look good with this floral dress I have too.
You're selling a lot of items on thredUP, what was the piece that was hardest to let go of?
This purse that I wore when I met the Jonas Brothers. Because that's just a big deal to me, that I was hugging the Jonas Brothers while I was wearing the purse, and now... Someone else will own that purse. So that's kind of hard to let go of, but also, I kind of love letting things go.
I read that book, The Life-Changing Magic of Tidying Up, a few years ago, and it really affected me. I have a lot of clothes, it's kind of like my one collection, I would say, that I have. After reading that book, I really only like to keep the things that I know that I wear and that actually bring me joy. So that purse obviously brought me joy, but also I don't think that I'm going to wear that purse again. I have the memory and I have the picture and then I have other things from that day.
I know you're a big fan of the Jonas Brothers and starred in their "Wings" video. Can you tell me more about the outfit you wore?
The whole process was really fun and unbelievable. They were really open to my ideas and how I could make it more personal to me and my connection to the Jones Brothers. I was like, well, I had a birthday party when I was 12 or something that was Nick Jonas-themed, and instead of pin the tail on a donkey, we did kiss the lip on the Nick. We put a huge Nick poster on my wall and we all blindfolded each other and put red lipstick on and then tried to see who could kiss closer to the lip.
We did a little mini version of that in the video and I blindfolded myself with the tie I had made for Nick when I was 12. I tried to give it to him at a meet and greet but the security guard wouldn't let me. So I still had this tie and I gave it to Nick when I met him the night before we shot the music video. Then he had given it back to his assistant so that we could use it as my blindfold in the music video. It was all just really cute and special.
What's next on your vintage shopping wishlist?
I've been wearing these cowboy boots I thrifted in Montana constantly lately, but they're like three sizes too big on me so I've just been wearing them with thick socks. It would be nice to have a pair of cowboy boots that fit me. Because there's something really fun about wearing cowboy boots with sweatpants or workout shorts. There's just something funny and comfortable about that to me. But then they're also cute with dresses and jeans.
What's your favorite item from Portia's wardrobe on White Lotus?
I do love that crocheted long-sleeve [bolero] that Portia wore to the beach club. I remember looking at that and just being like, "Oh yeah, Portia definitely owned that and brought it to Sicily for whatever reason." And honestly, I would wear that in a heartbeat too. That inspired me to crochet some things that look similar. Well, I've crocheted since I was eight, but I remember seeing that and being like, "Ooh, I could make something like that." So I've made a couple of those.
Did you get to keep anything you wore on set?
I don't know if anyone would've noticed that she wore this, but it's this chunky silver mermaid ring. It was literally a mermaid wrapped around her finger and it was just so cool. I may or may not have accidentally worn that home, because I liked it. It just makes me happy when I wear it. I have a lot of love for Portia, so it's nice to have something of hers.
There were a couple of things that were mine. There was a pair of jeans shorts that I wore that were mine because they just fit me well. And then I did crochet that bucket hat. But I don't even know if I got that back. I think it's still wherever Portia's wardrobe is, in a vault somewhere.
Apart from Portia, whose White Lotus style do you relate to or want to copy?
It would be very romantic to be in Sicily dressed as Tanya. I just feel like that would be really fantastical and wonderful and romantic. But I'm trying to think if I really liked anyone else's style. Maybe the gays.
Good answer. Tanya and the gays. I love that.
That's pretty much what I aspire to be.
This interview has been edited and condensed for clarity.
Shop Haley's Closet On ThredUP