Harry Styles' New Gucci Collab Is Serving Woodland Chic
Is there anything the "As It Was" singer can't do?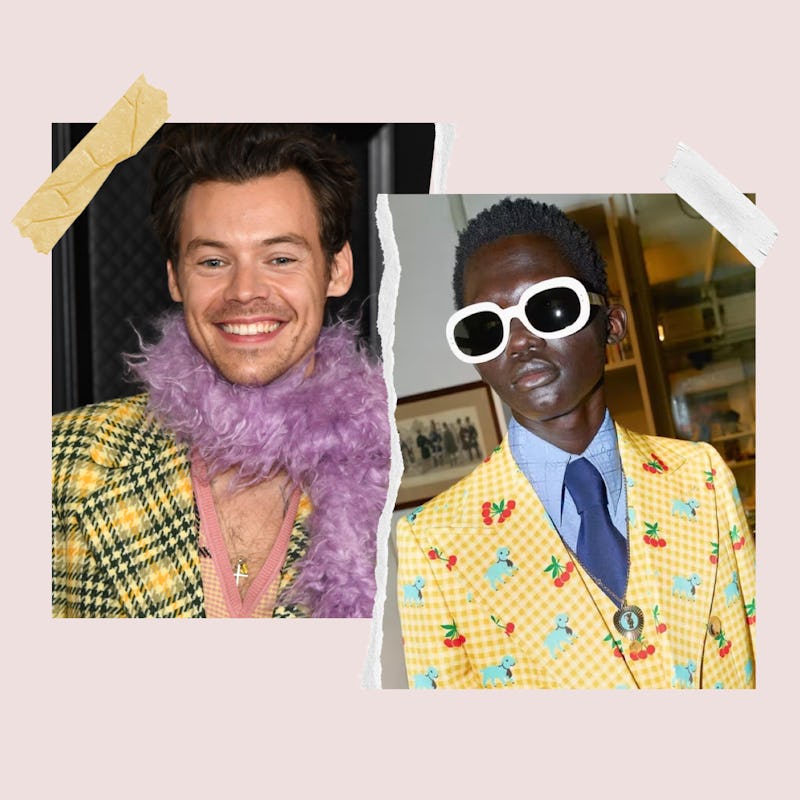 Getty/Gucci
For firm evidence that Harry Styles is a style icon, you need only to look at the floor from his sell-out gigs. from Manchester to London, tube escalators and pavements were strewn with a trail of colourful feathers, courtesy of his boa-wearing fans at his 2022 shows. And from the floral suits of Styles' debut album tour, to the sheer black outfit Styles wore to the 2019 Met Gala, many of his most iconic looks since first going solo in 2017 have stemmed from collaborations with Gucci. He's even modelled for the luxury label in the past — and is now set to go one step further with his very own collection.
Named HA HA HA — after Styles and Gucci's creative director Alessandro Michele — the playful collection blends kitschy woodland chic (think gingham suits covered in baby lambs) and brightly clashing knitwear with vintage-style tweed tailoring.
Containing 25 items in total, the collab was created with the pair's "​​dream wardrobe" in mind, Michele explains in a press release. Judging by the look of the collection's squirrel-covered pyjamas, and an outstanding pair of Chelsea boots emblazoned with bright red hearts, we say it's mission accomplished.
Harold's bond with Gucci goes back a long way, with the singer first striking up a friendship with Michele as he began forging a solo career. Though Michele had reservations ahead of meeting Styles, he admitted to Vogue that he was taken aback by the former One Directioner's eye for style.
"I was ready to be dismissive because I thought [Styles] was some sort of upcoming singer from a boy band and I didn't have time for that," he admitted. "But then he came to the meeting dressed in a fabulous fake fur coat and I just loved it. I changed my mind in an instant. That's how our friendship started."
"He's the most courageous person in all the choices he makes," Michele added at a press conference to launch the new collection, "and he's intuitively attuned to the new ways of self representation. His repertoire is vast, he has an interesting idea of sexy, and he's extremely articulate and aware in his eclectic approach."
Though there's no official release date for the collection, it's expected to drop in Autumn 2022.