Ghd's Duet Style Is The Hot Tool Of My Lazy-Girl Dreams
A two-in-one styler? Count me in.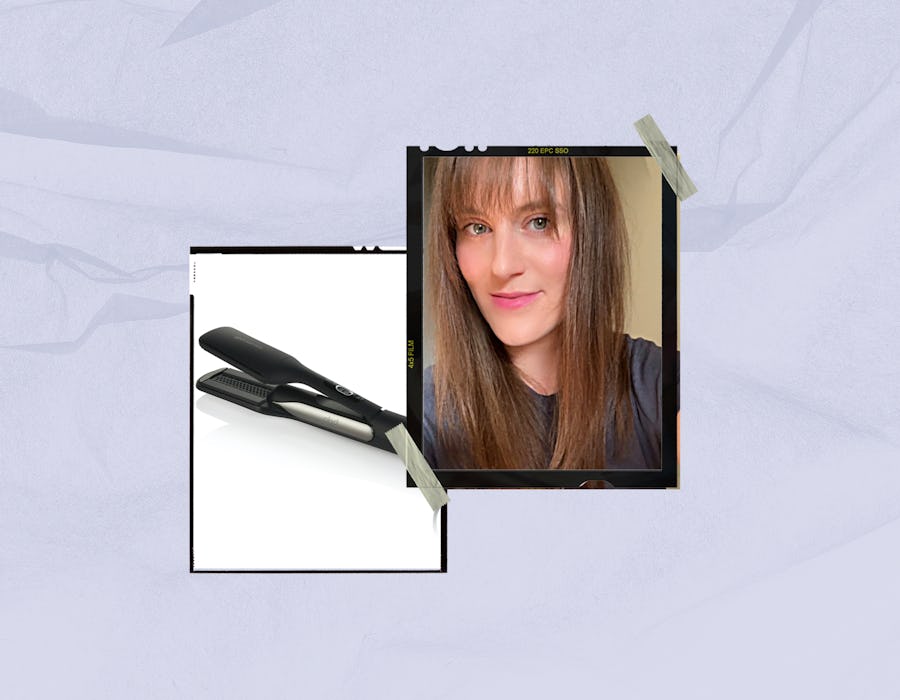 ghd
We may receive a portion of sales if you purchase a product through a link in this article.
As someone who's had blunt bangs since 2015, you'd think I'd be a whiz at drying and straightening my hair to Zooey Deschanel perfection. But oh, how wrong you would be. I'm a big fan of letting my strands air dry, which means I prefer to wake up, shower, and let nature take the wheel. Does this mean I constantly go through life with damp hair? You bet.
Even though I have a haircut that requires some upkeep, I've never been quite on board with the whole blow-drying and hair-straightening thing. It's just so much work. If I want to look nice, I will begrudgingly pull out some tools and do my thing, but nine times out of 10 my hair is air dried and wavy with bangs slightly askew. While this has become my signature look, I've always been intrigued by the idea of two-in-one hair styling tools, like the just-launched ghd Duet Style.
Instead of pulling out a blow dryer, drying your hair, then heating up a flat iron and going over everything again, the Duet Style combines all of that into one, simple motion. Once I had this tool in my possession, I started to picture myself going through life with sleek hair and perfect bangs — and that was all the inspiration I needed to put in just a little more effort. Read on for my thoughts on the ghd Duet Style and how it's transformed my get-ready routine.
Fast Facts
Price: $399.00
Best for: Quickly drying and styling hair without damage
My rating: 4/5
What we like: Easy to use, cuts down on styling time, it's lightweight
What we don't like: Expensive, the larger size can be tough to maneuver
What Is The ghd Duet Style?
The ghd Duet Style is a two-in-one hot air styling tool that you can use on wet hair. The idea is that it dries like a blow dryer while simultaneously acting as a straightener. This is all thanks to its Airfusion technology, which is said to combine the power of airflow with the performance of heated styling plates.
Instead of blasting your head with heat, the tool uses low-temperature plates to sleek down your strands without burning them to a crisp. Once your hair is fully dry, there's a button that allows you to turn off the dryer and bump up the heat for even straighter hair.
How To Use The Duet Style
The Duet Style is meant to be used on damp, towel-dried hair. Once you turn the device on, it'll take a few seconds to heat up to its optimal low-styling temperature for wet hair, after which it beeps. Divide your hair into small sections, place the product close to your roots, hold for three seconds, and glide it down towards your ends at a steady pace. Keep doing that until all of your hair is dry.
If you want an extra glossy finish, you can use the Duet Style's Shine Shot mode (this should only be used on fully dry hair). It turns off the blow dryer and amps up the heat so you can smooth out bumps or waves like a classic straightener. Use it just as you would a flat iron, and voila — that's it.
First Impression
Admittedly, the thought of touching a hot tool on my wet hair did worry me at first. I imagined my strands sizzling away to oblivion — but that obviously wasn't the case. When you turn on the Duet Style it sounds just like a hair dryer, so I could tell it was actively getting rid of any and all dampness.
My hair is on the longer side — it just about touches my mid-shoulder blades — so I liked that the larger clamp size covered a lot of ground with each swipe. (Again, I'm lazy.) Because the tool is so lightweight, I found that it was easy to maneuver around my head. The power cord also swivels in a socket, which means I didn't have to constantly reposition my arm.
The Results
Even though I'm not an experienced hairstylist by any means, I had no trouble getting the Duet Style up and running. I was even able to get sleek, straight hair on my first attempt. I simply clamped my hair at the top, slowly moved the tool down to the tips a few times, and boom — there I stood with dry, shiny strands.
I also did a few passes over my bangs to get them going in the right direction. This alone instantly transformed me from the girl who goes to the corner store in a messy bun and stringy fringe to the girl who goes to the corner store with a hairdo. You're welcome, neighbors.
To make sure everything was extra shiny I used the Shine Shot button, which transformed my dry hair into a blowout status 'do. In total, it took about 15 minutes for my medium-thick hair to be dried and styled.
Is The ghd Duet Style Worth It?
After trying the ghd Duet Style for a week, I'd say it's a good choice for my fellow lazy hairstyling girlies — especially the ones with bangs. I found myself using this tool way more often than my blow dryer or hair straightener because it's just so much easier to use. Whenever I have to hop on a Zoom or pop out to see friends, I give my damp strands a quick once over and it suddenly looks like I spent 45 minutes perfecting a blowout.
One thing to keep in mind is that it doesn't dry your scalp, since this tool clamps your hair instead of blasting hot air out of a nozzle. If you want to reach your roots you'll need to use something else. It's also good to know that this tool is on the larger side, so it might be tricky to hold for some. But for folks who want to quickly transform damp hair into a sleek style without pulling out a million tools, it's a good bet.
The bottom line: If you're looking for a tool that cuts down on styling time, the ghd Duet Style will make it look like you're a master stylist.