The Meaning Behind Jill Biden's Vogue Cover Dress
And her response to the fishnets controversy.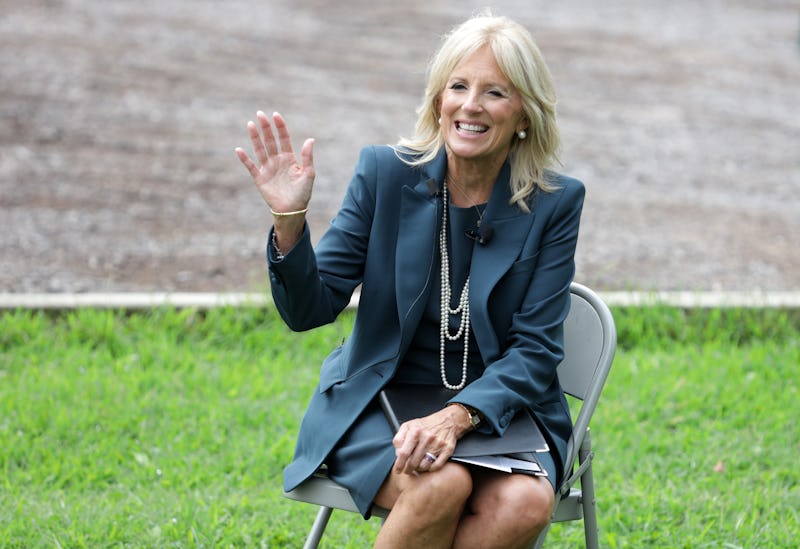 Alex Wong/Getty Images News/Getty Images
Vogue Magazine just released their August 2021 issue and Dr. Jill Biden is the cover star. Styled by Tonne Goodman and photographed by Annie Leibowitz, the First Lady wears a navy blue floral long-sleeved Oscar de la Renta dress for her first cover shoot for the publication. In the elegant but warm and welcoming image, Biden stands leaning against the Truman Balcony of the White House.
She is only the third sitting First Lady to grace the cover of the iconic fashion magazine, after Hillary Clinton in December 1998 and three featuring Michelle Obama over her eight-year tenure.
Inside the issue, Biden looks equally as chic, styled in a white silk blouse and brown suede midi skirt from Ralph Lauren as she uses her rose gold MacBook, pencil held between her teeth. Vogue featured President Joe Biden as well, laughing beside his wife on a patio off the oval office, as she leans back in her chair wearing a Michael Kors Collection green cashmere knit, matching silk skirt, and brown belt around her waist. Even her grandchildren got in on the action, shot by Leibowitz on the beach, all cozied up in knit sweaters and jeans.
Between Oscar de la Renta, Ralph Lauren, and Michael Kors, the meaning behind each look is clear. Biden's outfit choices are a true celebration of iconic American designers as much as they are a celebration of America itself.
Biden has always championed American designers, frequently wearing not only all of the aforementioned creatives, but also those like Markarian (at the inauguration), Jonathan Cohen, and more. It is a page that she has taken from her predecessor Michelle Obama's book, who frequently brought young, emerging, and American designers to the forefront of the conversation.
"I think that's important: You try to lift up other people," she told Vogue. "I like to choose from a diverse group of designers. When I was planning my Inauguration outfits, that's one of the things I considered."
Though Biden recognizes the significance of her outfit choices, she also seemed shocked by the level of attention and criticism paid to her every detail of her look. "It's kind of surprising, I think, how much commentary is made about what I wear or if I put my hair in a scrunchie. I put my hair up," she says. "Or the stocking thing... It's amazing how much people pay attention to every little detail. And they weren't fishnets. They weren't lace. They were very pretty stockings."
Whether people are discussing her "pretty stockings" or her 'Love' jacket and the intent behind it, it's safe to say Jill Biden's outfits will dominate popular conversation for many years to come.