All Those Purple & Blue Inauguration Looks Were No Coincidence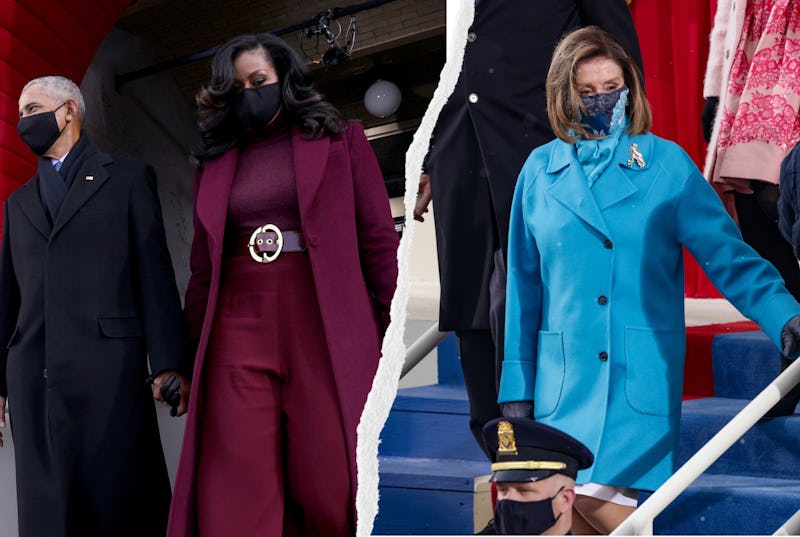 The Biden-Harris administration has officially begun, and fashion lovers are trying to process information overload right now. From the politicians to the performers, there was no shortage of style inspiration at the inauguration. One consistent, unmissable theme was the prevalence of jewel tones, particularly purple and blue hues. Kamala Harris, Hillary Clinton, and Michelle Obama's inauguration outfits were all some form of violet, for example. What gives?
Blue, of course, is the color of the Democratic party. It's also considered a calming color that soothes and heals. Purple, meanwhile, is created from mixing red and blue. The fact that so much purple was spotted at the inauguration suggests that many people have unity — or at least the idea of unity — on their minds. It's a significant sentiment, especially given that it's just been two weeks since Trump-backed, armed insurrectionists tried to take over the U.S. Capitol.
The bursts of color are refreshing when set against the darker gray tones that are more commonplace during the cold winter months. The vibrant shades send messages of hope and optimism, which is something people need to hear after such a tumultuous 2020. If these inauguration looks are a sign of things to come, people can prepare for brighter days.
Ahead, read up on all the colorful ensembles from the inauguration.