Kate Middleton Had A Clever Solution When Tom Cruise Broke This Royal Rule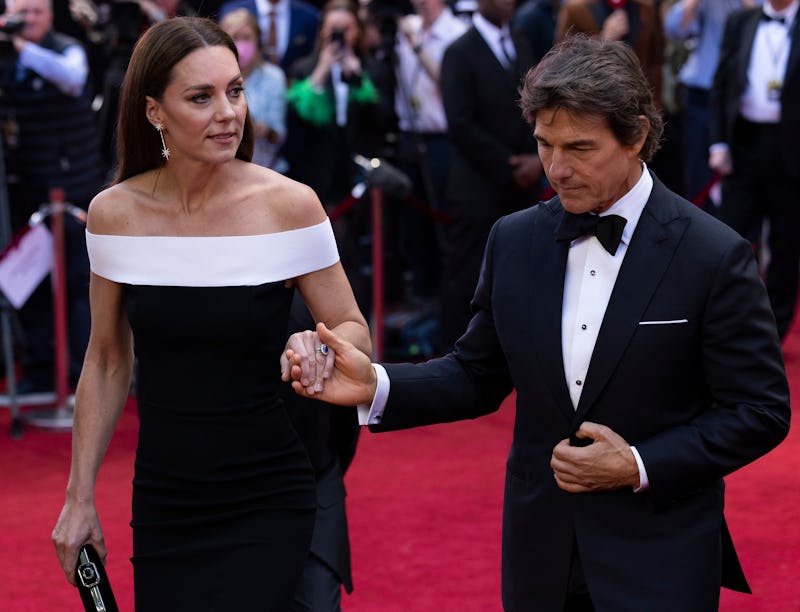 Dan Kitwood/Getty Images Entertainment/Getty Images
On May 19, the Duchess of Cambridge took to the red carpet for the premiere of Top Gun: Maverick in London. Kate made a move away from her usual wardrobe of neutrals and florals, going for something a little more Hollywood than usual. While fashion fans noted to nod to her sister-in-law, Meghan Markle through the designer choice, it was a clever swap of her designer clutch that caught the eyes of royal watchers instead.
Wearing a sleek black and white Roland Mouret gown styled with an Alexander McQueen clutch, she really took the film's famous "take my breath away" soundtrack as a dress code. Prince William was also dressed for the occasion in a navy blue velvet McQueen tuxedo jacket. Having served in the RAF himself, Prince William may have felt a particular affinity with the aviation roots of the film's Maverick Mitchell, a U.S. Navy pilot. This might explain the very chic tribute he made with his Crockett & Jones jet plane loafers. Can I hear a little commotion for the shoes?
The Duke and Duchess were accompanied on the red carpet by the film's star, Tom Cruise. Stepping out for a Top Gun premiere for the first time in 36 years, Cruise looked every inch the leading man. In fact, he even went so far as to lead Kate up the stairs of the red carpet. Unfortunately, this was a slight social faux pas on the actor's part.
Eagle-eyed author and reporter Elizabeth Holmes noted on her Instagram stories that Kate's Alexander McQueen clutch was serving as more than just an accessory.
"Watch the clutch switch," Holmes wrote over the video of Tom Cruise assisting the Duchess up the stairs. As you can see, [Kate] immediately swaps her clutch over into the hand closest to Cruise, indicating that there will be no more touching. Although the gesture from Cruise may have seemed innocent enough, the royals are wrapped in protocol and every accessory – even if it's Alexander McQueen – is sending a message.
Unfortunately for Cruise, the royal family have strict rules on who is allowed to touch them, and etiquette expert William Hanson has previously confirmed that you should never extend your hand to any member of the royal family "unless their hand extends first."