You Can Now Shop M.A.C. Cosmetics' Hyper Real Skin Care Line
Here's what to know about the trio of products.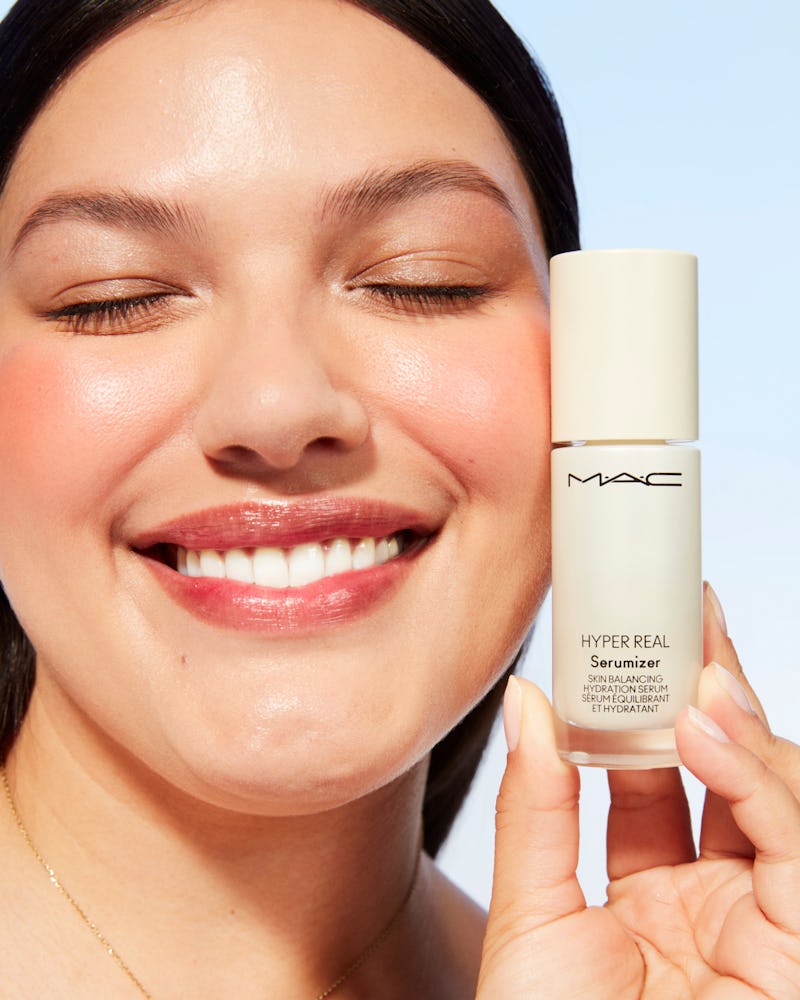 M.A.C. Cosmetics
We may receive a portion of sales if you purchase a product through a link in this article.
After spending over 30 years as one of the most popular, renowned makeup brands in the world, M.A.C. Cosmetics is entering a new category: skin care. That's right — the creators of your favorite lip liners and lipsticks and concealers are now bringing high-performance skin care to the shelves to not only serve as a foundation to your makeup, but to actually enhance how it looks.
When you think about it, the brand's foray into the skin care realm makes sense. M.A.C. makeup is a staple for everything from red carpet glam to fashion shows and the silver screen thanks to its vast arsenal of high-performance cosmetics. Now, with the M.A.C. Cosmetics Hyper Real skin care line, the brand aims to deliver that same artistry to the complexion — aka the actual canvas for a gorgeous glow and smooth makeup application.
Its first launch, available on M.A.C.'s website as of today, is a trio of skin care essentials meant to boost your complexion. There's the Hyper Real Serumizer Skin Balancing Hydration Serum, a luminizing serum-moisturizer hybrid that improves radiance; the Hyper Real SkinCanvas Balm Moisturizing Cream, an uber-hydrating cream that nourishes the skin barrier; and the Hyper Real Fresh Canvas Cleansing Oil, an oil-based cleanser that gently removes makeup and debris.
Each of the products contains Japanese peony extract, a strong antioxidant and anti-inflammatory that evens out the skin tone over time. Both the serum and the balm also feature niacinamide for soothing redness and refining pores, hyaluronic acid to plump the skin, and ceramides to fortify the skin's barrier protection. Meanwhile, the cleansing oil relies on tsubaki, jojoba, and sunflower seed oil along with vitamin E to remove all debris from your complexion without stripping it of moisture.
I've been using all three products for a month now, and my consensus is that... they're all really good. I'd say the true all-star of the collection is the Serumizer. Its texture is that of a juicy serum — one that my skin instantly slurps up (read: it absorbs nicely). The finished look is truly a lit-from-within glow; my skin feels freshly moisturized and plump, and the light-diffusing pearlescent dust inside the bottle gives me that perfect subtle radiance that shines through my makeup.
The Hyper Real SkinCanvas Balm may be called a balm, and though it feels like a thicker moisturizer to the touch, it doesn't feel heavy on the skin. And it really keeps my face hydrated all day long — even in the winter weather that typically makes my skin flake off. I've tried it underneath multiple skin tints, sunscreens, and foundations, and it's never pilled. I mean, it's M.A.C. Cosmetics. They know how to make skin care that plays well with makeup.
Then there's the cleansing oil, which just might be my favorite that I've ever used. So many oil-based cleansers leave a trace of oily residue after washing them off, but not this baby. M.A.C.'s cleanser is super light and I can easily swirl it all over my eye makeup — stubborn mascara included — before rinsing it all down the drain. My skin's left feeling baby-soft, not greasy, and totally clean.
TL;DR? M.A.C.'s Hyper Real Skin Care is legitimately great. Snag the products for yourself below.
Shop M.A.C.'s Hyper Real Skin Care