10 '90s Trends Meghan Markle Wears Like A Total Pro
From crop tops to slip skirts.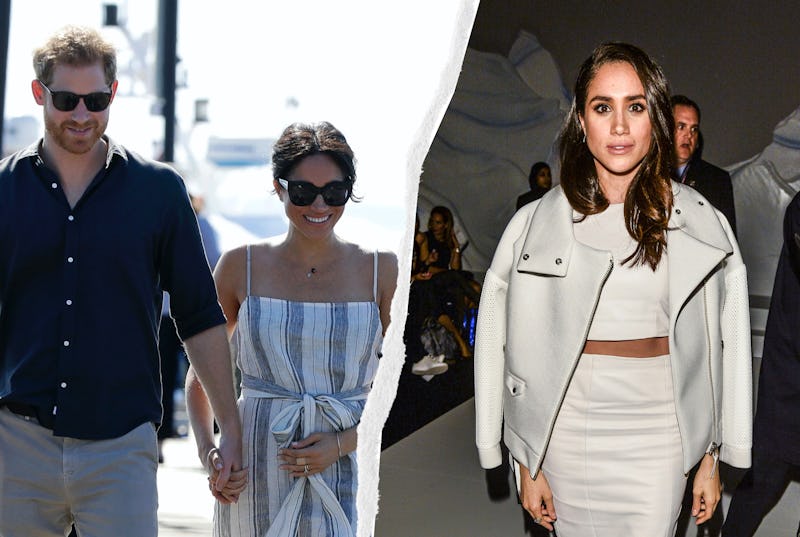 Born in 1981, Meghan Markle knows a thing or two about the fashion trends of the '90s. While it's rare that you'll see the actress go full-on grunge, she does love to embrace the more elegant trends of the decade, gravitating between styles like slip skirts and velvet-paneled dresses with ease.
Yes she hasn't exactly dabbled in the oversized flannel shirt or the overalls trends, but she's well-acquainted with boudoir looks, skimpy spaghetti straps, chic mini bags, and more. She'll even go casual when the event calls for it, choosing that beloved '90s outerwear staple: the puffer coat.
As for colors and patterns, Markle loves to experiment with bolder looks — like animal print — though going for a subtle take on the trend by opting for a leopard accessory only. Her color palette is also chic and sophisticated, as she'll opt for a muted '90s-favorite hue like blush pink for a soft daytime look.
As such, she is right on trend with the current fashion lexicon, which sees '90s trends enjoying a resurgence like never before.
Ahead, find 10 '90s trends that Meghan Markle wears like a pro. Who knows — you might want to incorporate a few in your wardrobe for your next date night?