16 Micro Tattoo Ideas That'll Inspire You To Get Inked Stat
The style is a celeb favorite.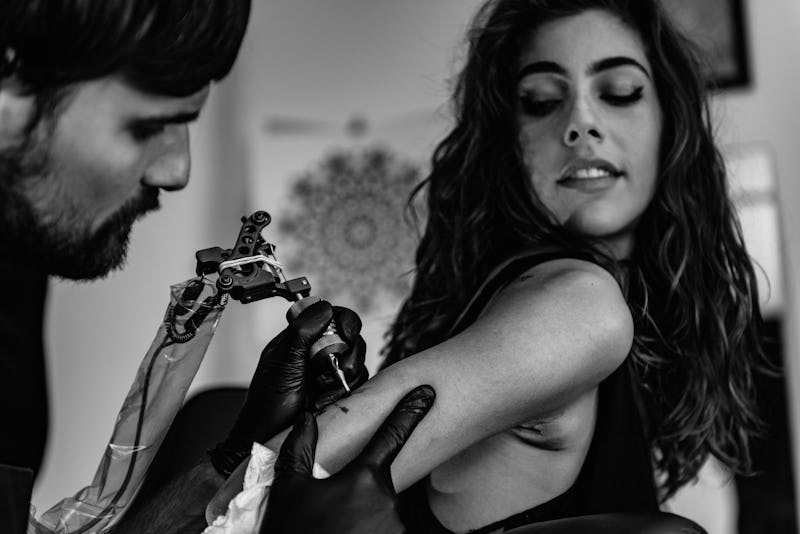 Stevica Mrdja / EyeEm/EyeEm/Getty Images
When it comes to ink trends, micro tattoos may be one of the most popular, particularly among celebrities, and the small bits of body art are ideal for those looking for a piece that's easily concealable.
Amy Leavell-Brandsford, founder of tattoo studio SparrowHawk in Atlanta, tells Bustle that micro tattoos are popular for a variety of reasons. "It's such a sweet way to honor a moment, friendship, pet, or other memory — and much less commitment than going in for a full sleeve or back piece," she says. "It's an ideal start for someone a little hesitant to get a tattoo and looking for their first experience." Leavell-Brandsford adds that while you can get a micro tattoo anywhere on the body, the inner arm, wrist, and ankle are a few of the most popular places.
In a previous interview with Bustle, celebrity tattoo artist and owner of Body Electric Tattoo Brian Keith Thompson recommends keeping a few things in mind. First, make sure you find an artist who does the work: Not everyone creates tiny tattoos, and it's important to check someone's portfolio before choosing an artist. Thompson adds that the fine lines used in micro tattoos often involve less ink to limit bleeding into the skin, meaning they fade quicker, but that they're also easier to touch-up over time.
If you're considering getting a micro tattoo, scroll on for 16 ideas to inspire you.