Twitter Is Divided Over This Princess Diana Ring Replica
Some feel it leaves a lot to be desired.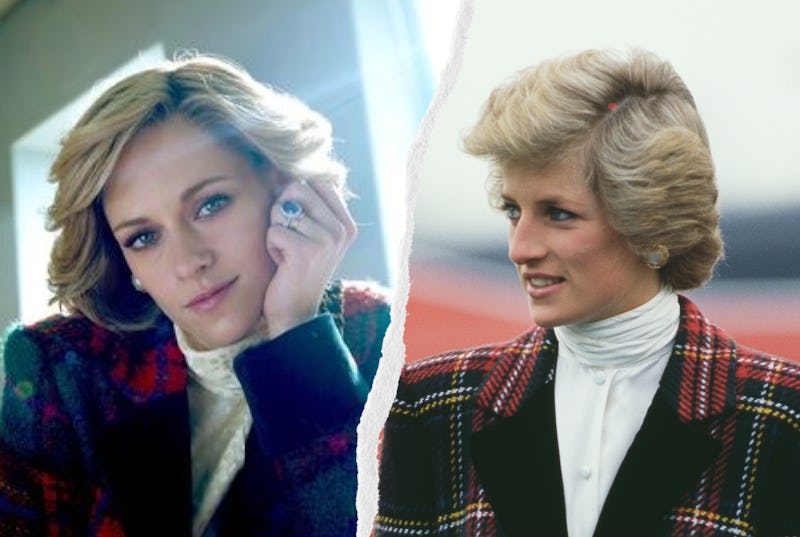 Spencer/Shoebox Films. Getty Images.
Princess Diana's jewelry is among the most iconic in the world. And in anticipation of the new biopic about her life, Spencer featuring Kristen Stewart, the world is waiting with bated breath for a sneak peek of the fashion. The first teaser was released back in January, but there was no prominent jewelry featured. On Thursday, a new portrait of Stewart as the Princess has been released, with the actress wearing a silk turtleneck blouse, plaid tweed blazer, pearl earrings, and, yes, a Princess Diana engagement ring replica made for Spencer.
While fans think Stewart does favor the late Royal in the photo, they aren't as impressed with the engagement ring replica. The Court Jeweller's Lauren Kiehna tweeted: "The engagement ring replica is…not good. It's one of the most recognizable and knocked-off royal jewelry pieces out there. Surprised they flubbed it so badly." Ouch.
While costume designers are often merely inspired by historical fashion pieces as opposed to copying them exactly, there are several major differences between Princess Diana's engagment ring and the Spencer replica.
For starters, the stone looks to be a completely different color than Lady Di's Ceylon sapphire, though it could just be the lighting. Secondly, the diamonds that surround the oval-cut sapphire appear out of proportion from the original.
While Diana's (and now Kate Middleton's) ring boasts 14 round-cut diamonds set in white gold, Stewart's on-screen version seems to have a million tiny chicklets of zirconium that pepper the halo setting.
Diana's ring was also set on a single elegant and clean shank, but Stewart's features a six-prong pavé setting, a trend that didn't surface until almost a decade after the Princess' engagement ring was designed.
Needless to say, social media has some strong feelings about the ring. See below for all the Twitter chatter about Princess Diana's engagement ring replica — both good and bad.
In A State Of Shock
Better Vintage Models Await
Channeling Randy Jackson
Perhaps Etsy Was The Way To Go?
Of Course Amazon Has A Dupe
Halloween Costume Challenge
It's Still An Iconic Moment Either Way
Nice Ring, Not-So-Nice Replica
Vote For Emma Corrin
Tough Crowd
Cocktail Rings Instead?
It's All In The Details
Perhaps A Screen Test?
Zero Points To Gryffindor
Borat Said It Best