Priyanka Chopra Jonas Opens Up About Her Best & Worst Hair Moments
And dished about the one hair color she's "terrified" to try.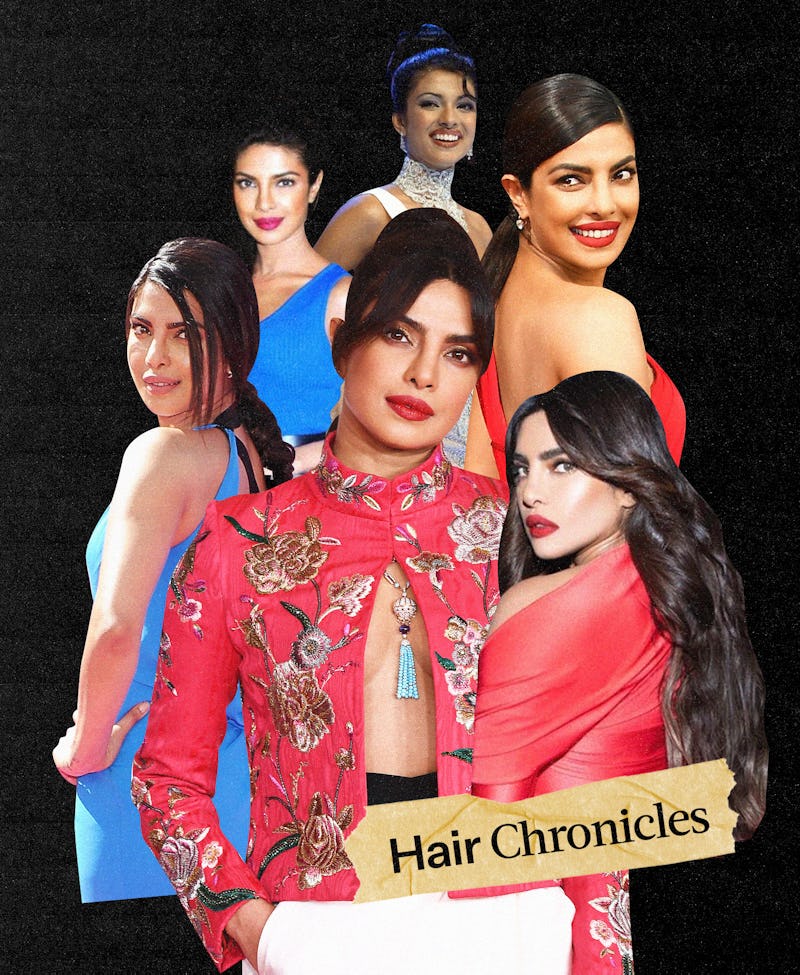 Steve Granitz, Jon Kopaloff, Gerry Penny, Jeff Spicer/Getty Images
In Hair Chronicles, celebrities tell us about their most memorable hairstyles throughout the years, from the ones they'd wear again to those they completely regret. Here, Priyanka Chopra Jonas chats about pageant hair, her newly launched brand Anomaly, and Indian beauty traditions.
As a teenager, Priyanka Chopra Jonas' relationship with her hair was complicated. "I had wild, textured, wavy hair," she tells me over Zoom. "[It would be] curly one day, straight the next day... it could not make up its mind and I was not comfortable with my natural hair at all." Flash forward to the present day and the 38-year-old actor says that she considers her hair to be her "crowning glory" — but getting to a point where she could appreciate her texture took a combination of the right products, time, and confidence.
That journey is, in part, one of the inspirations behind her new hair care line, Anomaly. "Back then, I could never get all the clean products that I wanted because they were just so [expensive]," she says. "I really wanted to democratize beauty." Everything in the minimalistic line is priced below $6 and packaged in thin-walled recyclable bottles made from 100% plastic trash diverted from the ocean and landfills.
And though Chopra Jonas has access to just about every hair product she wants, she still loves a good at-home treatment. "Oiling the hair is a really big part of Indian culture," she says. "It's a tradition. My grandmother used to sit my mother down, and my mother used to sit me down. Even now, when my mom was with me [during quarantine] in London, we'd be watching TV and I would sit by her knees and she'd give me a scalp massage." Her tip: Once a week, apply an oil (her favorite is coconut) all over your hair, massage it into your scalp, tie your locks into braids for a couple of hours, then shampoo. Chopra Jonas says regular scalp massages are key for decompressing, as well as promoting healthier hair growth and shine.
Chopra Jonas' acting career has allowed her to experiment with many different looks over the years, but there's still a daring color on her wish list: silver ash blonde. "I've done it with a wig for a photo shoot, but never on my own hair," she says. "It's so [drastically different] that I'm terrified of it, but I'm also really curious." While you probably won't see her sporting lighter locks any time soon (her roles prevent her from making major changes to her hair for the duration of filming), there's still a chance that she'll eventually make the appointment with her colorist. "You never know," she says with a laugh. "You might just see me do it one day."
As for her favorite — and not-so-favorite — looks that she has tried? Below, Chopra Jonas' takes a trip down memory lane.
Pageant Hair, 2000
"There was a phase I went through where — I think it was a pageant thing — but I just teased my hair a lot. I vaguely remember being told that it holds a crown up really well and it elongates your face."
The "Bump-It" Look, 2008
"At one point, I always had this Bump-It at the back of my head. It just kept becoming bigger and bigger until I had to say 'no.' Actually, it wasn't even me that put an end to it. I think my team, my people were just like, 'Babe...no.'"
A Fierce Fishtail, 2016
"I had a fishtail braid at the Billboard Awards a couple of years ago. It was 100 degrees, because it was in Vegas. I was wearing an airy dress, thankfully, but I was so grateful to have my hair up. But when I saw the pictures, it was one of those looks that I really loved. It was such a hair moment."
A Sleek Ponytail, 2016
"For my first Emmys, I thought the hair was very well designed for the outfit. It was one-shoulder, and my hair was parted on the side. It was just really beautifully put up."
Long, Luscious Extensions, 2021
"For my husband's new "Spaceman" music video, I did a little cameo. I wanted the longest hair a girl can have! I'm on a job right now, which requires me to be very glamor-less. I'm a spy, and my character is not very vain unless she has to be. But me on the other hand, it's not like that. I got all these extensions, and it was so much fun."