14 Quinta Brunson Looks That Prove She's A Fashion Girlie
The Abbott Elementary star is a true style queen.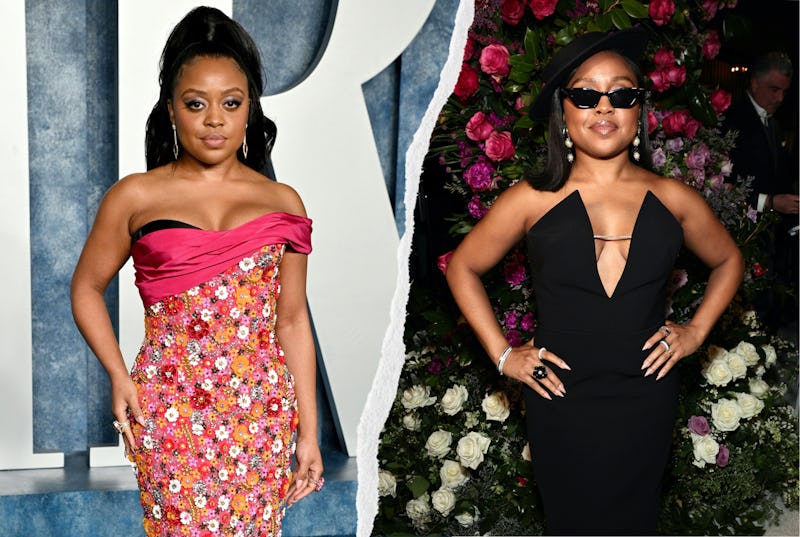 Lionel Hahn/Getty Images Entertainment/Getty Images, Jamie McCarthy/Getty Images Entertainment/Getty Images
Sometimes a celebrity aces the awards circuit with their red carpet style. A star can also knock out fashion season and earn cred as one of fashion week's best-dressed. Dominating both Olympic fashion events, though? Within the same time frame? That's super rare. But Quinta Brunson has never really been average.
The Abbott Elementary writer and headliner snagged several nods this past awards season, including a Golden Globe for best actress in a comedy TV series. But it was her red carpet style that won in my book. Frothy tulle gowns, decadent feathers, all-over beading, and dresses covered in floral appliqúes were just some of her go-to's this season, and they all managed to look exciting and fresh. (The range!)
Meanwhile, Brunson's recent fashion week style — the first season she's ever attended, mind you — also slayed. With her psychedelic prints, hats, and zebra prints, the actor's looks were as enviable as those sent down the runways.
The 4'11" star's ensembles were every bit intentional, BTW. "As a short girl, you rule yourself out of things like fashion week, or fashion in general. So it's really cool to be invited," the actor told Harper's Bazaar. "Part of me feels like I have a civic duty now to show up for the small girls at the things I get invited to."
With both fashion month and the awards season officially over, let's look back at some of Quinta Brunson's best looks so far, all of which prove she's in her fashion girlie era.