The Sexiest Swimsuits You Can Buy On Amazon For Less Than $50
Looking hot at the beach has never been easier.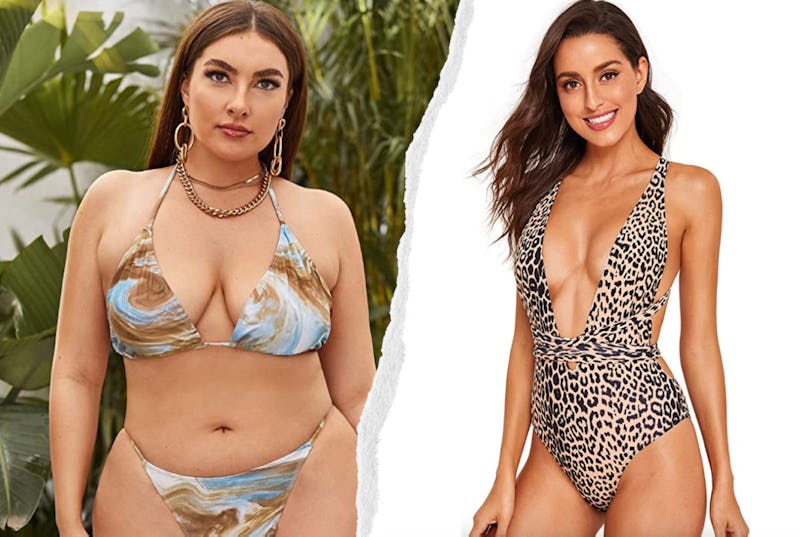 Amazon
Summer feels so close I can almost smell it. And that means, it's time for a closet refresh.
Swimwear trends, like fashion trends, have changed extensively over the past few years. The high-waisted, full coverage looks have made way for something a bit... sexier. Take it from Lizzo— when it comes to beachwear, a less-is-more attitude has blessedly come back in style.
And I am not complaining.
Especially, now that there have never been more options for sexy swimwear available in an *actually* broad range of sizes and price point. Gone are the days of doing investigative journalism to find a sexy swimsuit in an extended size, a quick Goole search will give you plenty of results.
Still, if you're looking to find all your options in one place, I've gone ahead and done the clicking for you. Amazon is a treasure trove for one, two, and even three-piece swim sets. Whether it's a onesie with a deep V-neck, a teeny bikini with just the right amount of underboob, or a classic string two-piece, there is something on this list for every beach babe — the ones looking to spend $50 or less, that is.
Ahead, 25 sexy swimsuits that will get you in the summertime mindset right tf now.
This article was originally published on