11 Iconic Super Bowl Halftime Show Outfits Through The Years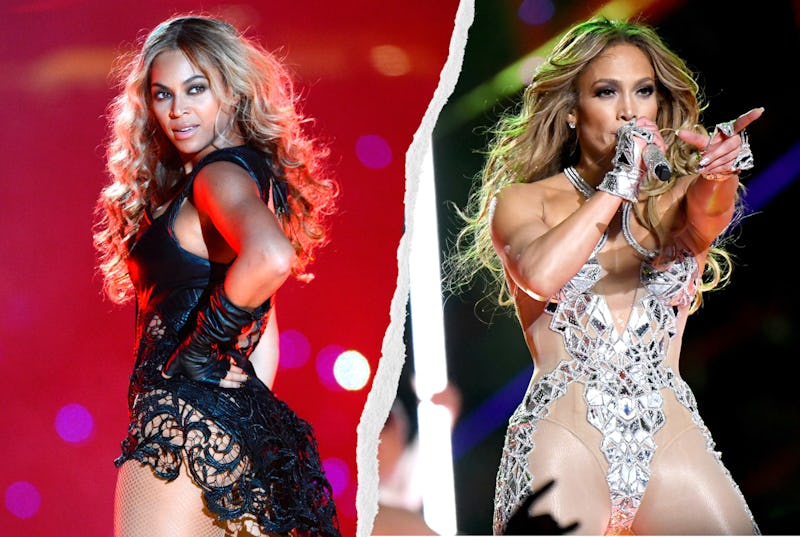 Getty Images
Sure the game is riveting and the commercials are entertaining, but nothing beats the Super Bowl Halftime Show. There's just something about the hype of that 30-minute interlude with one of the top artists of the year that really takes your excitement to a new, unprecedented level. Whether it's Katy Perry flying through the air or Beyoncé causing an actual blackout, the mid-game spectacle is not to be missed. And the Super Bowl Halftime show outfits are just as electric as the actual concert.
Historically, Super Bowl Halftime show outfits don't hold back when it comes to theatrics. Though most artists hit the stage in leotards and bustiers — crafted of leather, sequins, and glitter — there are a few that stand out from the rest. There's Diana Ross' Old Hollywood ballgown, Micheal Jackson's cropped pants and signature thick white socks, JLo's sheer catsuit, Lady Gaga's metallic knee-high boots, and so many more.
While it's impossible to choose the single best Super Bowl Halftime show outfit moment, it's still quite a feat to pick the top ten. Ahead, find the best of the best, from Madonna to Beyoncé, Shakira to Janet Jackson. With these pics, you'll see that the bar is only raised higher with each passing year.
This article was originally published on