An Honest Review Of Superzero's Shampoo Bars
I've become a convert to the eco-friendly beauty category.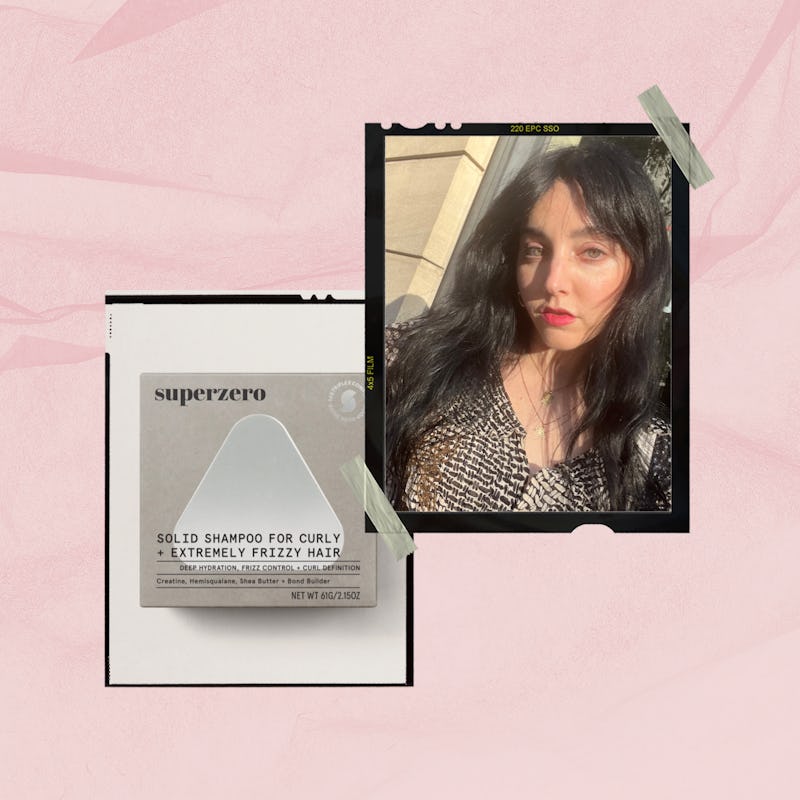 Superzero
We may receive a portion of sales if you purchase a product through a link in this article.
I never thought I'd say this, but I've officially become a shampoo bar girly. No shade to the eco-friendly product category — it just hasn't worked as well as I wished it did during my past attempts to make my beauty routine more sustainable. Then I tried Superzero's shampoo bars, which are single-handedly proving that waterless beauty products can indeed be as effective, covetable, and chic as their bottled counterparts.
Superzero's products are different than the eco-friendly hair care formulas you may have tried in the past. They are for me; and the difference is palpable, IMO. They're packed with high-quality ingredients, they lather (more than plenty of bottled shampoos I've tried), and they make your hair feel absolutely luscious. Not only that, but the brand offers a nice array of shampoos (and even conditioners) for different hair textures and concerns. Each formula features the brand's signature bond-building complex, too, so they'll all aid in smoothing and strengthening your strands. The fact that they're sustainable is the cherry on top.
Read on for my honest review of Superzero shampoo, the new staple in my shower routine.
Fast Facts
Price: $28
Best for: All hair types and textures looking to make their routine more sustainable
Your rating: 5/5
Clean, Vegan
What we like: Lathers really well, makes hair feel super soft and smooth, easy to use, eco-friendly
What we don't like: You should get a shower-friendly case, as it doesn't come with one
Superzero Shampoo Bars
Superzero is all about showing consumers that sustainable beauty can be luxurious and high-performance. Founder Conny Wittke, a beauty industry exec, points out that most shampoo bars are basically soap, which is extremely drying to the hair. Superzero's formulas, on the other hand, are sulfate-free, and rely on highly concentrated actives — like creatine, a bond builder, and hydrators like shea butter — to nourish your strands while ridding the scalp of buildup.
All shampoos and conditioners within the line feature the brand's 360 Triflex Complex, a blend of bond builders that address hair damage within the hair follicle, leaving strands stronger, shinier, and more protected. An added bonus? It helps hair color last longer, according to the brand.
As shampoo bars, Superzero's products are also waterless — and water is typically the first ingredient you'll see on a shampoo bottle's product label. That means these formulas are more concentrated (five times as much as liquid shampoo, according to the brand) and deliver more potent doses of the actives straight to your scalp.
Superzero has eight different shampoos in its collection: Strengthening & Scalp Stimulating Shampoo Bar for Thinning Hair; Soothing Scalp Shampoo Bar for Flaky & Itchy Scalps; Fine Hair Shampoo Bar for Volume & Shine; Clarifying Shampoo Bar; Hydrating Repair Shampoo Bar for Dry, Damaged Hair & Light Frizz; Deep Moisture and Anti-Frizz Shampoo Bar for Curly, Coily, & Extremely Frizzy Hair; Purple Shampoo Bar for Blonde, Highlighted, & White Hair; and the Deep Clean & Oil Control Shampoo Bar for Oily Hair & Scalp — so there's something for everyone. Each one is silicone- and fragrance-free.
My Issue
My hair is fine and naturally straight, though it has a slight wave to it. No matter what styling products I use, however, my strands inevitably become a frizzy mess the second they sense moisture in the air — so I'm always reaching for anything that promises to smooth the hair. That's why I went with Superzero's Deep Moisture and Anti-Frizz Shampoo Bar for Curly, Coily, & Extremely Frizzy Hair as my shampoo of choice.
The Ingredients
The Superzero Deep Moisture and Anti-Frizz formula's star ingredients are hemisqualane, a moisturizing active that helps combat frizz; shea butter to soften hair and increase shine; creatine to help repair breakage and protect against heat; triolein to smooth and hydrate; and the bond builder, which also reduces breakage, repairs strands, and helps hair color last. In other words: It's got an army of ingredients that go to work on frizz and dryness.
The Packaging
Superzero's shampoos don't look like your average bar of soap — because they're not. These are shaped like cute little triangles of varying colors, depending on the formula you buy. The Deep Moisture and Anti-Frizz bar is white with tiny, rice-looking particles embedded within it.
The bar comes with a cotton bag, but you'll have to buy the storage and travel case — an aluminum container that has slats on the bottom so the bar can drain — separately for $10.
How To Use
When your hair is wet, all you have to do is wet the shampoo bar and directly massage it over your scalp and strands to get the lather going — which it'll do rather quickly. From there, work that lather into your head for a mini massage and rinse — that's it. Follow it up with a conditioner (I've been using the brand's Medium Intensity Conditioner) and you're golden.
First Impression
The first time I tried Superzero's products, I was at a salon, so someone did the hair-washing for me. Even then, I noticed that my strands were shiny AF afterward. Several days later, I was excited to experience the bars firsthand. I will say it was strange to rub the shampoo bar directly onto my hair and scalp, but that's what the instructions said. Before I could spiral for too long about the oddity, the lather came through — and it came through in full force.
As I said, there's no water in shampoo bars, so the ingredients are extremely concentrated — which explains the extra-luxurious lather these babies offer. Once the bar came into contact with the water streaming out of my showerhead, I was able to set it down and just use my fingers to massage the product over every nook and cranny of my scalp. It felt really satisfying, too; I really haven't gotten this level of lather from any bottled shampoo I've ever tried.
Though Superzero's shampoo bars are fragrance-free, I noticed a subtle floral scent, which stems from the chamomile and lavender flower oils in the formula — a combo that offered a nice aromatherapy boost.
The Results
Once my hair dried, I couldn't stop petting myself. My strands felt a whole other level of soft and healthy, and they looked shampoo commercial-shiny. The real test, though, was whether or not my hair would frizz right up the second I stepped outside. And you know what? It didn't. Instead, my normally coarse-in-the-humidity lengths remained smooth and in place. Check.
Worth It?
At $28, Superzero's shampoo bars fall somewhere in the mid-price range for its bottled competitors. But, unlike its bottled competitors, its ingredients aren't diluted by water — so you're getting more bang for your buck. In fact, Superzero claims that one of their bars is equal to one 16-oz bottle of shampoo... and it will likely last much longer since you don't need to use that much. On top of that, the potent, nourishing formula feels luxe — so the price point is, IMO, a good deal for such a high-performance product. So, yes: The bars are worth it.
Final Verdict
I'm thrilled to finally have a more sustainable hair care routine — and that I didn't have to sacrifice on the formula to do so. Superzero's hair care products are super efficacious, and my hair's been noticeably better ever since I introduced them into my regimen. My tip? Give these shampoo bars a shot.