14 Ways To Know If Your Tattoo Is Healing Properly
Here's what is — and isn't — supposed to happen.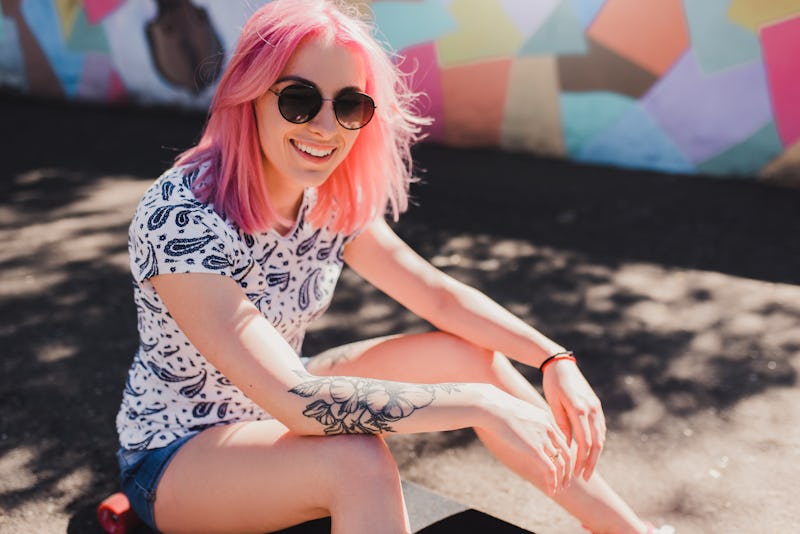 Shutterstock
When you get new ink, you may be wondering what happens after you get a tattoo and what are some of the gross things to expect. As your skin recovers from being poked and prodded, there will be scabs and itchiness, redness and swelling, and possibly even some blood. But that's all to be expected, and it should pass in a week or two once your skin is healed.
"During the tattoo process, you should definitely prepare yourself to see some blood, as well as some other bodily fluids," Jaz Paulino, key tattoo artist at Fleur Noire in New York City explains to Bustle via email. "After the bandage is on, it is totally normal for blood, ink and plasma to ooze out as your tattoo begins the healing process."
Anything that passes over into the realm of the truly gross, however — such as scaly skin, lots of pus, red lesions, etc. — may be a sign the tattoo isn't healing properly, or that you have an infection. So don't be afraid to let the professionals know, if anything goes awry.
"Professional, experienced tattoo artists know tattoos and what is normal healing, so never hesitate to call or stop by and ask about any concerns you have," Leo Palomino, a tattoo artist at Atomic Tattoos in Orlando, tells Bustle. "They will be able to let you know if it is normal, [which] corrective actions to take, or when you should see your doctor or dermatologist."
Of course, it's unlikely you'll have a bad reaction — especially if you're doing things by the book. "Choosing a good tattoo artist, a reputable tattoo studio, and taking care of your tattoo are extremely important steps to ensure that your tattoo heals well, doesn't get infected, and looks the way you want it to when it is healed," Palomino says.
By following the recommended aftercare instructions, you'll be able to make sure that your tattoo is really properly. Not sure if something's off? Read on for a few gross things that are supposed to happen after getting a tattoo, as well as a few gross things that aren't, according to experts.
This article was originally published on