The 5 Best Body Scrubbers, According To Reviewers
We only recommend products we love and that we think you will, too. We may receive a portion of sales from products purchased from this article, which was written by our Commerce team.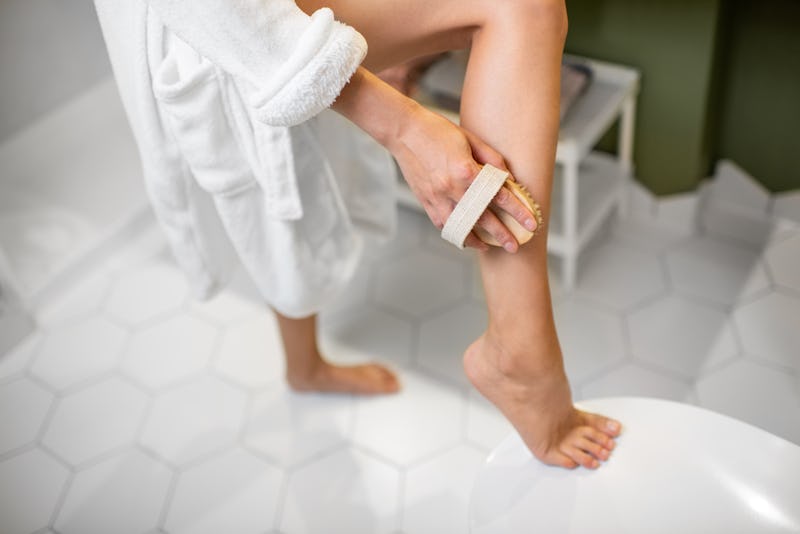 RossHelen / Shutterstock
For all of the emphasis the beauty industry puts on exfoliating your face, there's not a whole lot of discussion about the importance of exfoliating the rest of your body. If you don't love messy scrubs, the best body scrubbers are a great alternative for all-over exfoliation. The ideal body scrubber for you will come in a type that you find is simplest to use and control (whether that be a sponge, brush, towel, or glove) and in a material that you like best, too. Also, consider whether you'd like to use the scrubber on wet skin in the shower or on dry skin, and choose a product that is suitable for that.
What To Look For When Shopping For Body Scrubbers
Here are some criteria to consider when you're deciding on the best body scrubber for you:
Type: Loofah sponges and brushes are the most common types of body scrubbers — they're straightforward to use and often have a handle or loop for you to hold on to. Exfoliating towels are a great option if you need more heavy-duty exfoliation. It can be a bit tougher to reach certain areas of your body with these products (like your back, for example), but picking one that's long will give you better reach. Exfoliating gloves slip on your hands like regular gloves, allowing you to exfoliate without worry of dropping the tool. Depending on your reach, it can be tough to exfoliate certain spots on your body.
Material: Body scrubbers can be made from a variety of different materials, so consider which you'd like best. Many sponges are made from luffa, which is a type of plant, and some picks feature boar bristles — these are both more natural options, should that be something you're interested in. Exfoliating towels and gloves are usually made from a fabric like nylon, and one big benefit of these is that they're often machine washable for easy cleaning. Silicone is another common option which tends to be gentler overall, so it's a better choice if you have more sensitive skin.
Wet versus dry use: Dry brushing is a popular method of body exfoliation, and so if you're interested in that, look for a body scrubber that can be used in that way. If you're hoping to exfoliate in the shower (or with water outside of the shower), go with something that you can use on wet skin.
After exfoliating your body with the tool of your choice, apply a lotion for maximum skin-softness. If you're dealing with body acne or bumpy skin, like keratosis pilaris, consider snagging an exfoliating lotion that contains salicylic, lactic, and/or glycolic acids to help increase skin cell turnover and unclog pores.
Shop The Best Body Scrubbers
In a hurry? Here are the top picks for the best body scrubbers:
Just like on your face, the pores on your body can become clogged and inflamed, and exfoliation can help you get smoother, softer skin, should that be a desire of yours. According to Amazon reviewers, these are the best of the best scrubbers for the body, available in a range of options so you can surely find the perfect one.
This article was originally published on