The Best Sunscreens For Acne-Prone Skin, According To A Dermatologist
We only recommend products we love and that we think you will, too. We may receive a portion of sales from products purchased from this article, which was written by our Commerce team.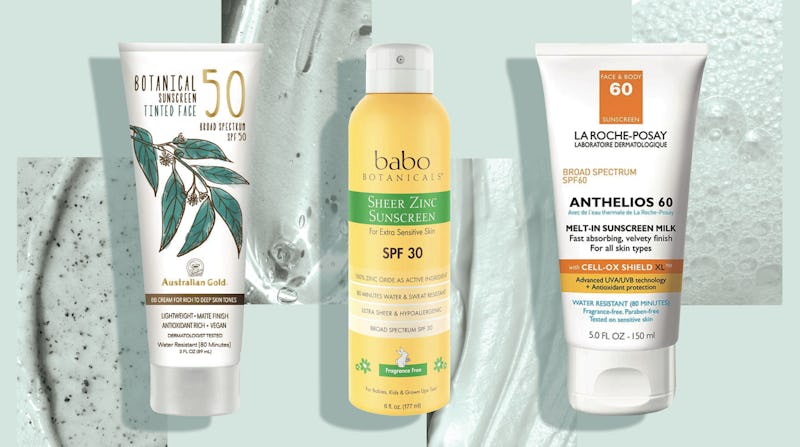 Amazon / Bustle
It's important that you wear sunscreen on your face every single day, regardless of the weather or season. But navigating the vast world of sunscreens when you have acne-prone skin can admittedly be tough. To make things easy, Bustle spoke with board-certified dermatologist Dr. Marisa Garshick to find out everything there is to know about choosing the right sunscreen when you're regularly dealing with breakouts. According to Dr. Garshick, the best sunscreens for acne-prone skin typically come in the form of noncomedogenic or oil-free lotions and gels, rather than heavier creams, that use mineral blockers (aka zinc oxide or titanium dioxide) to minimize the risk of irritation. "Additionally, sunscreens that contain other active ingredients that can be calming and soothing on the skin, such as niacinamide, can be helpful for those with acne as it can help to calm inflammation," Dr. Garshick says.
If you're tempted to only wear sunscreen when you're out in the sun, Dr. Garshick reminds readers that "It is important for those with acne to use sunscreen daily as one of the concerns for people dealing with breakouts is discoloration or post-inflammatory hyperpigmentation, which can occur as the acne spot is resolving, and wearing sunscreen regularly helps to prevent this discoloration from worsening." Additionally, "Many products designed to treat acne, such as retinoids or salicylic acid, can make the skin more sensitive in the sun, so it is especially important to [wear sunscreen] to prevent the skin from developing a sunburn," Dr. Garshick cautions.
When it comes to applying your sunscreen properly, Dr. Garshick has a few last words of advice. "Remember to apply sunscreen to a clean face when possible to prevent trapping dirt and bacteria which can lead to breakouts. Similarly, it is important to remember to cleanse the skin at the end of the day to make sure the sunscreen is washed off appropriately." (Check out this guide to the best cleansers for acne if you're in the market for a new one.)
To find your perfect sunscreen match, keep scrolling.
Expert:
Dr. Marisa Garshick, M.D. F.A.A.D., a board-certified dermatologist based in New York City.
This article was originally published on