This $4 Product Takes The TikTok Facelift Hack To The Next Level
You'll want to buy it in every shade once you see this makeup trick.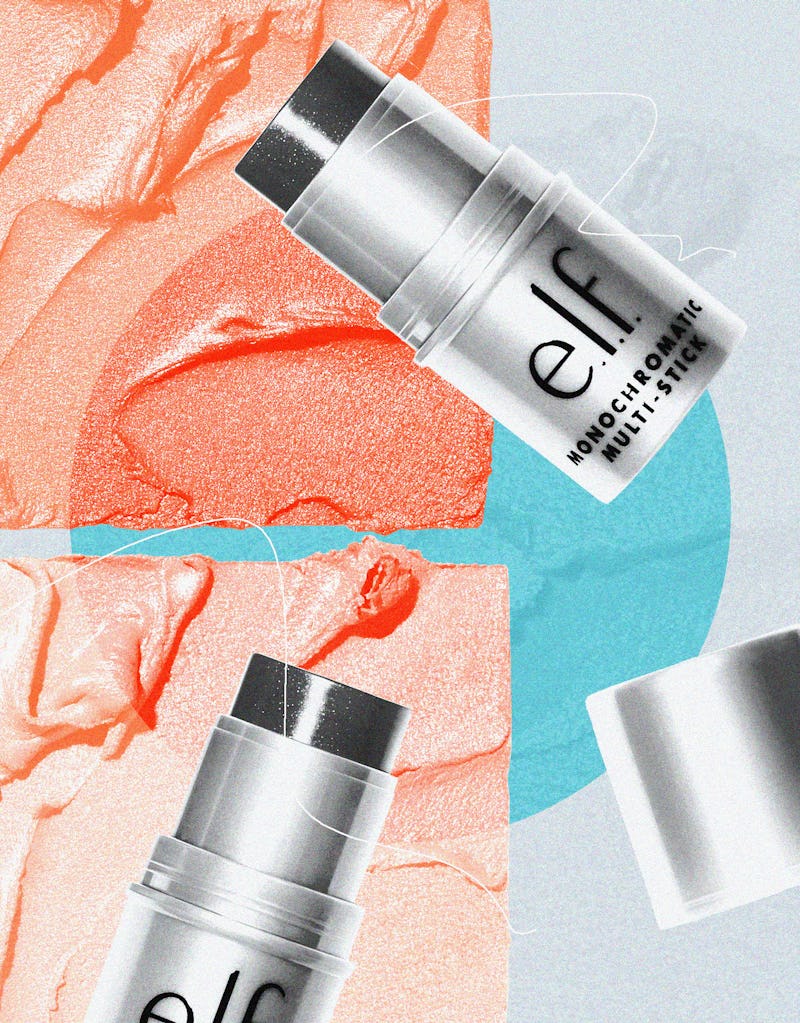 The internet not-so-silently rejoiced when a magical way to lift and shape your face without plastic surgery suddenly surfaced on everyone's favorite social platform. Enter: TikTok's simple (yet genius) makeup hack for razor-sharp cheekbones that don't seem to quit using only three simple items: concealer, bronzer, and blush.
Since most who delve deep into the world of makeup already have these three items, this renders the TikTok facelift hack both life-changing and a must-try for anyone who would like some on-the-fly face-sculpting (a phrase I never thought I would see myself type).
You may already own a few tried-and-true products that you're considering for this trick, but let me also introduce you to the perfect offering to take this hack to the next level: the e.l.f. Monochromatic Multi Stick. The buttery smooth cream-to-powder formula applies so seamlessly you won't even appear to be wearing it, and even better? It's under $5.
Bustle Shop is Bustle's shoppable guide to editor-approved buys in fashion, beauty, wellness, and lifestyle. We may receive a portion of sales if you purchase a product through a link in this article.
How To Do The TikTok Facelift Hack
First off, according to this hack, you've been doing your makeup all wrong. Many creators and makeup artists have said in the past to apply bronzer and blush directly to the cheekbones, but this sly change in product application changes everything. For starters, to create the illusion of a facelift, you apply your concealer to the inner and outer corners of the eye instead of in a triangular shape below them. Then, apply blush and bronzer above the cheekbones as opposed to below or directly on them. There are many variations of this hack, but the below video thoroughly sums it up. It even takes things a step further by adding bronzer above the lids for further lift.
Why You Should Try It
Now that you've witnessed the supernatural power of the TikTok facelift hack, let me tell you exactly why you need to try it. Besides the obvious lift it provides, it's a straightforward and stunning way to elevate your everyday makeup routine. Plus, it's solid proof that face contouring and sculpting don't have to be overly complicated or take too much time to perfect before walking out the door. In fact, it can take just minutes.
How To Use The e.l.f. Monochromatic Multi Stick
Although this product can be used for cheeks, eyes, or lips, for the purposes of this hack it's going to stand in as your blush of choice. Choosing the right shade is key: The right one will melt into your skin so effortlessly that your low-key lift won't even look like makeup, so opt for a color that most naturally adds a flushed look to your skin tone. This particular formula is great because it's highly blendable and buildable, so it can provide a brighter contrast or a soft, subtle look depending on how you like your coverage. It's also non-greasy, glides on with ease, and contains skin-loving ingredients like shea butter and vitamin E.
Now back to the "Multi" part of this product: A stick like e.l.f.'s can be applied to multiple areas of the face. Just as some TikTok users apply bronzer to their eyelids for a further lift, the Monochromatic Multi Stick can be used in the same way. Choose a darker shade like Radiant Bronze or Bronzed Cherry to add more dimension to the facelift look. Whether you want to use it as a blush, eyeshadow, or even a lipstick, this product screams summer glow. And coming in at a mere $4, it's a solid makeup bag staple whether you choose to embrace the world of TikTok makeup hacks or not.
Bustle Shop brings you the editor-approved buys we can't get enough of and think you'll adore, too. Best of all, you can shop all of the products above directly on this page without visiting multiple retailers. Simply click on an item to learn more, choose your size or favorite color (if applicable), and then hit "add to cart." When you're done, you can click over to your cart in the top right corner of your screen to purchase all your stellar selects at once. How easy is that?
Questions about shipping, returns, or your order in general? Click here for more information.
Explore more of Bustle Shop (and our fashion, beauty, and lifestyle must-haves) here.