8 Genius TikTok Makeup Hacks That'll Upgrade Your Beauty Game
Including how to DIY a custom lipstick shade.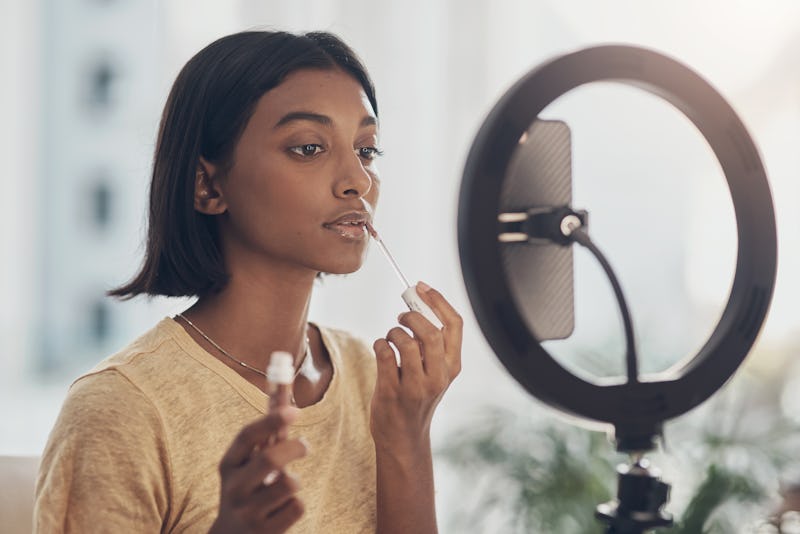 PeopleImages/E+/Getty Images
You can learn how to do practically anything from TikTok. While the videos that show how to properly flip a grilled cheese are pretty darn impressive, you can also find some genius TikTok makeup hacks that'll upgrade your glam routine.
A number of big-time beauty influencers turn to the video sharing app to showcase the latest makeup looks, including James Charles and his signature tutorials, Meredith Duxbury's liquid foundation routine, and Thuy Le's bold glow-ups (just for starters). Sure, the quarantine may have made getting dressed up a thing of the past, but that doesn't mean you can't turn to your eyeshadow palettes and lipstick collection to test out new makeup techniques. It'll spruce up your sweatpants outfit anyways.
Whether you're looking for creative ways to apply bronzer or for alternative uses for your lip products, there are countless TikTok makeup hacks that'll level up your pigment game. And, some of the best don't even require you to touch your wallet — all you need is the trusty makeup bag you already have.
If you're ready to play with some color, these savvy TikTok users have got you covered. Grab your makeup brush and keep reading for some serious makeup application inspo.