10 Vagina Necklaces That Stranger Things' Mrs. Wheeler Would Love
A pearl-studded vulva pendant has come to be her signature accessory.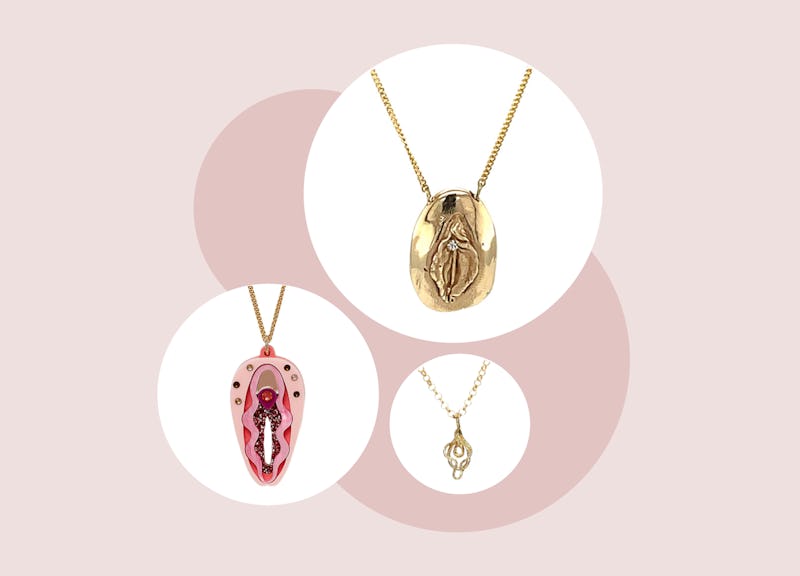 Courtesy of Ioanna Liberta, Tatty Devine, and Delve Jewelry Art
We may receive a portion of sales if you purchase a product through a link in this article.
For as long as I can remember (read: the late '90s), 'vagina' has been considered a dirty word, seldom uttered with confidence in a public setting. But, as we all know, this outdated ideology is not but bullsh*t. The vulva — and all its beautiful bits — is something to be revered and normalized (and pleasured, but that's a different story)(this story, to be specific).
So, naturally, when I noticed a pearl-studded vulva hanging from Mrs. Wheeler's neck in the most recent season of Stranger Things, I was in awe. Witnessing her rocking a gorgeous vagina pendant (icon behavior, quite frankly) inspired me to find similarly body positive necklaces. And I was pleased to find a bevy of fabulous styles.
Much like vaginas themselves, each design is unique and beautiful. There are some that make great dupes for Mrs. Wheeler's — gold-plated, with a pearly clitoris — as well as whimsical, colorful options. Whether you're drawn to more minimalist designs or prefer louder jewelry, there's a vagina necklace for everyone.
Undoubtably, there will always be people who'll cringe at the word alone, and those who would be appalled to see a vulva celebrated in the form of a glimmering charm. But, like seeing Florence Pugh and Olivia Wilde free the nipple, it's empowering to see vaginas worn with pride.
Keep scrolling to check out 10 chic options to choose from.