A New App Is Revolutionizing Bra Fittings Post-Quarantine
Plus, a Wacoal exec shares the style everyone will wear after Covid.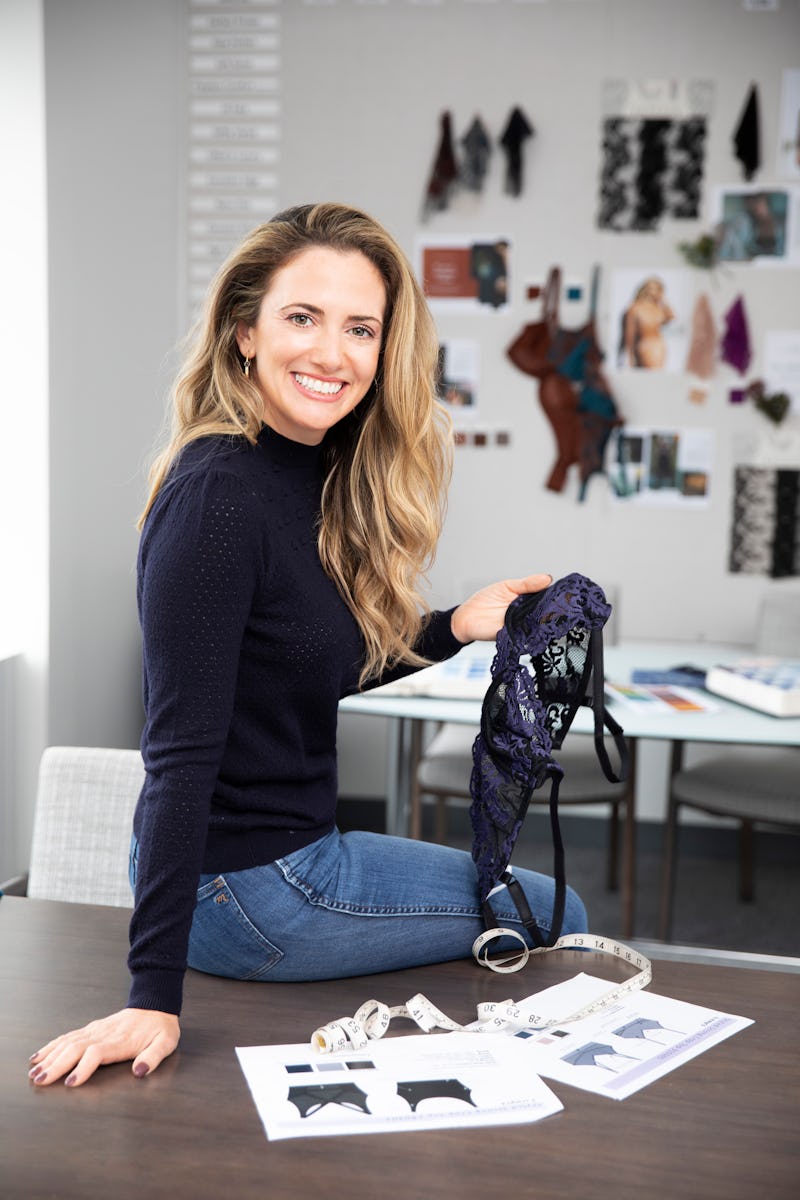 Courtesy of Wacoal
Some shoppers swore off bras during quarantine, but Miryha Fantegrossi, vice president of merchandising and design at intimates brand Wacoal, says the lingerie staple isn't over yet. "I don't find going braless as comfortable as wearing a well-fitting bra, especially in the summer when it's hot," she tells Bustle. Fantegrossi predicts that wire-free bras will rise in popularity, blending the comfort people enjoyed during quarantine with the support only bras can offer.
"You don't have to give up comfort when you wear a bra," she says. "You just have to be well-fit." To ensure you're wearing the right size, and to bypass the need for an in-person fitting, Wacoal recently introduced the AI-powered mybraFit app. According to the brand, it's a first-of-its-kind technology that allows you to get fitted for a bra at home.
"For decades, [sizing has] been predicated on people coming into stores to get fit, which is still great," Fantegrossi says. "There's a lot of conversation that goes on in the fitting room between the customer and a fitter, that's important. But as more people are shopping online, it is so important to be able to service her at the same level that we do in store."
While the mybraFit app isn't the first digital tool to measure bra size, other options require you to have measuring tape on hand or to guesstimate fit based on the size you wear in other brands.
"It's like, 'If you wear this size in this brand, then you wear this size in our brand.' That doesn't size somebody," Fantegrossi says. "That doesn't help somebody who just doesn't know what their size is or who has gained weight, lost weight, had a baby, had a mastectomy. You name it. All sorts of things happen to our boobs."
Instead, the Wacoal app captures a series of full-body images, which are immediately deleted after you've been sized. It asks four questions about your body and breast shape. Then it uses a proprietary algorithm that takes these factors into account to accurately predict your correct bra size and recommend bras that will suit you best. After that's all done, you'll receive an email with your customized size and bra wardrobe recommendations.
"Answering those questions really helps us identify what type of construction is needed in a style and bra itself," Fantegrossi says. "We have 67 bras in our line. Honestly, there is a bra for each person, and it's not always the same bra. So, if we're both the same size, what might be good for you might not be good for me."
She acknowledges that your relationship to bras has changed post-Covid — and the goal of the app is to help you figure out the next best step as you emerge from quarantine.
"You might think 'the bras I was wearing pre-Covid are no longer right for me. And the sports bras or bralettes I've been wearing at home are probably wrong for post-Covid. So, I want something in between. What size should I get? What's the right silhouette for my body?' And that's where our recommendation engine will say, 'Okay, you're a 36DD, and you want to go wire-free, this is the one for you.'"
The new Wacoal app is one of many technological advancements in the fashion industry to help ease shoppers into a life after quarantine, where their needs and tastes are constantly evolving. "Customers are ready to change the style of bra they wear," Fantegrossi says. "And this will help."
This interview has been edited and condensed for clarity.