17 Podcasts That Are Refreshingly Honest About Anxiety & Depression
These shows may help you get through lockdown 3 & beyond.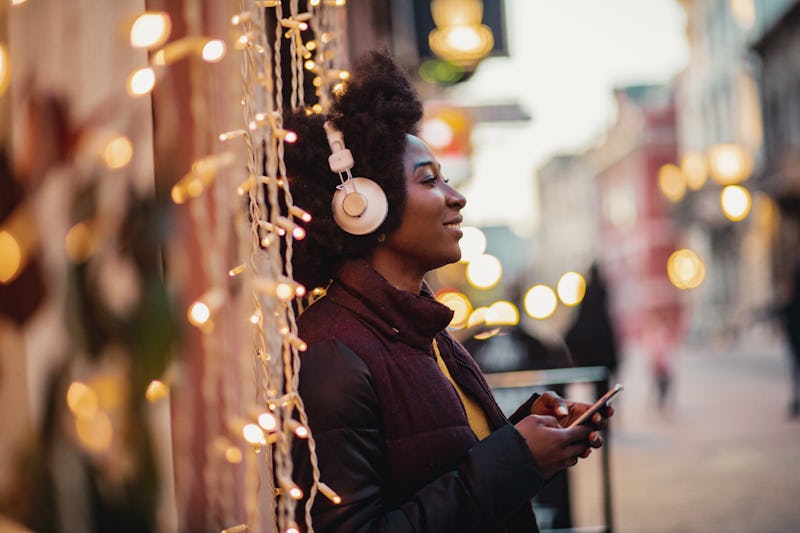 blackCAT/E+/Getty Images
Now, perhaps more than ever, we need to look after our mental health. Whatever that means for you, be it talking, walking, therapy or various other coping mechanisms, the pandemic has highlighted that mental health is a priority right now. And as we enter the UK's national lockdown 3.0, we'll need all the mental health tools at our disposal. Mental health charity Mind reports that 60% of adults and over two thirds of young people have said their mental health been negatively impacted by the previous lockdowns. We complied mental health resources for the second lockdown, which are a good place to start. And here, for some lighter relief, we have put together a list of podcasts to help with anxiety and depression.
At the end of 2020, Prime Minister Boris Johnson acknowledged that social distancing restrictions and lockdowns put in place as a result of COVID-19 have a "big impact" on mental health, per the Mirror. Speaking at a Downing Street press conference in November, Johnson said: "It's the loneliness, I think. The sense of not being able to see other people that's been caused by some of the lockdown measures, alas, all sorts of anxieties that people are prone to and have been prone to."
Feeling that you're part of a conversation is something that podcasts are really good for. Whether you're out for a walk alone, or in the house solo, listening to familiar voices talk about interesting topics, or sometimes just their day to day, makes for comforting company. The podcasts that specifically focus on mental health go one step further, providing real help, empathy and connection when you might need it most.
The uncertainty of what we're facing in 2021 can fuel feelings of anxiety and depression, and make you feel stuck in so many ways. Listening to people share stories about their own experiences with mental health, and how they got unstuck, is not only eye opening but vital. Here's our list of the podcasts that might help.
This article was originally published on