7 Shocking Ways Stress Can Physically Change Your Brain
#5: Your brain can actually shrink.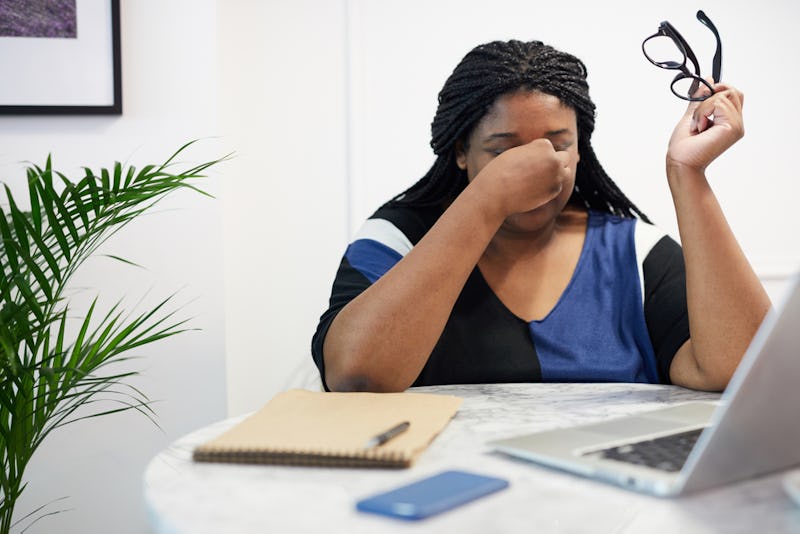 Pressmaster/Shutterstock
In small doses, stress can motivate you to get things done and, under more dire circumstances, can even help keep you safe. But when stress becomes chronic, you may start to experience all sorts of side effects and symptoms as a result. Stress can even cause physical changes in your brain.
"When we experience stressful events, the amygdala (area of the brain focusing on emotional processing) sends an emergency signal to the hypothalamus (the brain command center) that says it's time to pick the 'fight or flight' response,'" Jenny Maenpaa, L.C.S.W., NYC-based psychotherapist and author of Forward in Heels, tells Bustle. You might experience everything from an increased heart rate and shallow breathing to a burst in adrenaline and the stress hormone cortisol.
The thing is, a stressful lifestyle can trigger this same response, even when it isn't necessary. And over time, it can start to take a toll on your health — as well as your brain — which is why you'll want to find ways to cope with stress.
You can't avoid stress entirely, but you can do things to keep it from becoming chronic, which in turn can help prevent some long-term physical changes and other unpleasant side effects. Here are just some of the ways stress can mess with your brain.
Small daily stressors are nothing to worry about, as they're a typical part of life that can't really be avoided. But do keep an eye out for signs of chronic stress — like anxiety, forgetfulness, or isolation — since it can have a major impact on your brain, as well as your overall well-being.
Studies cited:
Csabai, D., Wiborg, O., & Czéh, B. (2018). Reduced Synapse and Axon Numbers in the Prefrontal Cortex of Rats Subjected to a Chronic Stress Model for Depression. Frontiers in cellular neuroscience, 12, 24. https://doi.org/10.3389/fncel.2018.00024
McEwen, B. S., Nasca, C., & Gray, J. D. (2016). Stress Effects on Neuronal Structure: Hippocampus, Amygdala, and Prefrontal Cortex. Neuropsychopharmacology : official publication of the American College of Neuropsychopharmacology, 41(1), 3–23. https://doi.org/10.1038/npp.2015.171
Peavy, G. M., Salmon, D. P., Jacobson, M. W., Hervey, A., Gamst, A. C., Wolfson, T., Patterson, T. L., Goldman, S., Mills, P. J., Khandrika, S., & Galasko, D. (2009). Effects of chronic stress on memory decline in cognitively normal and mildly impaired older adults. The American journal of psychiatry, 166(12), 1384–1391. https://doi.org/10.1176/appi.ajp.2009.09040461
Ruini, C., Offidani, E., & Vescovelli, F. (2015)Life Stressors, Allostatic Overload, and Their Impact on Posttraumatic Growth. Journal of Loss and Trauma,20:2,109-122,DOI: 10.1080/15325024.2013.830530
Van der Kooij, M., Fantin, M., Rejmak, E. et al. (2014) Role for MMP-9 in stress-induced downregulation of nectin-3 in hippocampal CA1 and associated behavioural alterations. Nat Commun5, 4995. https://doi.org/10.1038/ncomms5995
Experts:
Diane Amstutz Ph.D.
Dr. Michael Genovese M.D.
Jenny Maenpaa, LCSW, EDM,
Dr. Margherita Mascolo, M.D.,
Dr. Paul Napper, Psy.D
Ann Russo, LMSW
This article was originally published on