12 Relationship Doubts You Should Never Ignore
"Your instincts are very important to listen to."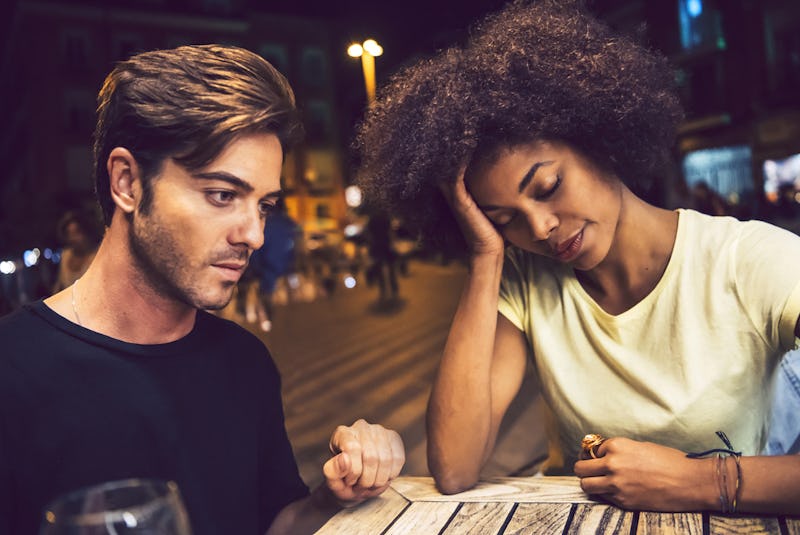 klublu/Shutterstock
Don't be fooled by Kate Hudson movies or the yoga teacher-turned lifestyle-blogger you went to high school with, no one has a perfect relationship. Healthy conflicts, disagreements, and being unbelievably annoyed at your partner for leaving the coffee grounds in the pot *again*, all come with being a party of two. But while everyone has bad days, if you're feeling hesitation about your relationship all the time, it may be time for a check-in. In fact, experts share 12 doubts about relationships shouldn't be ignored, as they could indicate trouble for the future.
"Your instincts are very important to listen to," Laurel Steinberg, Ph.D. and couples therapist tells Bustle. "They often clue you into what you really feel about a situation, instead of what you think is socially appropriate to say or do. If not attended to, this can result in anxiety and/or depression and possibly committing to be with the wrong person."
As Dr. Steinberg shares, while some relationship conflicts can be worked out naturally over time, other issues, like having doubts about a relationship require some serious contemplation. Though it can seem intimidating to talk about your relationship doubts, being open and transparent with your partner can help you in the present and as you build a future.
If you're confused about the next steps, experts share these 12 relationships doubts should be addressed sooner than later.
Experts:
Laurel Steinberg, Ph.D. and couples therapist
Dana Koonce, MA, LMFT, relationship therapist
Kelly Bos, psychotherapist and relationship expert
Kate Balestrieri, Psy.D., CSAT-S, and psychologist
Dr. Noelle Nelson, psychologist, and author
Dr. Rose Hanna, a marriage and family therapist, and professor
Jonathan Bennett, dating and relationship coach
Dr. Carla Marie Manly, a clinical psychologist, speaker, and author of 'Date Smart'
This article was originally published on