Here's How To Tell If Someone's Actually Flirting With You
And not just being friendly.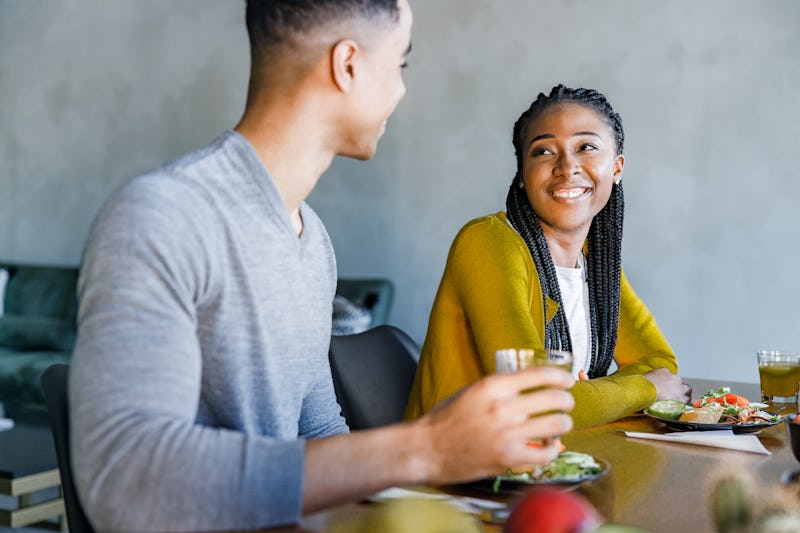 skynesher/E+/Getty Images
Some people are naturally friendly, no matter who they're talking to. They laugh at jokes, have great eye contact, and make you feel appreciated. Talk to them long enough, and it might even seem like they're flirting. But if you often can't tell if someone is interested in you or just being friendly, you're not alone.
It's often difficult to know when someone is flirting or simply being nice, David Bennett, a certified counselor and relationship expert, tells Bustle. In fact, a 2014 study from the University of Kansas showed just how bad people are at realizing when someone is flirting with them, with only 18% of women picking up the hint.
It might be extra difficult because friendly conversations and flirting share quite a few common characteristics. (Think smiling, laughing, etc.) "Without knowing someone's intentions, flirting and friendly behaviors are often nearly identical, and this makes knowing the difference extremely frustrating for everyone involved," Bennett says.
This can also lead to awkwardness and even misunderstandings, according to a 2020 study published in the Journal of Sex Research, which is why being able to spot the difference between flirting and friendliness is key. Here are a few ways to tell, according to relationship experts.
Sources & Experts:
Hall, J. A., Xing, C., & Brooks, S. (2014). Accurately Detecting Flirting. Communication Research, 42(7), 939-958. doi:10.1177/0093650214534972
Parnia Haj-Mohamadi, Omri Gillath, Erika L. Rosenberg. Identifying a Facial Expression of Flirtation and Its Effect on Men. The Journal of Sex Research, 2020; 1 DOI: 10.1080/00224499.2020.1805583
David Bennett, certified counselor and relationship expert
Tina B. Tessina, PhD, psychotherapist and author
Antonia Hall, psychologist and relationship expert
Madeleine Mason Roantree, psychologist
This article was originally published on