18 Signs That Someone Likes You Based On How They Text
Do you use nicknames for each other?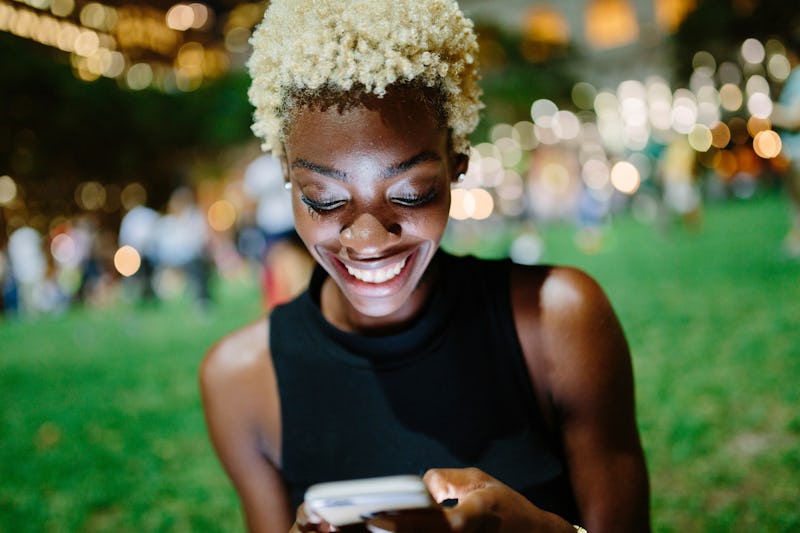 Getty Images/Westend61
From a shift in their emoji usage to the kinds of questions they ask, there are lots of ways to spot the difference between how people text when they like you versus how they text when they're just chatting as a friend. It's a subtle art, but it really does come in handy when deciphering messages from your crush.
Texting is, after all, not really the best way to communicate — especially when it comes to sharing one's feelings. "In person, there are many factors you can use to determine if someone likes you," Jonathan Bennett, a certified counselor and dating expert, tells Bustle. "This includes vocal tone, facial expressions, physical touch, and other body language indicators."
Read more: 50 Example Sexting Ideas You Can Use Right Now
With texting, it's so easy to miss a joke, misunderstand someone's intentions, or even miss the fact they're flirting entirely. But if you know what to look for, the signs will be there. "When someone likes you, their texting habits will definitely change," Dr. Holly Schiff, PsyD, a licensed clinical psychologist, tells Bustle.
In fact, she says making an effort via text is often one of the first things people do when they catch feelings. Not only is it an easy way to begin the "talking" stage of a relationship, but it's also a casual way to see if they like you back.
If you spot the signs and are feelin' their heart emojis, that's when you'll want to ask if they'd like to meet up. Once you're around each other you'll be able to see if you have good chemistry. (If you're brave, you could even straight up ask if they like you!) Until that day comes, here are a few ways to tell if someone likes you over text, according to experts.
Should you notice any of these texting habits, and if it seems like you're hitting it off, it very well may be true. Just try not to overthink it until you've had a chat to define the relationship. Until then, enjoy the moment, text 'em back, and see where things go from there.
Sources:
Dr. Holly Schiff, PsyD, licensed clinical psychologist
Virginia Williamson, LMFT, licensed marriage and family therapist
Jonathan Bennett, certified counselor and dating expert
Gary W. Lewandowski Jr., PhD, relationship expert
Kimberly Hershenson, LMSW, therapist
Rori Sassoon, matchmaker and dating expert
Randi Levin, certified coach
Chloe Ballatore, relationship expert
Dr. Christie Tcharkhoutian Kederian, EdD, MA, MFT, marriage and family therapist
Alexis Dent, founder of XO Juliet
This article was originally published on