The Low-Key Glute Workout WNBA Star A'ja Wilson Swears By
The athlete on the wellness rituals that keep her grounded and ready to play.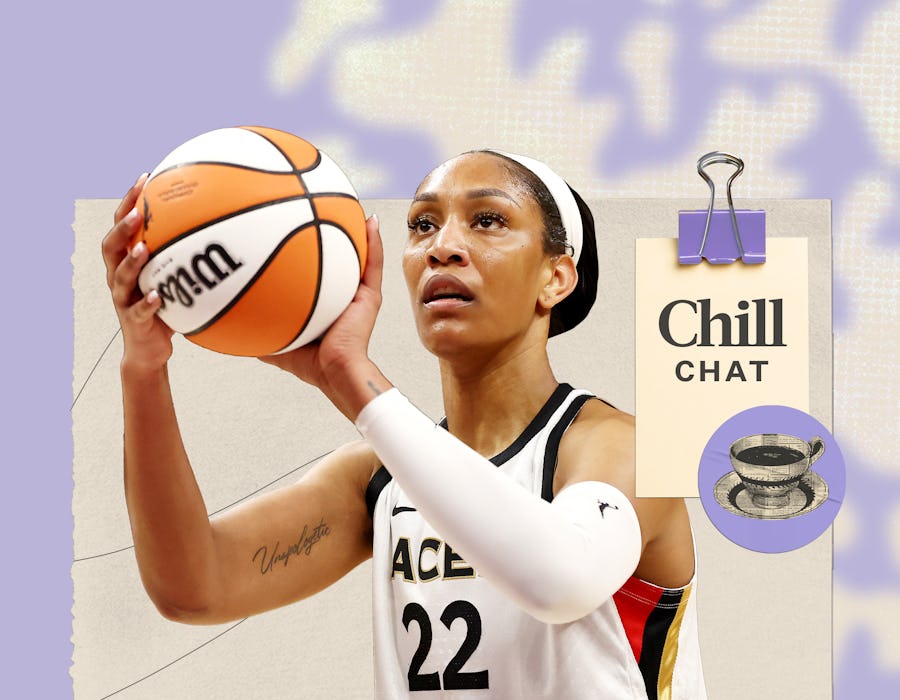 Getty Images
In Chill Chat, Bustle sits down with stars to chat about all things wellness, from their favorite skin care products to their hacks for getting a good night's sleep. Here, WNBA All-Star A'Ja Wilson shares the rituals that help her stay grounded, her favorite glute workout, and the facial cleanser that keeps her skin clear.
Las Vegas Aces forward A'ja Wilson is having herself a year. The basketball phenom played the AT&T WNBA All-Star Game against the New York Liberty on July 15, for one. She was selected as the team's captain for the second year in a row, after leading the Aces to their first WNBA championship in 2022. And she just scooped an ESPY award for Best WNBA Player, along with a casual shout-out from LeBron James.
Wilson's list of athletic accolades is long, but the self-professed self-care queen still finds time to relax with her dogs, sip sweet tea, and complete her twice-daily skin care routine. In fact, it's all part of the process that gets her ready for games. "I like to make sure I'm glowing and glistening by the time I get to practice," the 26-year-old tells Bustle. "If I feel good, then I'm able to play well and be there for my teammates."
The athlete always shows up on the court, but otherwise likes to keep things low-key. Here, Wilson shares her favorite lazy girl workout, her easy hydration hack, and the movie she often turns on before she goes to sleep.
What does your morning routine look like?
I always make sure that my face is moisturized, washed, exfoliated — the whole nine — when I wake up in the morning. I picked up the Tatcha line from Sephora. They have a rice wash and an exfoliating cleanser that I use night and day, and a moisturizer and toner. They really help my skin clear up when I get acne from sweating.
What's on the menu for breakfast?
I'm not a pancake or egg person, so I go for something super simple when it comes to breakfast. I just need something in my stomach, whether it's fruit, a smoothie, juice — anything like that. If I have a smoothie, it has to have banana or else I think it tastes disgusting. The banana gives it a nice sweetness.
Are you a coffee or tea person?
I'm not really big on coffee or hot tea. I'm a sweet tea type of girl, but that's more of a lunchtime thing.
What's your go-to lunch?
I have to have some chicken. I try to get my greens in there too, but I always have something with chicken for protein.
What's your favorite workout right now?
My main workout is basketball practice. I get my exercise in on the court and then in the weight room, where I'll do whatever our coach suggests to make sure my leg and upper body workouts stay balanced.
I like working with resistance bands to tighten my glutes. I don't like to sweat or use a lot of weight, so I go for bodyweight workouts like lunges, squats, and clamshells. When I add a band, I feel the burn instantly.
What's on your workout playlist?
I like soft R&B when I'm working out. It can't be too lit in the weight room because I'm normally working out in the morning, so I need something chill and easygoing. The late '90s, early 2000s playlist on Pandora always gets it right. It usually plays a little Usher first, so that hits the zone.
Have you tried any unique wellness treatments lately?
I did cryotherapy for the first time a couple of weeks ago and it was very, very different. I normally go in a cold tub to recover after a game, but with cryotherapy, you're in a chamber with gloves and shoes to prevent frostbite. It's quicker than sitting in a cold tub, so it makes my job a little easier. It's really helped me a lot.
What's your trick for staying hydrated? Do you carry a water bottle around?
I don't carry a water bottle around, but I do drink a lot of water. I hydrate myself with Ladder, an electrolyte packet that you can mix in. Sometimes I get tired of just straight water when I'm rehydrating on the bench during a game, so I'll add that for some flavor.
Your life is so busy with games and travel. How do you deal with stress?
I pray and I meditate. Those are the two things that allow me to escape a stressful moment. I come out of it feeling different and brand new.
Do you still get nervous before games?
Yes, I'm nervous before every game. It never really gets old. With basketball, it's always going to be a new experience every time I touch the ball. I get nervous because I want to be great. Once the ball goes up, though, it's a different story. When the game starts I'm locked in and I'm ready to rock and roll.
How do you like to relax after a long day?
I play with my two puppies, Ace and Deuce. They're Australian shepherd/poodle mixes. They bark at everything and run around, and we always have a good time.
What's your bedtime routine like?
I'll wash my face and do my skin care. If it's been a long week I'll deep cleanse, put on a face mask, and apply some lash serum. I also hydrate my lips with the Dior Addict Lip Maximizer. It's a lip gloss that makes your lips tingle — and it just feels really good.
After that, I'll drink a bottle of water and have a snack, which varies between carrots and ranch or potato chips. Then I brush my teeth, get into bed, and watch a movie. Usually, it's something I've seen 700 times, like Rush Hour 3, but I still laugh at all the same parts. I'll watch that until I fall asleep.
This interview has been edited and condensed for clarity.