The 7 Best Socks For Peloton Riders
Cushioned, breathable, and cozy, these socks will make every ride better.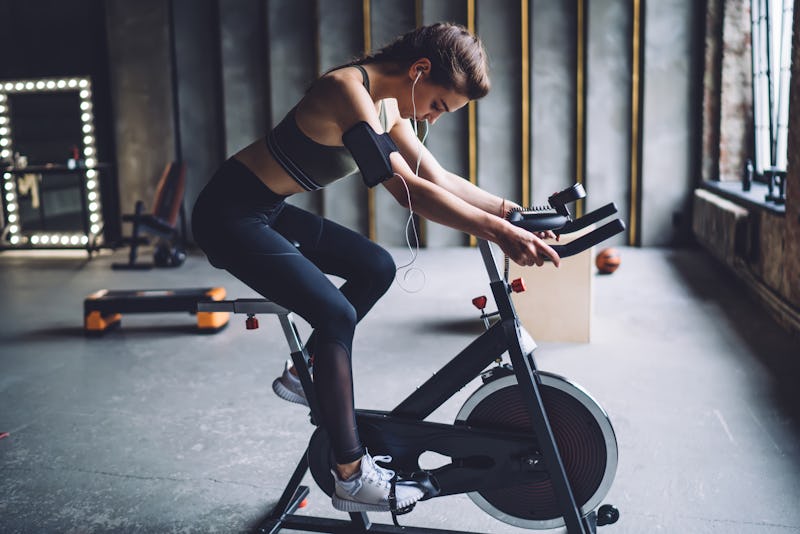 Shutterstock
We may receive a portion of sales if you purchase a product through a link in this article.
When you're getting ready for your Peloton workout, socks may be one of the last things on your mind — and yet the best socks for Peloton riders can make a world of difference. The right pair not only keeps your feet dry and protected but may also facilitate a more secure fit inside your cycling shoes. For that reason, the socks you choose should be the right material, thickness, and height for your needs.
What To Look For In A Pair Of Cycling Socks
Material: Cycling socks come in a range of different materials, from skin-friendly cotton to sweat-wicking polyester blends. There's no one "right" material for everyone here, but be sure that whatever you choose, that they'll keep your feet dry and cushioned, and that it is be durable enough to withstand friction. Some designs also use elastic materials to create light compression, which applies pressure to the foot to maintain blood flow and minimize fatigue.
Thickness: According to Peloton, your cycling shoes should be "snug on the sides and in the heel area, but not overly tight." Consequently, the right socks will help to create a more secure fit. If your cycling shoes are looser, that means thicker socks, but if they're already snug, opt for a thinner material. (While brands don't always advertise the thickness of their socks, I've used reviewer feedback to determine whether each pair is thin, medium, or thick.)
Height: While this is largely a matter of personal preference, you still want to choose a sock height that will protect your feet from blisters and accidental slips. Ankle socks are a popular pick for cycling, but you can also get crew socks or high-rise socks for more protection. If you opt for no-show socks, be sure that they at least have a small ankle tab to prevent the shoe's collar from rubbing against your skin.
Shop The Best Cycling Socks For The Peloton
In a hurry? Here are the best socks for Peloton riders.
1. The Overall Best Cycling Socks For Peloton Riders
These Thirty48 cycling socks have plenty of genius features for a reasonable price, which is why they're a great pick for Peloton riders. The mid-ankle lip prevents chafing, elastic compression supports the arch while cutting down on fatigue, padded toes and heels prevent blisters, and reinforced seams keep them in great shape ride after ride. Perhaps the most noteworthy feature, however, is the carefully created fabric (called CatalystAF), which offers incredible moisture-wicking ventilation to keep feet dry and kills germs and unwanted odors with its antibacterial poly-blend.
One reviewer wrote: "Who knew socks could matter so much? I love these socks compared to some of my other 'performance' socks. These are great for when I ride the peloton and they stay up on my ankles and really grip the shoe. Great product. Fits perfectly."
Material: 68% Polyprolene, 27% Nylon, 5% Lycra | Thickness: medium | Height: ankle | Color options: 8 | Available sizes: Small — X-Large
2. The Best Value In Ankle Compression Socks
High-quality cycling socks can cost upwards of $20 a pair, but if you're looking for moisture-wicking support on a budget, these compression sports socks get the job done for less than $4 a pair. The smooth heel and hand-linked seamless toe offer blister-resistant comfort, while the targeted compression zones boost blood flow to prevent cramping and fatigue. The specific material of the socks isn't disclosed, the fabric is breathable and moisture-wicking, according to shoppers, which explains how they've managed to rack up an overall 4.4-star rating from more than 55,000 reviewers.
One reviewer wrote: "I wanted socks that are comfortable to work out in and these are it. I use these with my Peloton shoes and shoes I use with the treadmill and just running errands gym shoes. I like them so much that I just placed another order today!"
Material: undisclosed | Thickness: thin | Height: ankle | Color options: 12 | Available sizes: Small/Medium — Large/X-Large
3. The Most Durable Sports Socks
They're pricey, but according to reviewers who have awarded them a near-perfect 4.8-star average rating, Swiftwick's Aspire One running and cycling socks are worth every penny. (One triathlete even called them the "best socks [ever] made.") The brand's signature Olefin fabric is lightweight and moisture-wicking, but still extremely durable to prevent slipping, bunching, holes, and blisters — even after years of wear. The sock also features a Y-shaped heel for a snug fit and a compression arch band to reduce fatigue. While the ankle height is great for cycling, the brand also makes plenty of other sock designs with varying heights.
One reviewer wrote: "Five years and never a blister, rub or hole! [...] I often cross streams and run on for many miles in comfort. I never need to take off my shoes to 'smooth' my socks. They are a bit more expensive but they last and last for YEARS."
Material: Olefin polypropylene fiber | Thickness: thin | Height: ankle | Color options: 6 | Available sizes: Small — X-Large
4. These Popular Crew Socks For Cycling
If you prefer a higher sock, these Danish Endurance crew socks are a fan favorite with over 4,500 five-star ratings. Designed in Denmark alongside an Ironman athlete, they're made from an OEKO-TEX Standard 100 fabric blend that's lightweight, breathable, ergonomic, cushioned, and supportive, all at the same time. Since they reach up to the mid-calf, they offer additional protection while on your bike — especially since they're cooling, slip-free, and bunch-resistant. Best of all, if you get a hole in them within the first year, the brand will replace the pair for free. (According to reviewers, they run small, so size up if you're in between sizes.)
One reviewer wrote: "I was pleasantly surprised at the comfort and fit of these socks. [Three] pairs of Danish Endurance cost the same as one pair of the brands I usually buy. I bought it for my indoor cycling but now that I tried them, I'll use them on my regular rides outside too. No chafing or areas of irritation to report."
Material: 56% Prolen polypropylene, 39% Nylon, 5% Elastane | Thickness: medium | Height: crew | Color options: 3 | Available sizes: Medium — Large
5. These Thick Cotton-Blend Socks For Loose Cycling Shoes
Technically, Bombas aren't workout socks — but from the design to the materials to the way they give back, this brand does things differently. As a result, they're a great choice for your workouts, too. The long-staple cotton blend is skin-friendly and breathable, while the honeycomb arch support minimizes fatigue. These socks also have cushioned tab support and grippy rubber, both of which are great for cycling. With every pair they sell, Bombas will donate a pair to the homeless. Note that the material is especially thick, so these socks are best suited for those whose cycling shoes are loose on them.
One reviewer wrote: "These socks are the most comfortable I own. I wish to continue buying more until my drawer is filled with Bombas socks. I ask for them for Christmas and birthdays because I love them so much! I love them for running because they are cushiony, just the right thickness, they stay in place and are so very comfortable! The fit is fantastic! Best sock ever!"
Material: 69% Extra Long Staple Cotton 27% Polyester 3% Rubber | Thickness: thick | Height: ankle | Color options: 21 | Available sizes: Small — Large |
6. The Best No-Show Socks For Cycling
Like your standard no-show socks, these pairs are low-cut for invisible wear underneath the collars of your shoes. Unlike your standard no-show socks, however, they also have a raised, cushioned tab in the back to prevent blisters, a cotton-blend construction with mesh ventilation for breathability, and built-in compression for added support. While they're still moderately durable and they stay in place, they're also very thin, so they work best alongside already-snug cycling shoes.
One reviewer wrote: "Perfect liner sock. I have been searching for over a year to find thin, wicking and with some style socks to fit in my Peloton riding shoes. These are it!"
Material: 88% Cotton, 10% Polyester, 2% Spandex | Thickness: thin | Height: no-show | Color options: 13 | Available sizes: 5-7 — 9-11
7. These Cooling High-Rise Socks Designed For Cycling
Finally, for high-rise support and protection, there are these Giro Comp Racer cycling socks. The 6-inch cuff covers a significant portion of the leg, but despite the height, they're made from a premium blend material that wicks away moisture and keeps you cool. Reviewers also report that they protect against friction and blisters inside your cycling shoe, and that the compression is "just right" to minimize cramps and fatigue. Finally, they come in a dozen modern designs that you'll actually want to show off.
One reviewer wrote: "These socks are just right for me. The XL fits my size-13 feet and comes just to the bottom of my calf muscles. I'm 6'-3" and have a hard time finding cycling socks that come high enough above the shoes. They seem well made from good materials, but are still thin enough to be cool. They also match my mint-green accented Bianchi kit, more or less."
Material: 55% Coolmax polyester, 30% other polyester, 10% Elastic, 5% Lycra | Thickness: thin | Height: high-rise | Color options: 12 | Available sizes: Small — X-Large