6 Calf Exercises With Dumbbells That'll Boost Your Stability
Zero in on those lower legs.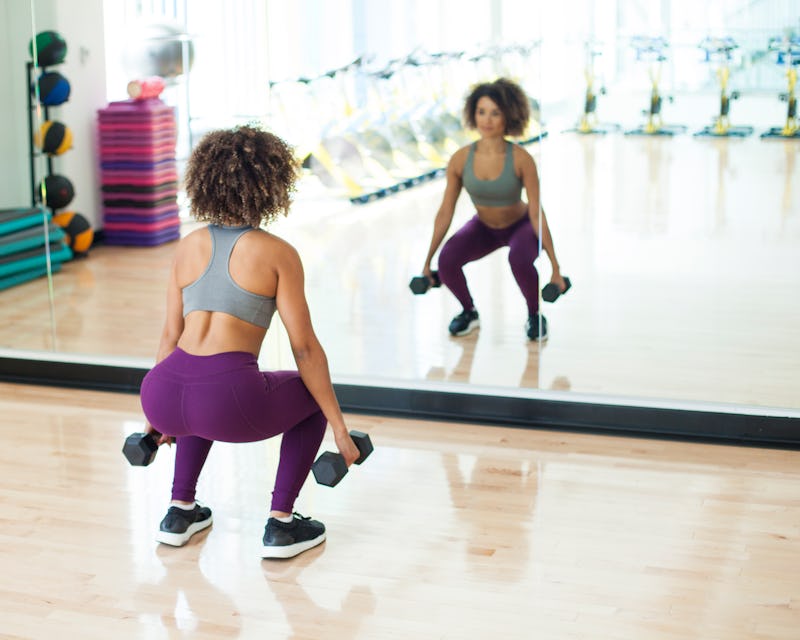 vitapix/E+/Getty Images
Even if you aren't training for anything in particular, it never hurts to give your calves a little extra love. The calf muscles, located on the back of the lower leg, are actually made up of three muscles that play a major role in everyday functional movements like walking, says Alayna Curry, an AFAA-certified fitness instructor. And if you feel like running or jumping, they'll be there for you, too — which is why calf exercises with dumbbells can be a game-changer.
"Having strong calves can also help with balance and stability," Curry tells Bustle. And if you are training with a specific goal in mind — like getting better at running — having stronger calves will allow you to make quick stops and speedy directional changes, Curry says. As a bonus, calf strength — and stronger legs in general — also play a role in protecting the joints in the knees, thanks to the additional muscular support.
While isometric calf exercises are always beneficial, doing them while holding a pair of dumbbells is even better. "Any time you can add extra weight or resistance to an exercise, it will help improve strength in those targeted muscles," Curry explains. This is especially true for the calves, which you use every day while walking around. Adding weights creates a more noticeable burn in that area, Curry says. To zero in on those lower legs, give these expert-approved calf exercises with dumbbells a try.
Studies referenced:
Hody, S., Croisier, J. L., Bury, T., Rogister, B., & Leprince, P. (2019). Eccentric Muscle Contractions: Risks and Benefits. Frontiers in physiology, 10, 536. https://doi.org/10.3389/fphys.2019.00536.
InformedHealth.org [Internet]. Cologne, Germany: Institute for Quality and Efficiency in Health Care (IQWiG); 2006-. Osteoarthritis of the knee: What can I do to strengthen my knees? 2019 Jul 18. Available from: https://www.ncbi.nlm.nih.gov/books/NBK544978/
Sources:
Alayna Curry, AFAA-certified fitness instructor
Katie Wang, trainer
Secoy Reeves, certified personal trainer
Maggie Mills, PT, DPT, physical therapist
Amy Graber PT, DPT, physical therapist